$300,000 settlement for community benefits
According to posts on the members-only Facebook group page for the Church Wellesley Neighbourhood Association (CWNA), Ward 27 Councillor Kristyn Wong-Tam reached a settlement under which the developer will be allowed to add five extra floors to the tower in return for a payment of $300,000 for community benefits and improvements. That agreement was reached under the authority of s. 45 of the Ontario Planning Act, which grants the Committee of Adjustment the power to approve minor zoning variances "subject to such terms and conditions as the committee considers advisable."
A project of Great Gulf Homes, the mixed-use (condo & retail) One Bloor tower was designed by Hariri Pontarini Architects.
More floors for FIVE Condos in $1 million settlement
The settlement marks the second time in less than two months that Councillor Wong-Tam has negotiated a cash settlement with a developer seeking to increase the height of a condo tower currently under construction in the Yonge & Bloor area. This time around, however, the Councillor secured substantially less money for community improvements in her ward than she obtained from a different developer only several weeks before.
Earlier this year, the developers of the FIVE Condos project at Yonge & St. Joseph Streets, just a few blocks south of One Bloor, had applied to Committee of Adjustment for a minor variance to add five more floors to their approved 45-storey tower. The developer subsequently amended its request to seek three additional floors, for a total of 48.
In early May, Councillor Wong-Tam negotiated a settlement under which FIVE's developer will be allowed to add the three floors in return for a payment of $1 million. That money, which will not have to be paid until the completed tower has been formally registered with the province as a condominium corporation (an event possibly three or more years from now), will be dedicated to streetscape improvements in the area bounded by Bay, Charles, Church and College Streets.
Will One Bloor be Yorkville's tallest condo tower?
With 70 floors, One Bloor would have claimed bragging rights as the tallest building in Yonge & Bloor's exclusive Yorkville enclave. But even though One Bloor will now get to rise five floors higher, it's possible that its record height for the neighbourhood could be eclipsed by another tower proposed for the site of the Holt Renfrew store just half a block to the northwest.
On March 22 2012, property management firm Morguard filed an application to build a 277-meter, 83-storey condo tower — including eight  floors of retail and office space — at the 50 Bloor Street West location of the high-end Holt Renfrew shopping complex. The application is still under review by city planning staff; however, the National Post recently reported that Councillor Wong-Tam has raised concerns about the tower proposal, and has said "no-one is ready to approve this project. It's got a long way to go."
Since it will take months for the 50 Bloor condo tower application to work its way through the city's planning and approval process, Toronto residents may have to wait until sometime in 2013 to learn which building will ultimately soar the highest above Yonge & Bloor.
Below are photos showing excavation activity at the One Bloor construction site on Wednesday of this past week.  Renderings of the tower can be viewed in my May 1 2012 post.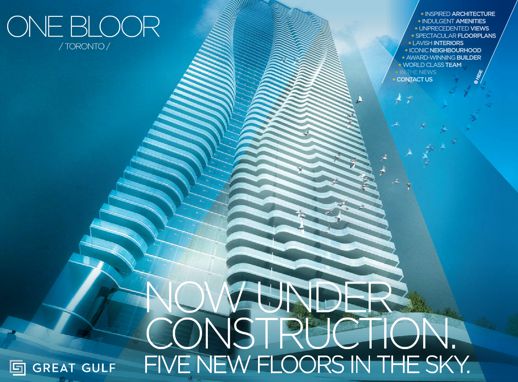 The five additional floors approved this week for the One Bloor condo tower are now being promoted on the homepage for the project's website, as this screenshot shows.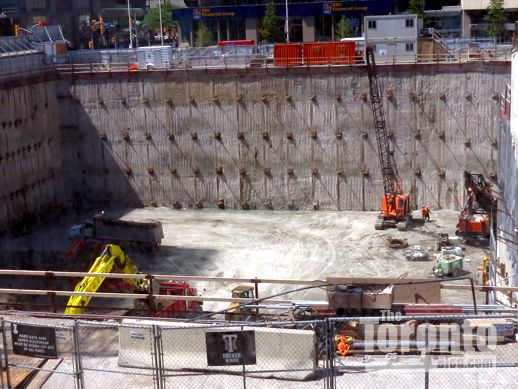 June 13 2012: The One Bloor excavation, viewed from the south above Hayden Street.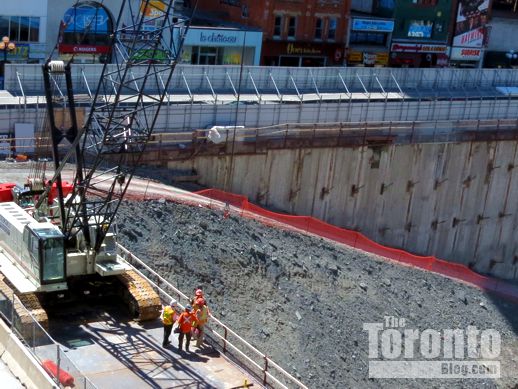 June 2013: A long ramp leads into the deep excavation from this location near the corner of Yonge and Hayden Streets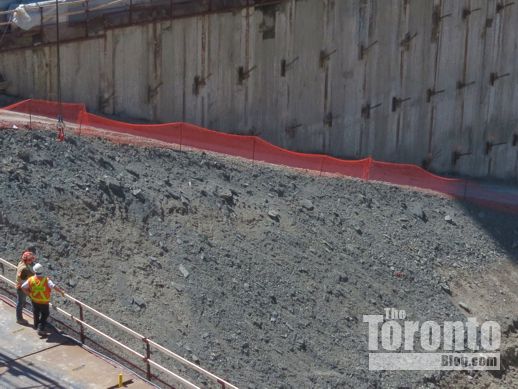 June 13 2012: Two construction supervisors on Hayden Street watch the work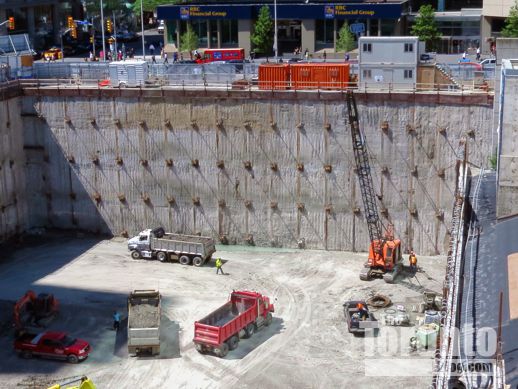 June 13 2012: The 75-storey tower will have five levels of underground parking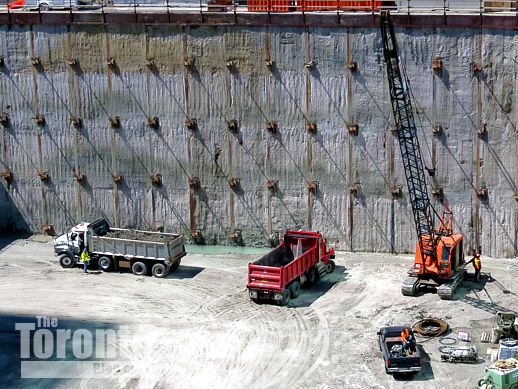 June 13 2012: A drilling machine and dump trucks on the pit's north side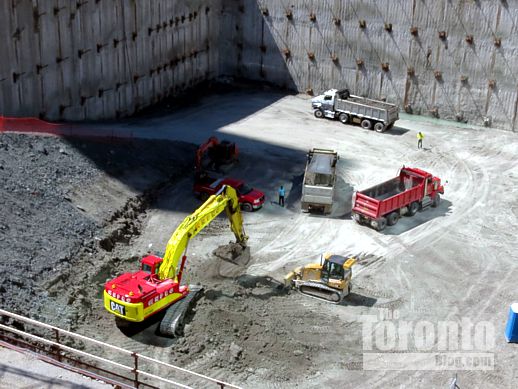 June 13 2012: A view, from above Hayden Street, of the west half of the excavation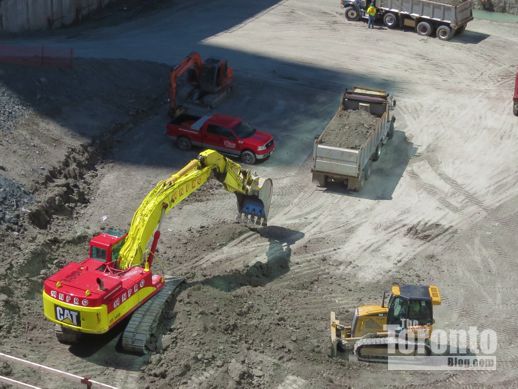 June 13 2012: An excavator digs away at the giant pile of dirt in the pit's southwest corner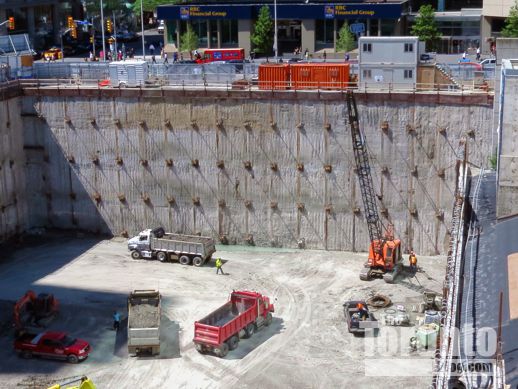 June 13 2012: The One Bloor site is bounded by Bloor, Yonge and Hayden Streets, as well as by the Xerox Centre at 33 Bloor Street East (right)