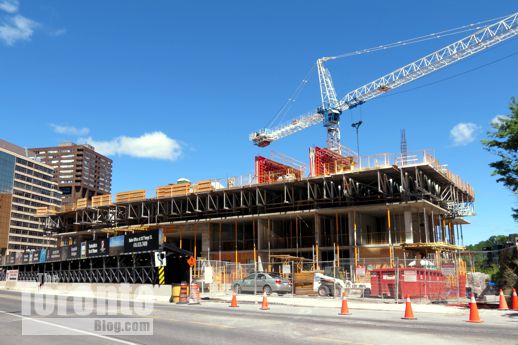 August 6 2012: Construction of the third above-ground level of The Milan Condominium viewed from the southeast on Church Street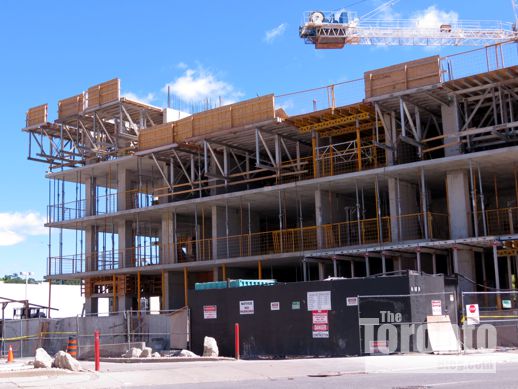 August 6 2012: View from the southeast corner of Yonge & Church Streets. Construction of the tower's 4th floor gets underway as building forms are placed at the northwest corner.
<>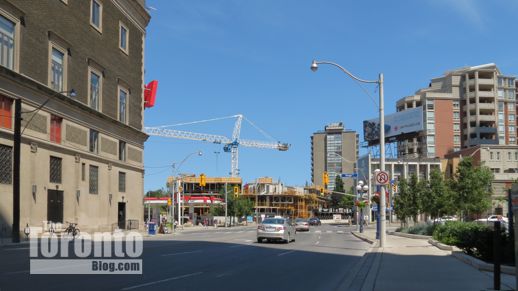 July 29 2012 view of The Milan from the west along Davenport Road
<>
New landmark: The Church-Yonge-Davenport intersection in Yorkville is taking on a whole new look as construction of The Milan Condominium commences its steady, gradual climb above street level.
For decades, the intersection was instantly identifiable by two familiar landmarks: the flagship Canadian Tire store and gas bar on the northeast corner, and the 94-year-old Masonic Temple (now production studios and offices for MTV Canada) on the northwest. But as The Milan tower makes its ascent, some pedestrians and motorists are getting a bit confused about where they are.
CONTINUED ON PAGE 2