Although many of the suites in the Post House Condos have sold out, the project website is still showing availability for a 556-square-foot 1-bedroom unit with 105 square foot balcony; several 1-bedroom + den units ranging from 580 square feet to 790 square feet (plus balconies); 2-bedrooms suites ranging from 718 to 777 square feet (plus balonies or terraces); and an 885-square foot penthouse with a 155-square-foot balcony.
Below is an artistic rendering of the building that appears on the Post House Condos website, along with several pics showing the condo site and the heritage buildings to its south. There's also a couple more pics of today's crane installation.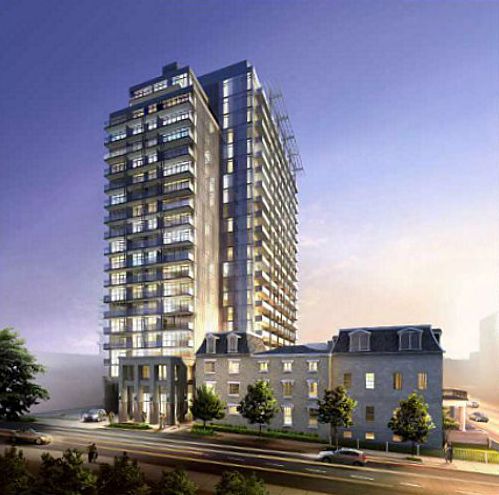 This artistic rendering from the project website depicts the Post House Condos building viewed from the west. The condo was designed by Toronto's Wallman Architects.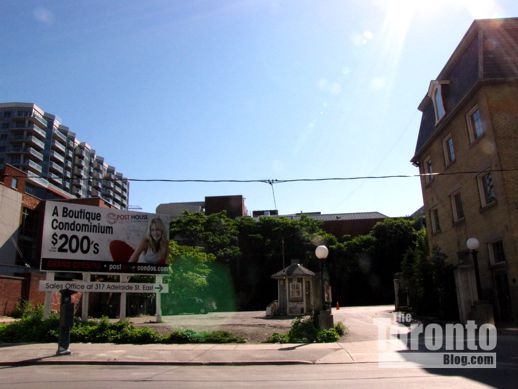 July 1 2011: The Post House Condos site was formerly a surface parking lot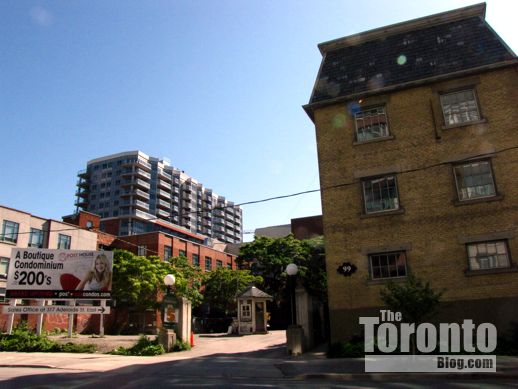 July 1 2011: A George Street view of the parking lot that will become Post House Condos, left, and the historic Bank of Upper Canada building the 21-storey tower will overlook (right)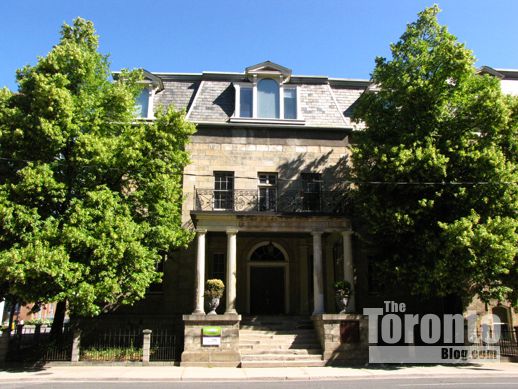 The Bank of Upper Canada historic building on Adelaide Street East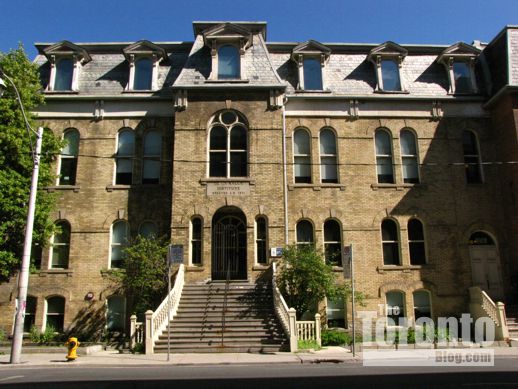 The historic de la Salle Institute building on Adelaide Street East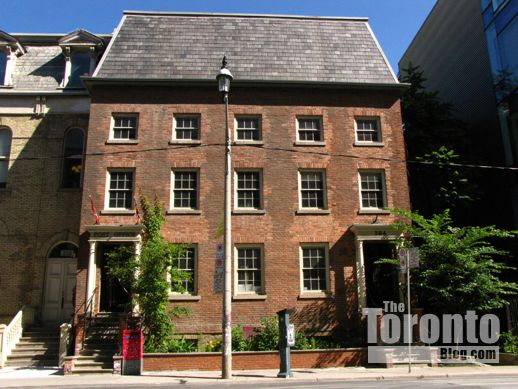 Toronto's First Post Office at 260 Adelaide Street East. A National Historic Site, the post office building still houses a full-service postal outlet, as well as a postal museum, library and archives. According to the Town of York Historical Society, "it is the only museum in Canada that collects and studies pre-confederation British North-American postal history."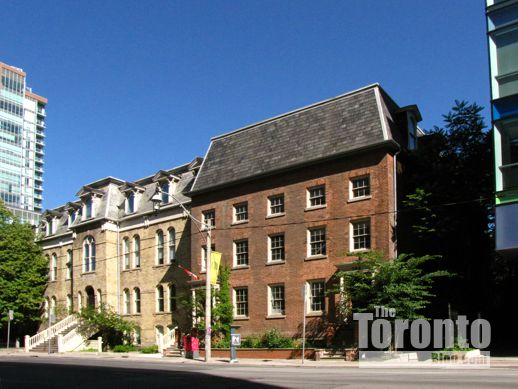 The 21-storey Post House Condos will rise behind the three heritage buildings, seen here from the south side of Adelaide Street.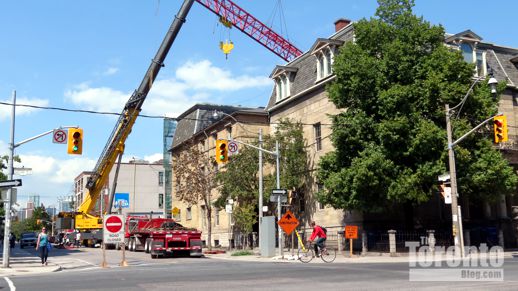 August 22 2012: A view of the crane being installed behind the Bank of Upper Canada building at the northeast corner of Adelaide and George Streets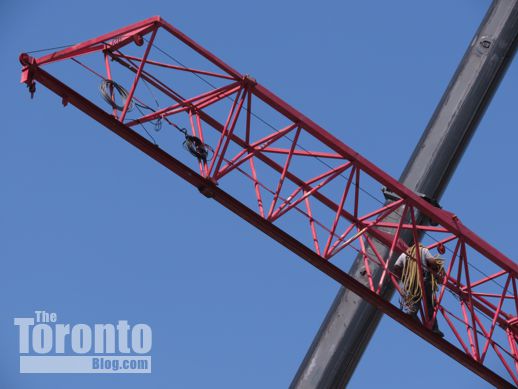 August 22 2012: A worker walks along the crane boom high above George Street
<>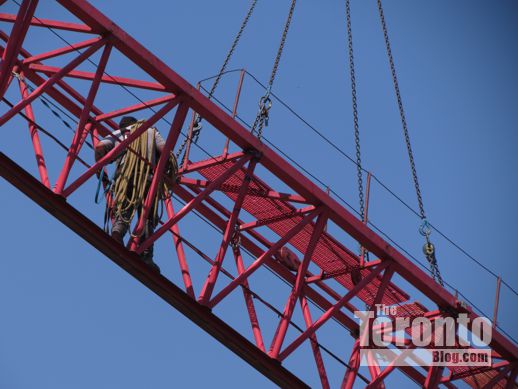 August 22 2012: The worker inspects the boom, which is still attached to the portable crane that hoisted it into place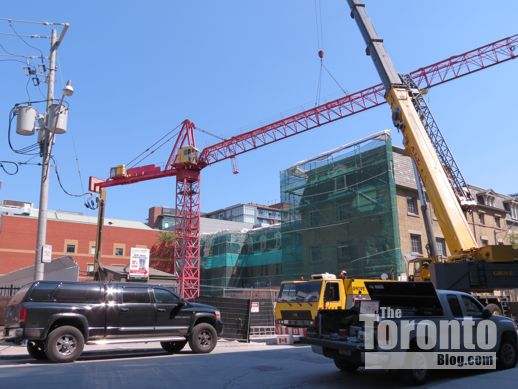 August 22 2012: Green protective nets and scaffolding will shroud the north sides of the heritage buildings during the Post House Condos construction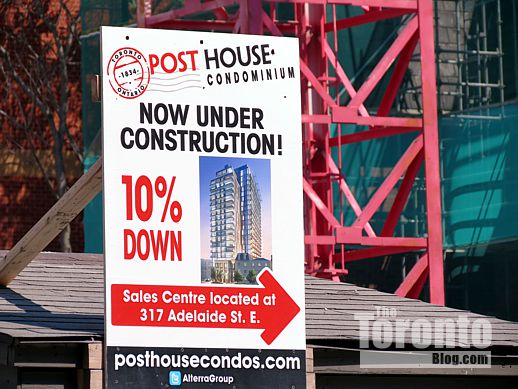 August 22 2012: A Post House Condos marketing sign near the newly-installed crane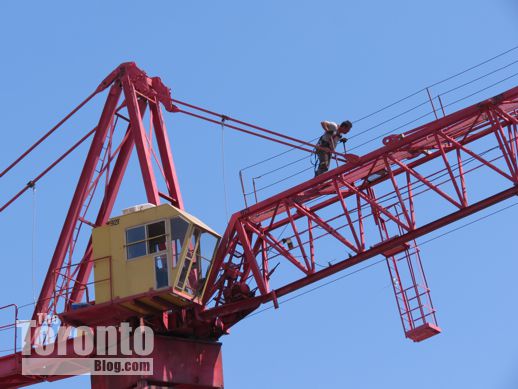 August 22 2012: A worker inspects the boom of the crane