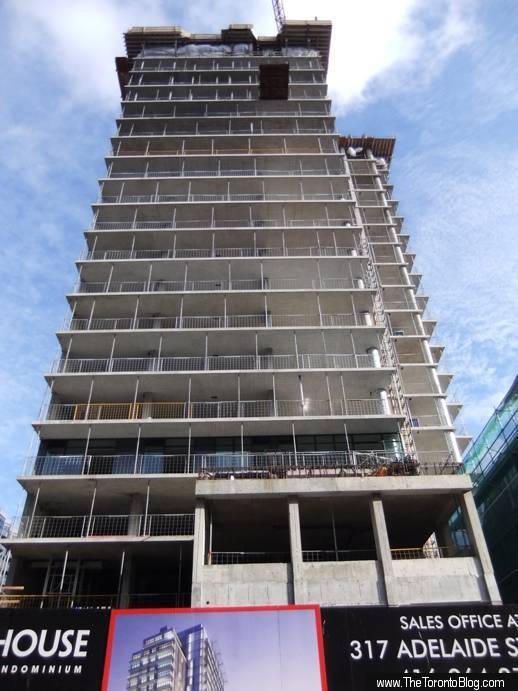 December 10 2013: Looking up the west side of the Post House Condominium under construction on George Street, just a few steps north of Adelaide Street, in Toronto's historic Old Town neighbourhood
Twenty somethings: Two condo towers under construction just two blocks apart from each other on Adelaide Street East are adding some more height to the steadily changing southeast downtown skyline.
On George Street, just a few steps north of Adelaide, the Post House Condominium tower has climbed over 18 storeys on its way to 21. Just two blocks east, the Ivory on Adelaide condo complex has risen 20 floors on the way to 22.
Although their heights pale in comparison with condo towers under construction along Adelaide Street West, where several new buildings in the Entertainment District will soar twice as tall, Post House and Ivory still stand out in the historic Old Town area of Toronto. Though they're not the first highrises in the neighbourhood, and will be joined by a handful more within the next several years, they do add obvious height and density to what is one of the most pleasantly walkable residential and commercial districts in the downtown core.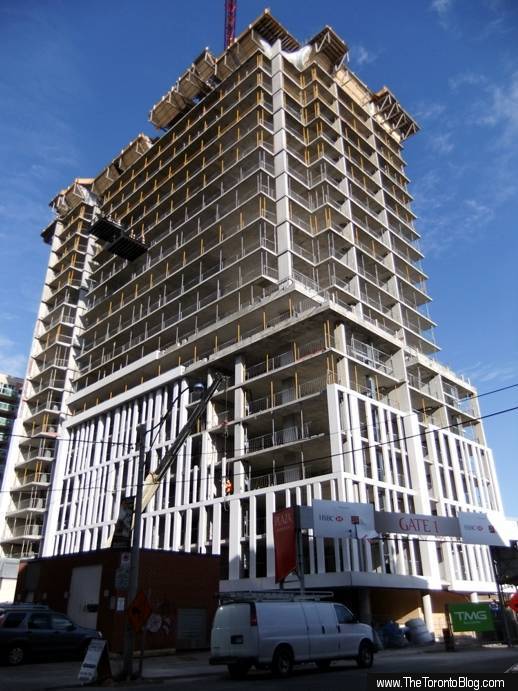 December 10 2013: Looking up the southwest corner of the Ivory on Adelaide condo under construction on Adelaide Street just east of Sherbourne Street
CONTINUED ON PAGE 2