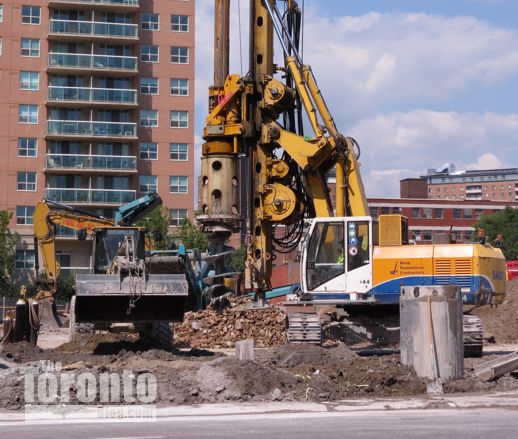 August 22 2012: Drilling and earth moving machines work on the west side of the Ivory on Adelaide condo construction site at 400-406 Adelaide East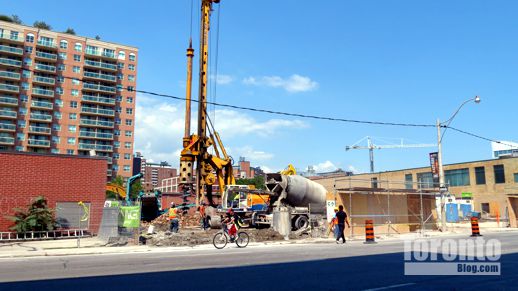 August 22 2012: Looking toward the Ivory site from the southwest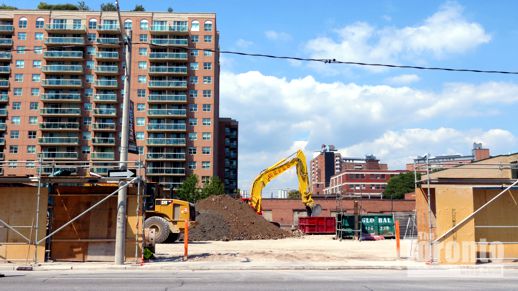 August 22 2012: Ivory site viewed from the south at the corner of Adelaide & Princess Streets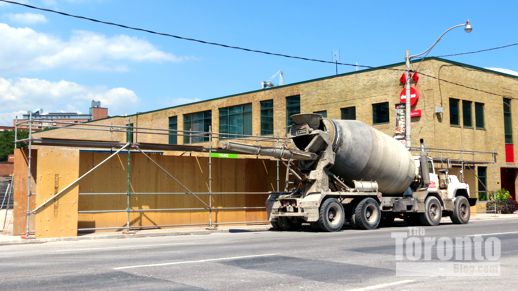 August 22 2012: A concrete truck waits on Adelaide Street next to hoarding along the sidewalk at the southeast side of the Ivory condo construction site
Drilling for Ivory: Motorists have lost access to another downtown parking lot as construction gets underway on yet another condo building.
These days, only earth movers and drilling machines are allowed on the rectangular property at 400 – 406 Adelaide Street East, where foundation building work recently got underway at the Ivory on Adelaide midrise condo building.
A project of The Plaza Corporation, Ivory on Adelaide will feature 272 units in a 22-storey building designed by Hariri Pontarini Architects. Suites are available in four different floorplan configurations, including 1-bedrooms ranging in size from a 520 to 650 square feet; 1-bedroom + dens offering 650 to 702 square feet; 2-bedrooms with 721 to 983 square feet; and penthouses in a host of sizes from 665 square feet to 1,389 square feet. The project website doesn't list prices, but indicates that parking and locker are included in the prices for the 1-bedroom + den, 2-bedroom and penthouse suites. The condo interiors were designed by Brian Patton Interior Design.
CONTINUED ON PAGE 2