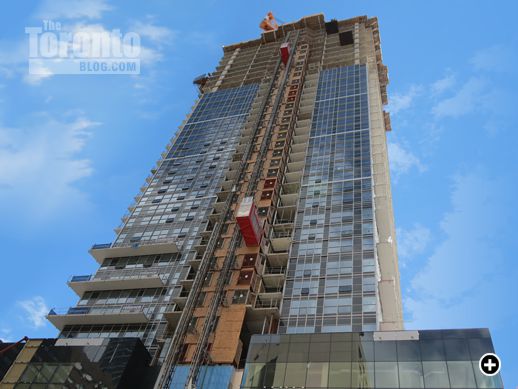 September 19 2012: Looking up the north side of the Aura condo tower. Construction reached the milestone halfway mark this week when work commenced on the 39th floor of the 78-storey skyscraper. (Click on the photo to view a larger-size image.)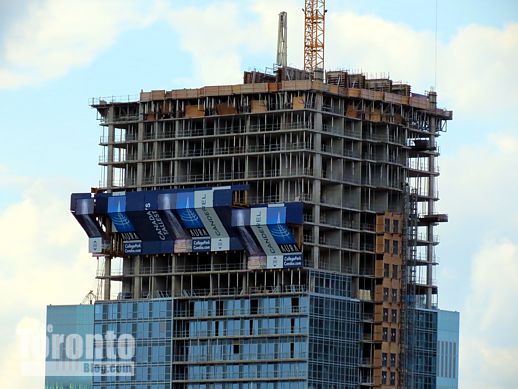 September 22 2012: My balcony view of the Aura condo tower this afternoon. Construction forms for supporting walls are in place on the north side of the 39th floor.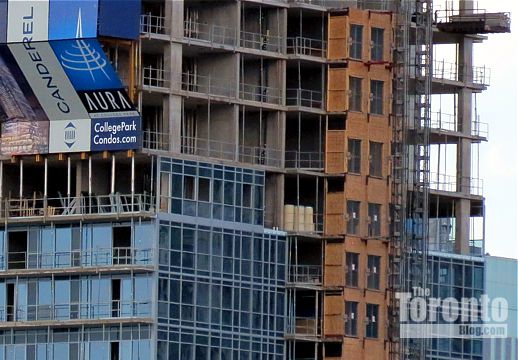 September 22 2012: Cladding and window installation has started on the 30th floor
 Midpoint milestone: The Aura condo tower at College Park has reached the halfway point — 39 floors — where building activity including concrete floor pours and construction of supporting walls has been underway the past two days.
When it tops off at 78 storeys, Aura will become Canada's tallest residential building.
I can't help but watch Aura's construction progress — the window next to my computer looks straight at it. Even though I'm more than five blocks away to the northeast, I can feel the strong presence of the big rectangular slab of concrete and glass looming over my left shoulder. I'm not impressed by the building's appearance so far, but I am looking forward to the point at which Aura reaches the 59th floor and construction commences on 16 levels of "executive suites" and five floors of penthouse and sub-penthouse residences. The oval shape for that top section of the tower will give Aura a unique silhouette on the city skyline, and be considerably more interesting and appealing to look at.
CONTINUED ON PAGE 2