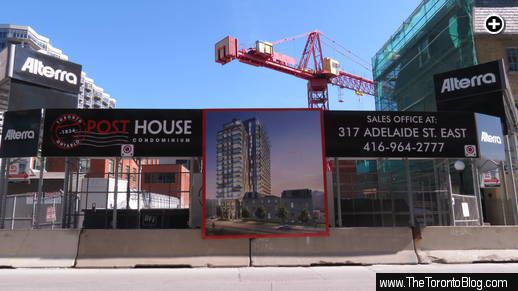 A red construction crane rises behind hoarding along the west (George Street) flank of the Post House Condos site
Filling in: The last time I passed by the Post House Condos site in August, crews were just installing the red construction crane that is helping to build the 21-storey structure.  I got another brief glimpse of the site this afternoon, where construction of four underground parking floors is progressing quickly. Two of the floors appear to have been built, with just two more to go before the construction reaches street level.
Located on the east side of George between Richmond and Adelaide Streets, Post House Condos is just steps from the St James Campus buildings of George Brown College, one block from St James Park, and a short walk from the interior design and furniture shopping strip along King Street East. The world-famous St Lawrence Market is only two blocks to the south, while the historic Distillery District is just a 10-minute stroll to the southeast.
CONTINUED ON PAGE 2