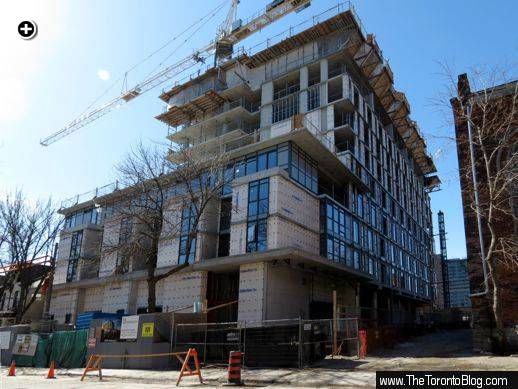 March 17 2013: Construction is underway on the top floor of the rental apartment building at 132 Berkeley Street. Windows have been installed on 4 levels so far.
Topping off: The project website and signs at the building site say summer move-ins are expected for the new One32 Berkeley rental apartment midrise in Corktown. But with construction still underway on the top floor, that might be a bit optimistic — unless Toronto's dreary winter lingers longer than it's supposed to.
Work was underway on the top level of the 10-storey building when I passed by on St Patrick's Day, while window and cladding installation had reached the fifth floor.
The midrise building will offer 177 rental apartments in 1-, 2- and 3-bedroom configurations. Amenities will include a party room with outdoor terrace, a fitness studio and a library/meeting room. A 2-level underground garage will have parking for 72 vehicles as well as parking facilities for 180 bicycles.
A project of Concert Properties, One32 Berkeley was designed by Page+ Steele / IBI Group Architects.
CONTINUED ON PAGE 2