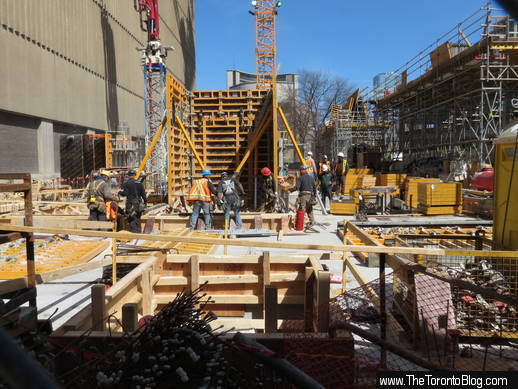 April 4 2013: Construction crews assemble forms into which concrete will be poured to build ground-floor walls and support structures for the No 210 Residences on Simcoe condo highrise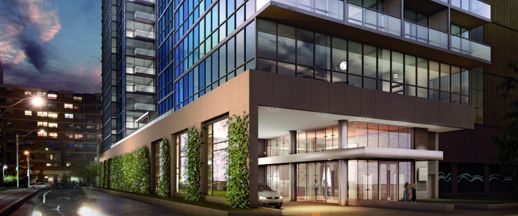 This artistic illustration depicts a view of the 210 Simcoe condo building from street level at the corner of Simcoe Street and Michael Sweet Avenue. The rendering appears on the website for Toronto developer Diamondcorp, which has partnered with Sorbara Development Group on the project.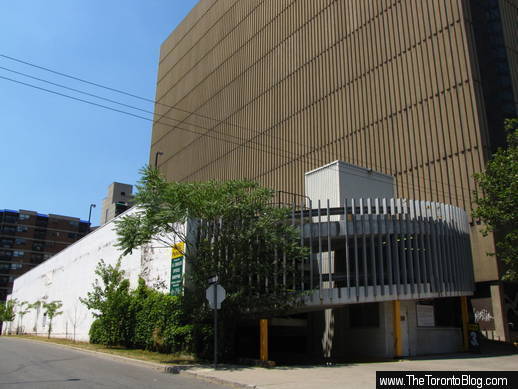 This was how the condo site looked in July 2011, viewed from the same perspective as the rendering above.
Ready to rise: Construction of a new condo tower in the AGO-Grange District near Queen Street West & University Avenue will soon climb as high as the ugly low-rise parking garage that formerly occupied the narrow, block-long property.
Work on the No 210 Residences on Simcoe has reached street level, and yesterday construction crews were assembling building forms for the building's ground floor walls and supports.
A joint project of Diamondcorp and Sorbara Development Group, No 210 Simcoe Residences will rise 25 storeys when finished, and contain 290 condo units. The building was designed by Sol Wassermuhl of Page + Steele/IBI Group Architects.
CONTINUED ON PAGE 2