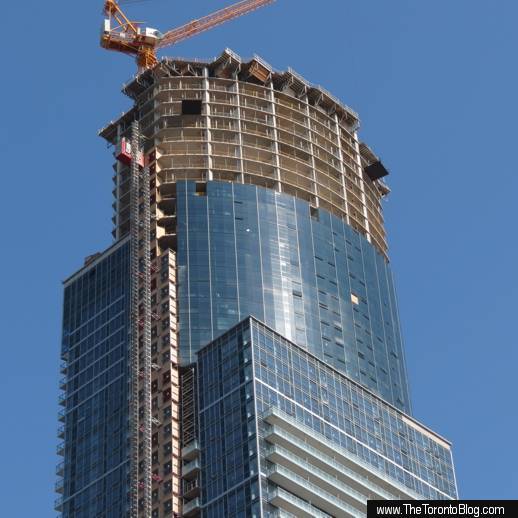 August 16 2013: Construction progress on the Aura condo tower, viewed from the northwest corner of College Park
[Editor's note: This post was updated on August 25. See below.]
55-floor plunge: Tragedy struck the Aura condo building site at lunchtime this afternoon when a 29-year-old male construction worker plunged to his death from the 70th floor of the tower.
Local media reports say that the man fell around noon, tumbling about 181 meters (55 floors) onto the roof of a 15-storey building nearby. News reports quote a Toronto Fire Department official as saying that the worker's body was found about 24 meters away from the Aura tower.
A report by CTV News Toronto said the firm that is building Aura, Reliance Construction Group, had no comment on the incident. But in a report posted later on the Toronto news page of the CBC website said Reliance had issued a statement in which it noted that the worker had been an employee of an on-site contractor.
"This is a very sad and difficult time for all involved," Reliance said in its statement. "Our thoughts today are with the people involved in this incident as well as their families, friends and colleagues. Health and safety is an utmost priority for our company. Our team is cooperating fully with local police and authorities to investigate this matter."
The accident is under investigation by the Ontario Ministry of Labour.
Worker's safety harness broke, news report says
A Global News Toronto report on August 24 identified the construction worker as Hamilton, Ontario resident Kevin Raposo, and said he was an employee of Verdi Alliance. The report says the tragic accident occurred when the metal clasp that secured Mr. Raposo's safety harness broke. He fell onto the roof of the College Park Suites apartment building at 424 Yonge Street immediately to the north of Aura.
"The force of the impact caused structural damage to the gravel rooftop. Raposo's body remained at the scene, covered by an orange blanket, for more than seven hours before crews laid down support beams and pieces of plywood so investigators could examine it. His body was removed after dark," the Global News report states.
Aura will be the tallest residential building in Canada once construction is complete. The tower will be 78 storeys high.
Below are screen captures from local television news reports about the horrific accident, followed by a photo of Aura that I shot last week from the northwest corner of College Park.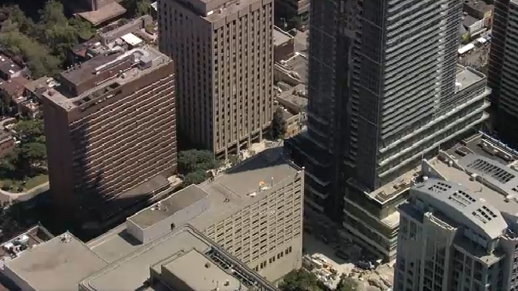 This image from a Global Toronto television news video show the roof of the College Park Suites building at 424 Yonge Street (center), onto which a young construction worker fell after his safety harness broke while he was working on the Aura condominium tower (upper right) on Friday.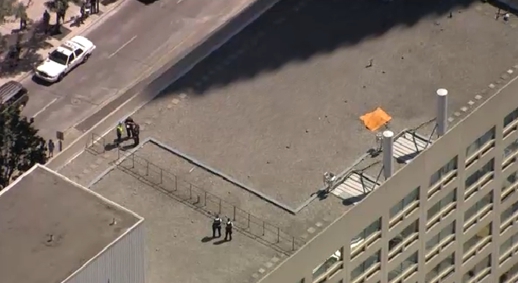 This image from the Global Toronto news video report shows emergency personnel standing on the roof of the College Park Suites apartment building, several meters from the tarp-covered body of the construction worker who fell from the adjacent Aura condominium tower construction site.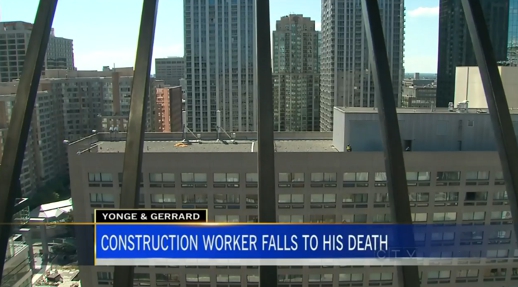 This image, from a CTV Toronto News video report, shows the roof of the College Park Suites, as viewed from a nearby building on the east side of Yonge Street