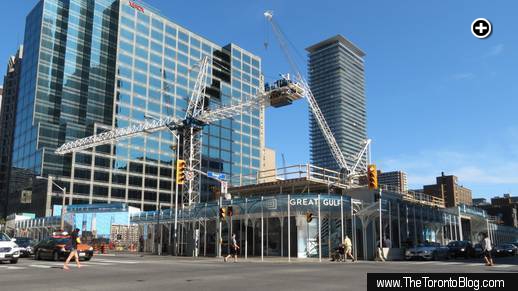 August 17 2013: Work on the 75-storey One Bloor condo tower finally comes into view as podium construction climbs above the sidewalk scaffolding …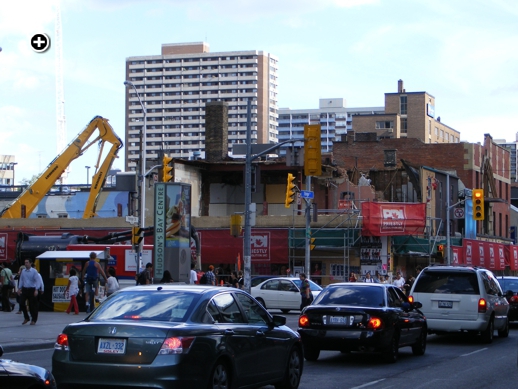 … five years after demolition machines razed the low-rise retail, restaurant and office buildings that had occupied the southeast corner of Yonge & Bloor
Show time: It has taken five years, but people passing through the bustling Yonge & Bloor intersection can once again see a building structure (albeit one still in the very early stages of construction) standing on the southeast corner.
Five years ago this month, the southeast corner of Yonge & Bloor was surrounded by scaffolding, above which passersby could see demolition machines razing the upper floors of several low-rise retail, restaurant and office buildings that had occupied the corner property for decades. They were clearing away the old structures — and the pedestrian-friendly Roy's Square lane behind them — to make room for construction of a highly-hyped 80-storey condo, hotel & retail complex that developer Bazis International called 1 Bloor.
With a promised "iconic" design, 1 Bloor would become a striking new landmark for the Yonge & Bloor area, and claim bragging rights to the title of tallest residential building in Canada. Prospective purchasers lined up for days before the presentation centre opened and, once it did, units sold like hot cakes.
By mid-September of 2008 the old buildings on the 1 Bloor site were completely demolished, leaving nothing but a big empty lot for passersby to see through security fences set up around the property. Architecture and building buffs — not to mention all the people who had bought condos at 1 Bloor — anxiously awaited word that construction was about to start.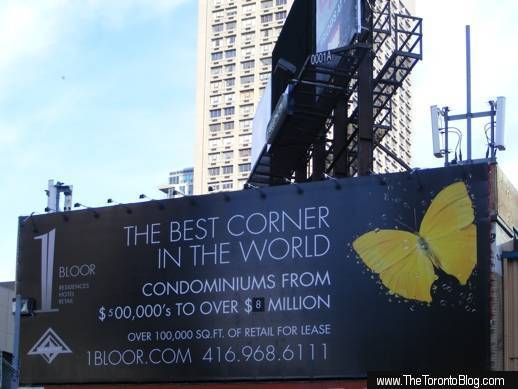 November 13 2007: This billboard advertised the original 1 Bloor condo tower that developer Bazis International had planned for the site.
CONTINUED ON PAGE 2