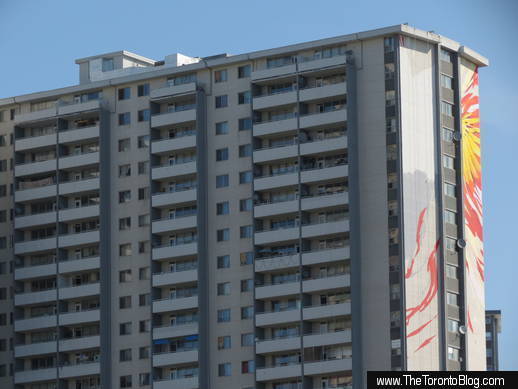 August 24 2013: It's only partly complete, but the phoenix mural being painted on the south wall of 200 Wellesley Street East has already brightened the building — and the St James Town skyline. I shot this photo from three blocks to the southwest at the corner of Homewood Avenue and Maitland Place.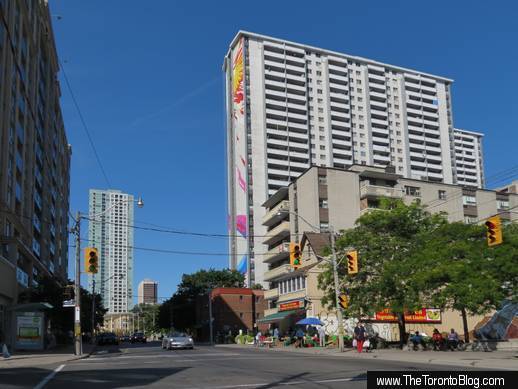 August 24 2013: A view of the phoenix mural from one block east of the building at the intersection of Wellesley and Ontario Streets
Neighbourhood youth initiative: On September 24 2010, thousands of people in the northeast downtown area watched and worried as flames and smoke billowed from windows and a balcony at 200 Wellesley Street East, a Toronto Community Housing rental apartment highrise in St James Town. The intense six-alarm fire destroyed a 24th-floor apartment on the tower's west side, and displaced more than a thousand building residents from their homes — some for many months.
The damage was repaired and residents returned to their apartments ages ago, but 200 Wellesley is once again attracting attention from people across northeast downtown. This time it's a colourful giant mural, rather than smoke and flames, that has been turning heads and making people take a close look at the 43-year-old building.
Rising the entire 250-foot length of 200 Wellesley's 29-storey south wall, the multicoloured painting of a bird soaring skyward will be the tallest public art installation in Toronto, and might even be the tallest in the world.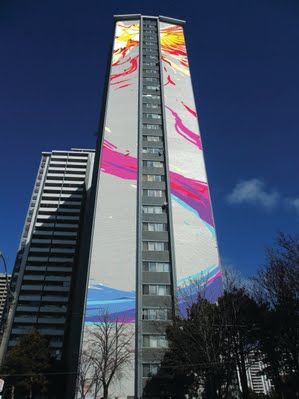 This rendering provided by The STEPS Initiative shows how the phoenix mural will look once painting is complete.  A July 31 2013 report on the Torontoist website features another rendering that includes details from the base of the mural.
CONTINUED ON PAGE 2