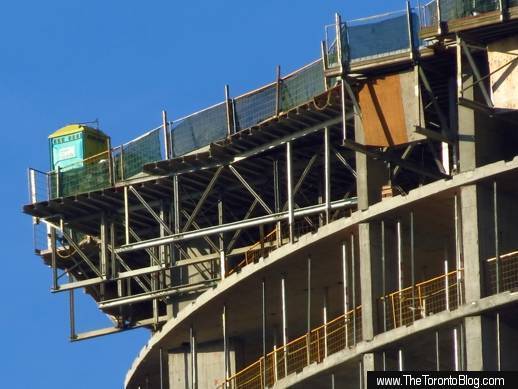 When nature calls, construction crews working on the upper levels of the Aura condo tower at College Park get to use this portable toilet …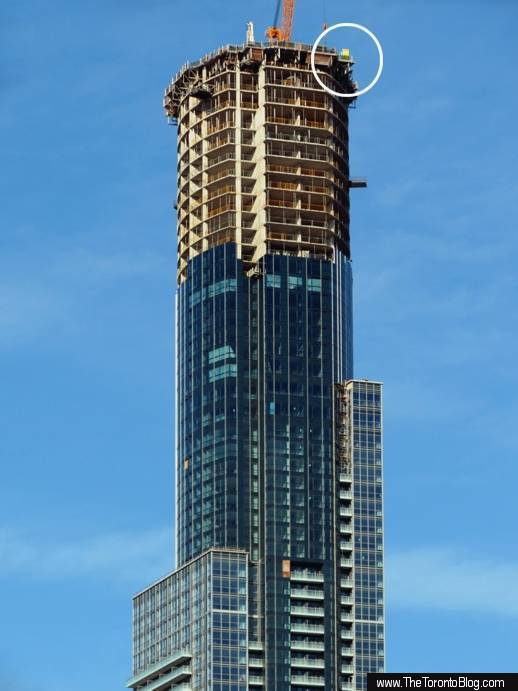 … perched high above the northwest corner of Yonge and Gerrard Streets — about 76 storeys above the ground when I shot this photo on November 14.
Sky-high porta potty: Construction isn't finished yet, but the Aura condo building at College Park already ranks as the tallest residential tower in the country. It probably holds another record, too  — for having the highest outdoor toilet of any urban area in Canada.
As Aura has steadily climbed higher towards its final residential floorcount of 78 storeys, a porta potty has moved upward one new floor at a time as well, situated since May near the tower's southeast corner.
But Aura isn't the only downtown building site boasting sky-high outdoor toilet facilities for construction crews. The top-level porta potties on the two ÏCE Condominiums towers rising at 12 and 14 York Street have also reached dizzying heights as those buildings have ascended toward their final 57- and 67-storey floorcounts.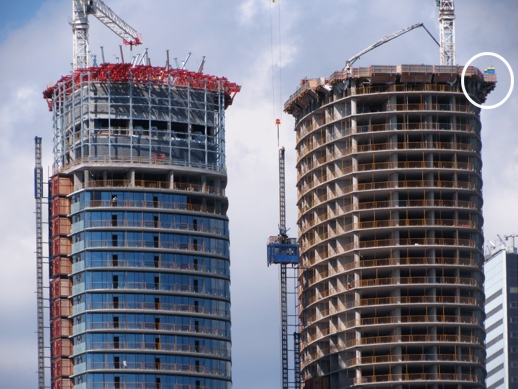 September 4 2013: A view of the two ÏCE Condominiums towers on York Street, at which time construction was continuing on the mechanical penthouse levels for the 57-storey building at 12 York Street (left). Two outdoor porta potties are visible on the southeast corner of the 14 York Street condo (right) about 60 storeys above street level. That tower will top off at 67 floors.
CONTINUED ON PAGE 2