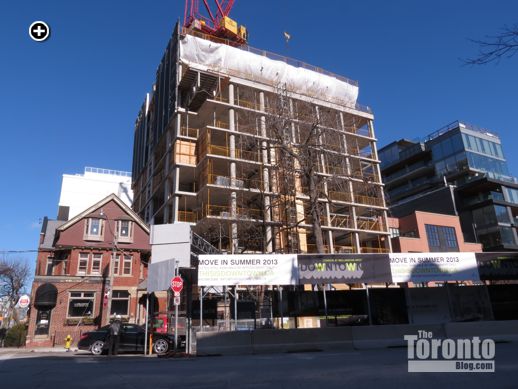 February 6 2013: Construction progress on the Downtown condo midrise, viewed from the south at the intersection of Wellington Street West and Portland Street.
9  up, 2 to go: One year ago, excavation work was just in its early stages at the 508-516 Wellington Street West site of the boutique Downtown condo building. As of this week, concrete has been poured for 9 floors of the 11-storey midrise structure.
A project of Parallax Investment Corportion, the 89-unit condominium building was designed by Sweeny Sterling Finlayson & Co. Architects Inc. It's the third new midrise condo building to be constructed on Wellington West, between Spadina Avenue and Portland Street, just in the past two years. (The other two, now occupied, are 400 Wellington and Five Hundred Wellington West.) But Downtown is the first building — both in Toronto, and possibly the entire world — to feature the innovative Flexnatür raised-floor building design that Sweeny Sterling developed.
CONTINUED ON PAGE 2