Building boasts unique Flexnatür raised floor design
The raised floors give condo owners the option to significantly reconfigure the layout of their residences — including the plumbing — since all utilities are contained within each unit. Suites can therefore be altered without disturbing residents of neighbouring condos because there would be no need to cut through concrete floor slabs or even turn off a main water supply line to relocate plumbing pipes. No concrete cutting would be required to change wall placements, either, since suites are supported by concrete columns and separated by acoustically-engineered dividing walls; those walls could be moved with minimal headaches.
Flexnatür would be particularly appealing to purchasers seeking two or more condos in the same building — one for their own residence, and another to be rented out as an investment property. If at some future time they need a larger space for themselves, they could easily knock out a dividing wall to combine the units into one. Or, they could take one large condo and divide it into smaller units. [Parallax partner Michael Binder and architect Dermot Sweeny describe the unique flexibility of the Flexnatür design in more detail in a November 5 2010 article published in the Toronto Star.]
Suites still available for purchase
Signs on hoarding outside the construction site say suites are still available for purchase "by appointment only," with move-in dates this summer. According to the Downtown Condos website, the building boasts at least 7 different floorplans: Junior 1-bedrooms starting at 421 square feet; 1-bedrooms from 623 to 922 square feet; 1-bedrooms + den at 743 and 783 square feet; 2-bedrooms from 990 to 1085 square feet; roomy 2-bedroom + dens ranging from 1058 to 1663 square feet; 3 townhomes offering 1445 to 1603 square feet; and penthouses offeering 922 to 1663 square feet. Besides those, of course, is a variety of potential layouts for combined condos.
Below are several more photos I've shot of construction progress at Downtown Condos, along with a building rendering and three suite layouts that appear on the project website. There's also a link to a Flickr album with more large-size photos.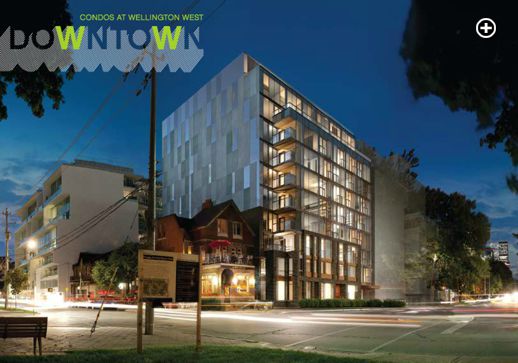 This architectural illustration depicts a view of Downtown Condos from Victoria Square Memorial Park to the southwest. The building was designed by Sweeny Sterling Finlayson & Co. Architects Inc.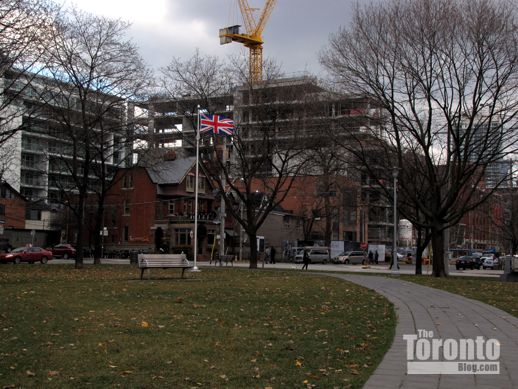 November 23 2010: Looking toward the Downtown Condos site (low-rise grey building in center of photo) from Victoria Square Memorial Park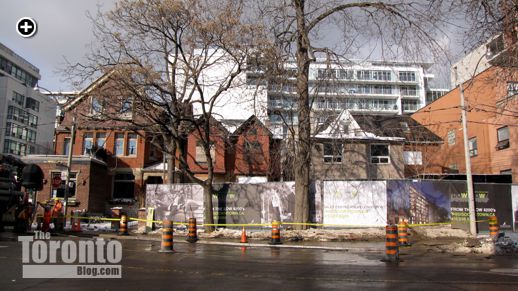 January 14 2011: Marketing billboards line the sidewalk in front of the Downtown Condos site. The brown and grey 2-storey buildings in the center of the photo will be demolished to make way for the new condo midrise. The grey building occupies 508-510 Wellington, while the brown structure to its left was the Henry Howson House at 516 Wellington, built around 1871. The Toronto Preservation Board recommended in 2006 that the Henry Howson House be included on the City's inventory of heritage properties, but it was not added to the list.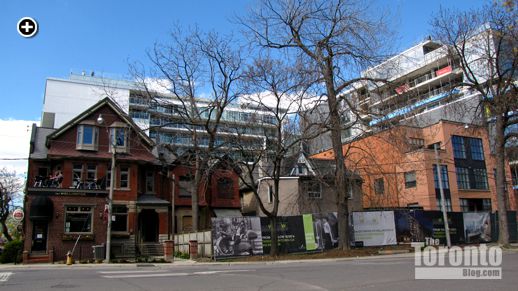 May 8 2011: Looking north toward the Downtown Condos location before the two buildings at 508-516 Wellington West were demolished. The contemporary building at rear left is the Seventy5 Portland condos at 75 Portland Street, which opened in early 2010. The building under construction at far right is the Five Hundred Wellington West condos, which opened last year.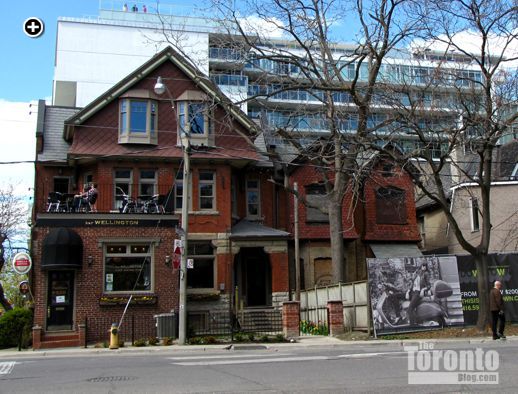 May 8 2011: The 3-storey corner building at left is the popular neighbourhood watering hole and restaurant Bar Wellington at 520 Wellington West. It actually is comprised of two historic houses: 520, originally the Sarah Schofield House, and 518, the Eude Saunders House. They were constructed around 1891 and are listed on the City's inventory of heritage properties.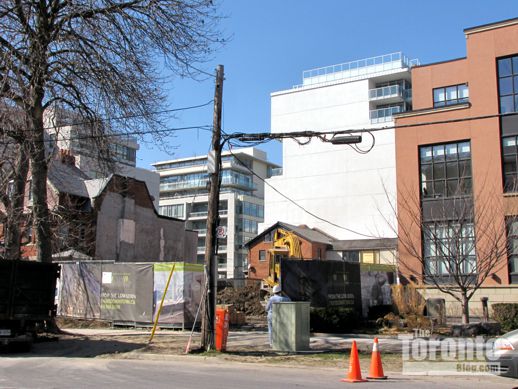 March 20 2012: Excavation is underway at the Downtown Condos site. The building will have only one level of underground parking.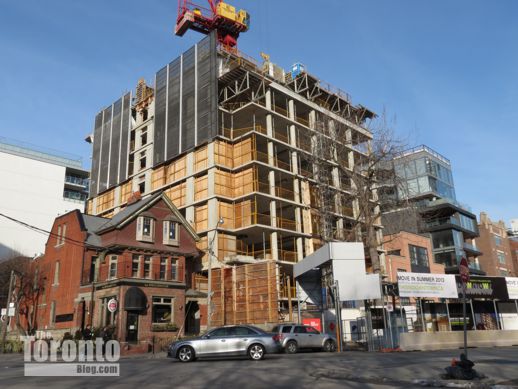 January 10 2013: Less than a year after excavation commenced, construction has climbed above 8 floors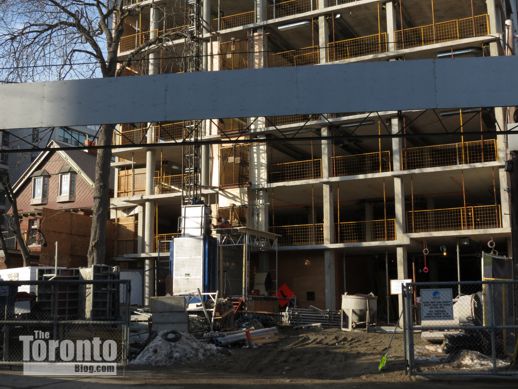 January 10 2013: The new building graciously accommodates the big tree that has stood on the southwest corner of the property for decades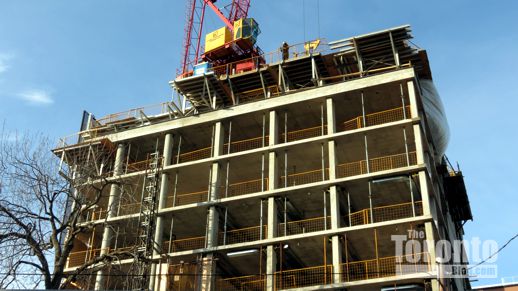 January 10 2013: The concrete frame for the 9th floor starts to take shape. The building steps back here to provide spacious terraces for 2-level suites.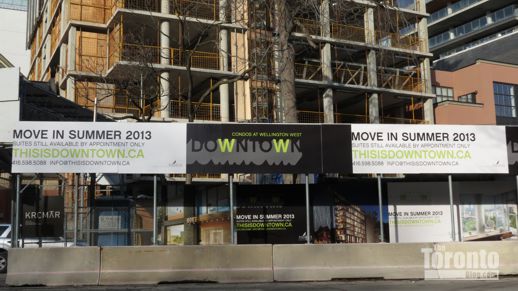 January 10 2013: Signs on the construction hoarding proclaim that suites are still available, with summer move-ins expected.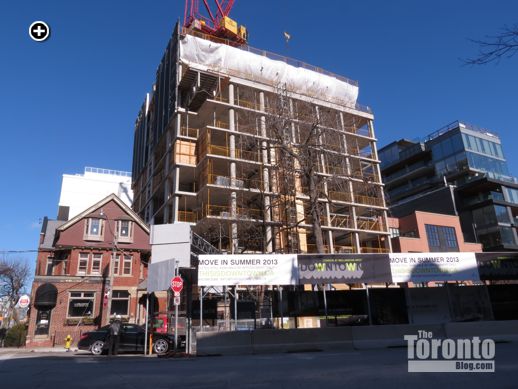 February 6 2013:  Construction work continues on the 9th floor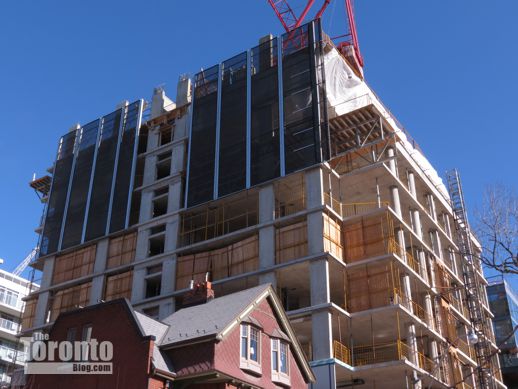 February 6 2013: A view of the building's upper southwest corner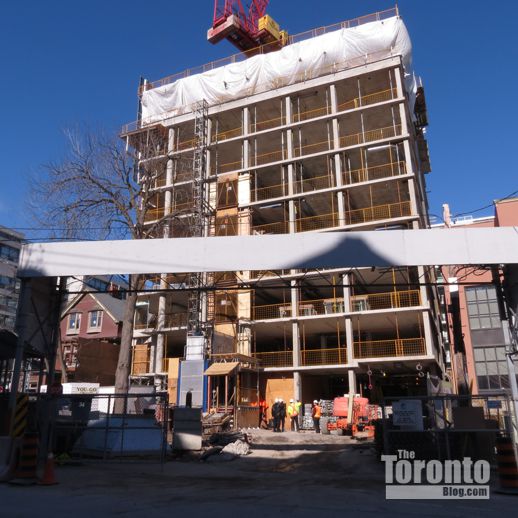 February 6 2013: Ground-level view of the building from Wellington Street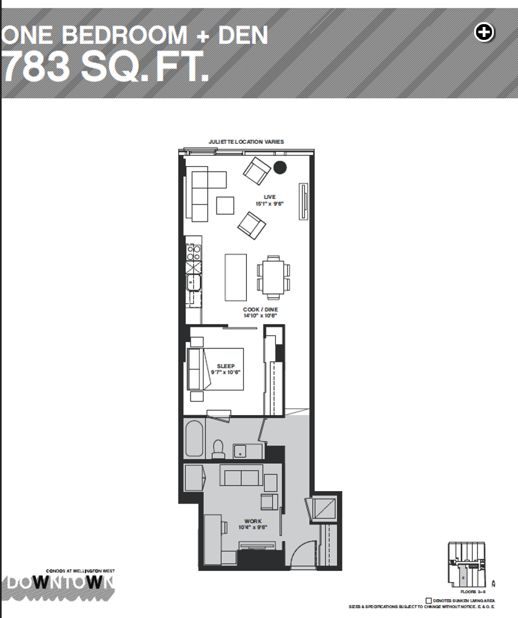 From the project website, a floorplan illustration for a 1-bedroom + den unit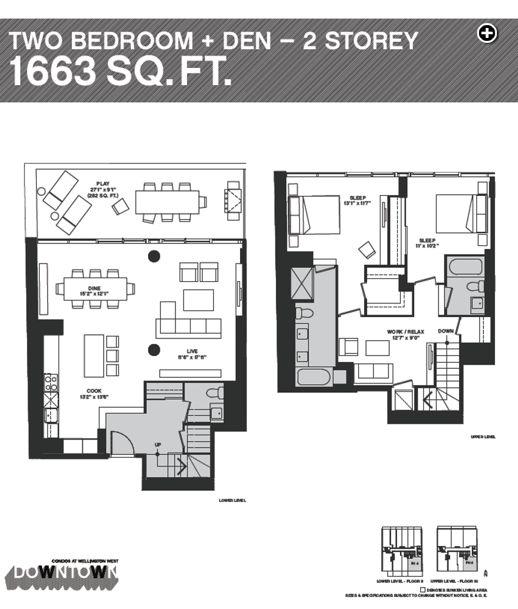 From the project website, a floorplan illustration for a 2-bedroom suite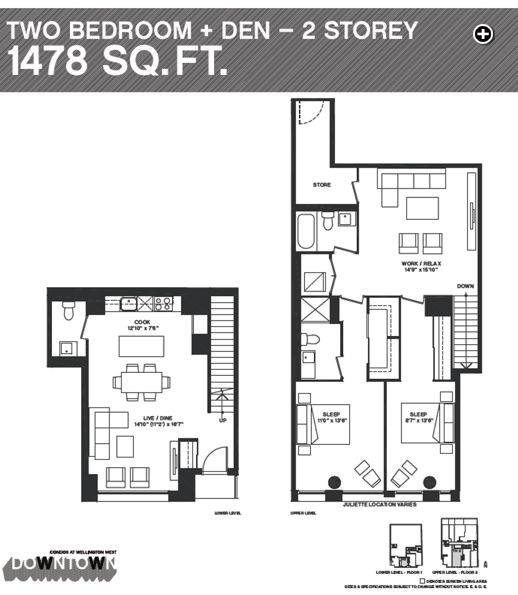 From the project website, the floorplan for Townhouse 2
Above is an online photo album with more photos of Downtown Condos construction. Click once to view a slideshow of small-format images, or click twice to access the Flickr album and view individual photos and captions in full size.