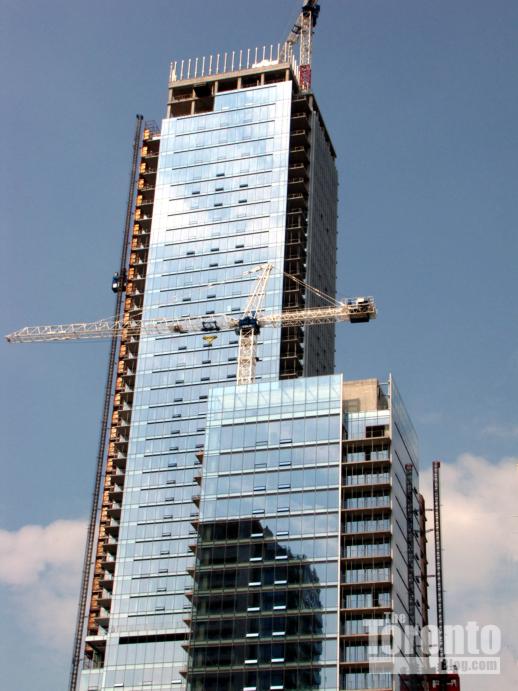 August 6 2011: The two Four Seasons Hotel + Private Residences Toronto towers viewed from the northeast on Church Street near Yonge Street

Looking sharp: Glass cladding installation is nearly finished as construction of the Four Seasons Hotel + Private Residences Toronto moves closer to completion.
Designed by Toronto's architectsAlliance, the five-star hotel/condo project features two sleek and slender glass towers — one 26 storeys, the other 55 floors — that soar above Yorkville from the northeast corner of Bay Street and Yorkville Avenue.
The west tower firmly established itself as a new Yorkville landmark several months ago when it became the tallest building in the upscale shopping and residential neighbourhood. It will boast a lavish  253-suite Four Seasons Hotel in its shiny glass base, with posh condominiums rising from floor 24 to the 55th-floor penthouse, which recently sold for a record $28 million. The website shows six available floorplans, ranging in size from a spacious 1,956-square-foot 2-bedroom suite to a palatial 3,914-square-foot two-bedroom estate with two 12 x 12-foot terraces. Floorplans for the East Residence range from a 1,100-square foot 1-bedroom suite to an 1,815-square-foot 2-bedroom home. The towers'  204 condos were designed by Gluckstein Design Planning.
The east tower will be connected to the west by an elevated bridge, giving its privileged residents easy access to the hotel amenities. "They will enjoy a pampered lifestyle, with all the luxurious amenities of the hotel at their doorstep, including 24-hour concierge, doorman and valet parking," the project website promises.
The hotel's main entrance on Bay Street will open into a Grand Lobby extending the full width of the building (from Scollard Street south to Yorkville Avenue). The hotel will have a lobby bar, a second-floor restaurant, ballroom and banquet facilities, and a luxurious 28,000-square-foot spa with a fitness club, indoor lap pool, whirlpools and an outdoor terrace. The lobby and amenities areas were designed by Yabu Pushelberg, while a central landscaped courtyard park fronting onto Yorkville Avenue was designed by Claude Cormier. 
The Four Seasons Hotel + Private Residences Toronto is a joint venture project of Menkes Developments Ltd. and Lifetime Developments.
Below is a series of photos I've shot of the Four Seasons complex over the course of the summer.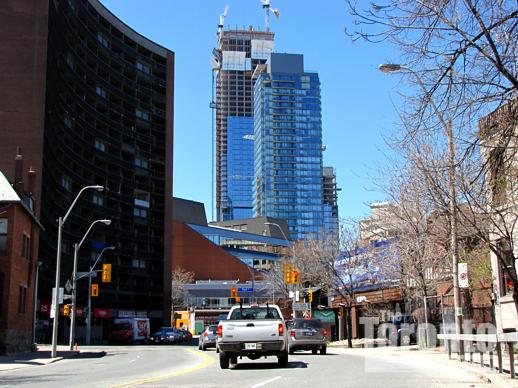 May 5 2011:  Construction of the 55-storey Four Seasons Hotel + Private Residences west tower viewed from Church Street near Park Road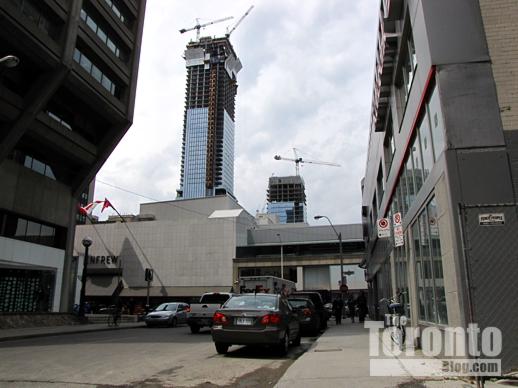 May 6 2011: Balmuto Street view of the Four Seasons towers rising above Yorkville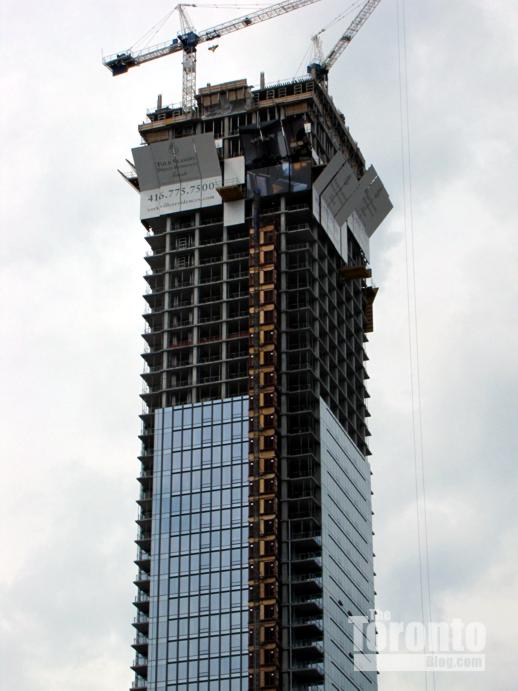 May 6 2011: West tower viewed from Bloor Street near Yonge Street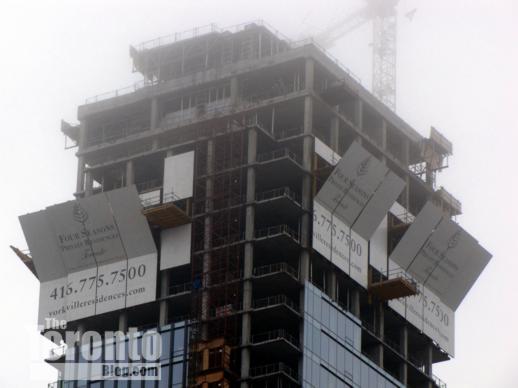 June 22 2011: Fog surrounds the 55th floor $28 million penthouse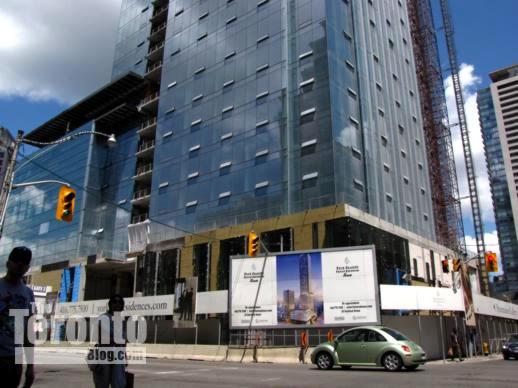 July 13 2011:  Four Seasons viewed from the SW corner of Bay & Yorkville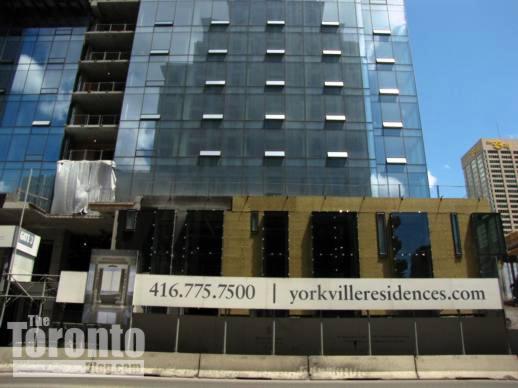 July 13 2011: The west tower's ground floor and lower levels seen from the northeast corner of Bay Street and Yorkville Avenue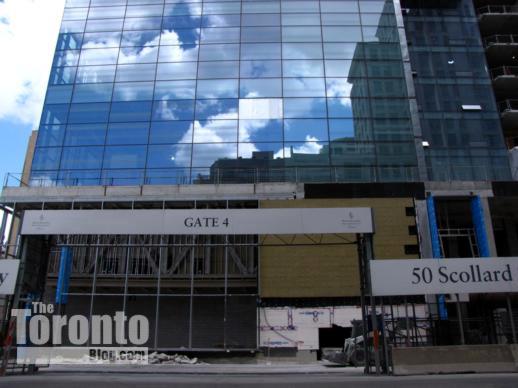 July 13 2011: The hotel spa, ballroom and banquet facilities are housed in this 8-storey wing at the corner of Bay and Scollard Streets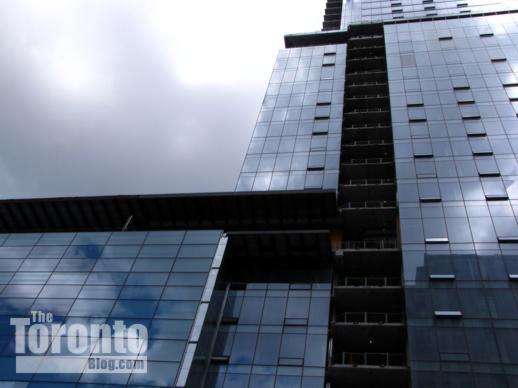 July 13 2011: Bay Street view of the hotel section of the west tower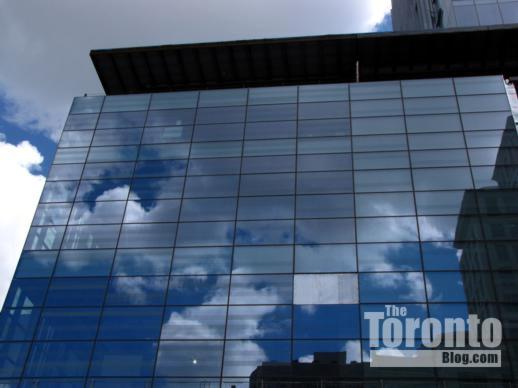 July 13 2011: Clouds reflect in the exterior of the hotel amenities wing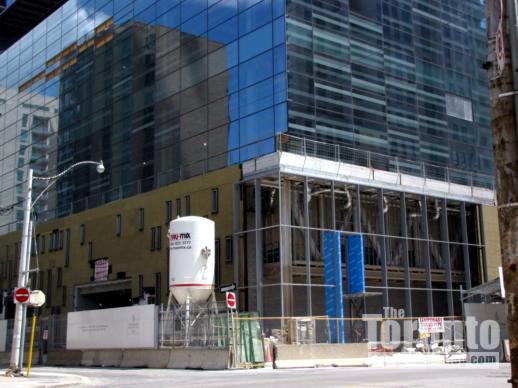 July 13 2011:  Ground-level view of the amenities wing at Bay & Scollard Streets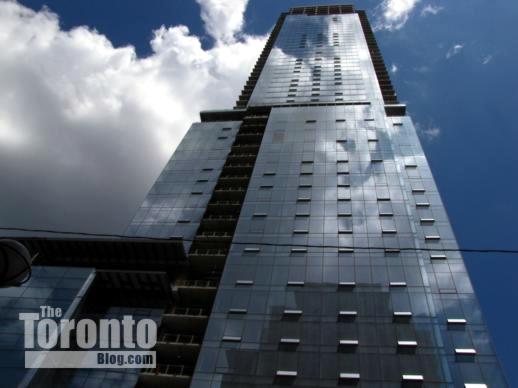 July 13 2011: Looking up from the NW corner of Bay Street and Yorkville Avenue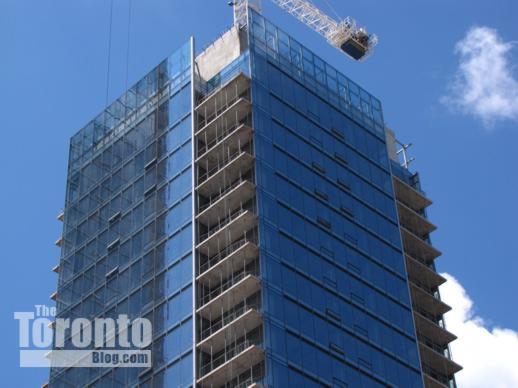 July 13 2011: Cladding has been installed, but the balconies haven't yet been completed on the East Residence tower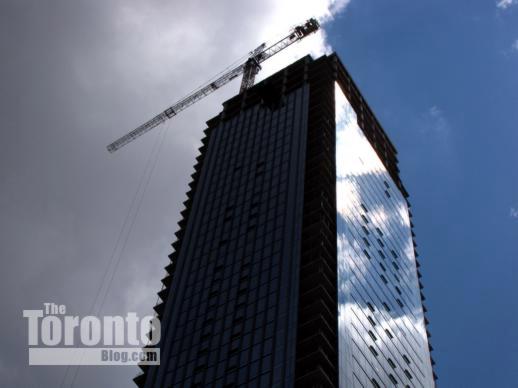 July 13 2011: Looking up the northwest corner of the west tower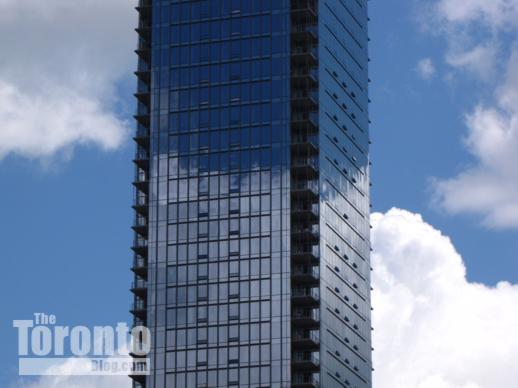 July 13 2011: The sleek glass midsection of the 55-storey west tower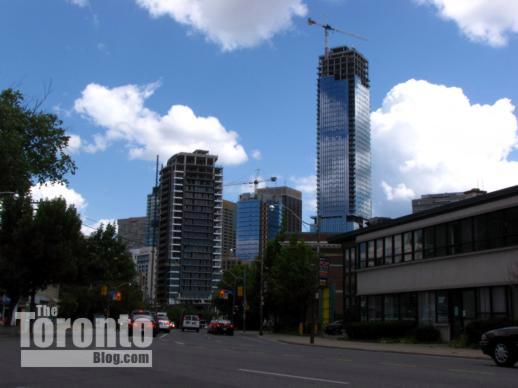 July 13 2011:  Four Seasons towers viewed from the northwest on Davenport Road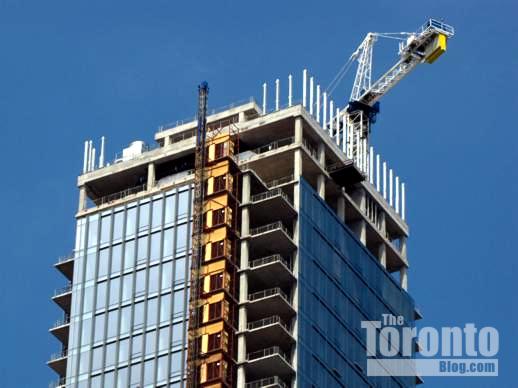 July 24 2011: Roof fin installation underway on the west tower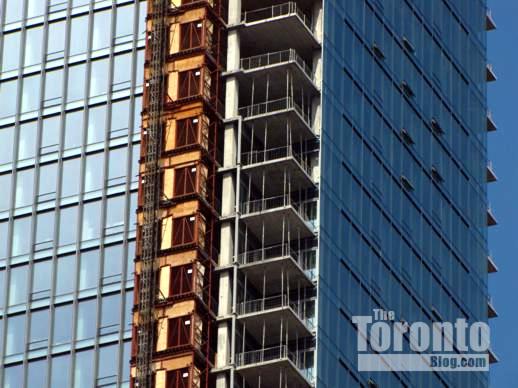 July 24 2011: Balconies and construction elevator on the hotel tower's SE corner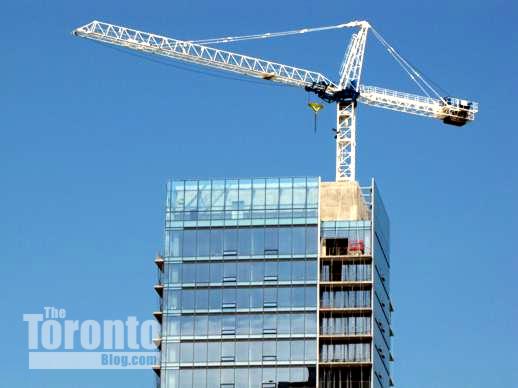 July 24 2011: Crane and upper six floors of the East Residence tower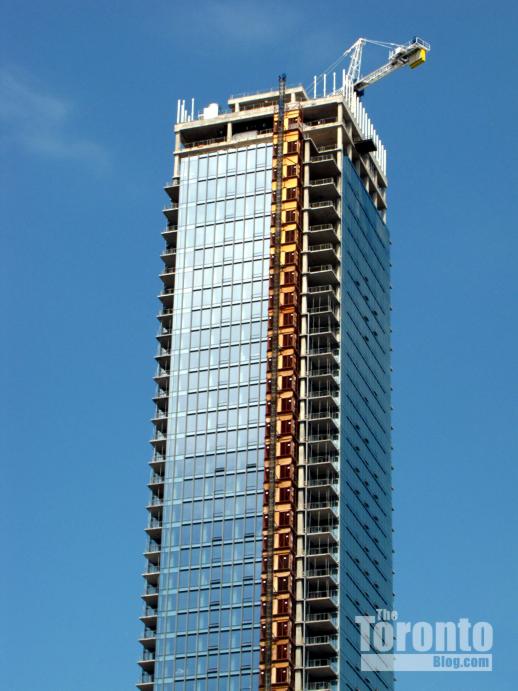 July 24 2011: The soaring west tower viewed from Bloor Street near Yonge Street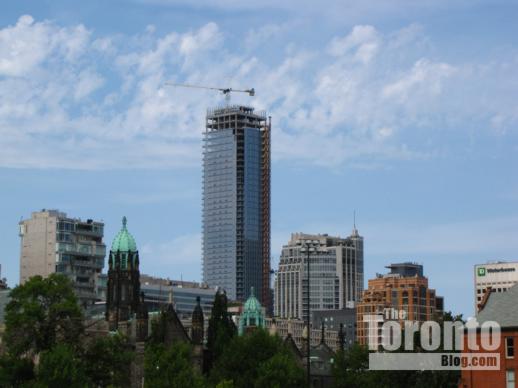 July 24 2011: West tower viewed from the University of Toronto campus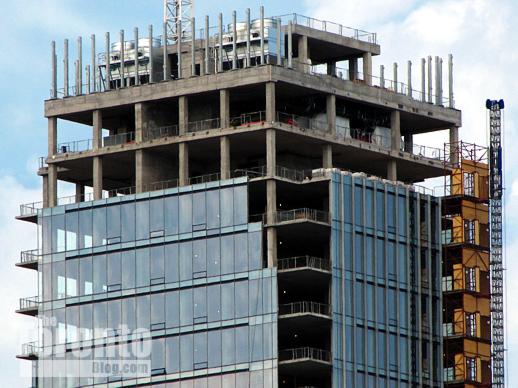 July 24 2011: Hotel tower penthouse floors viewed from the southwest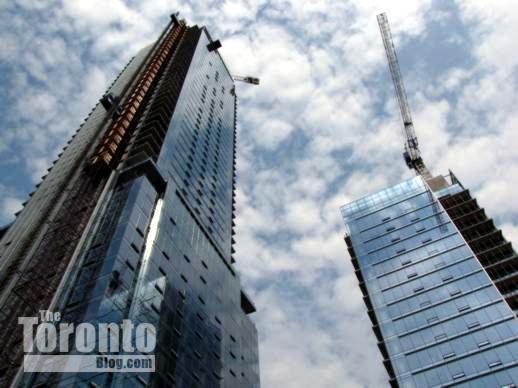 August 6 2011:  Yorkville Avenue view of the two towers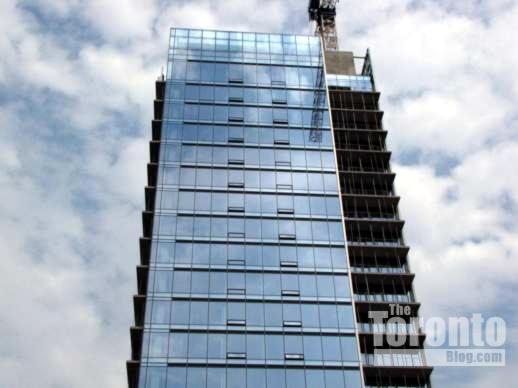 August 6 2011: Looking up the south side of the East Residence tower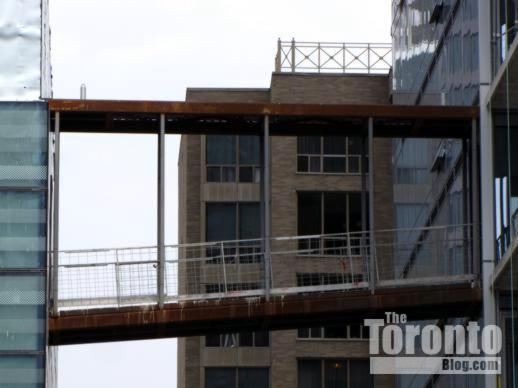 August 6 2011: A pedestrian bridge links the East Residence tower to the amenities wing of the hotel building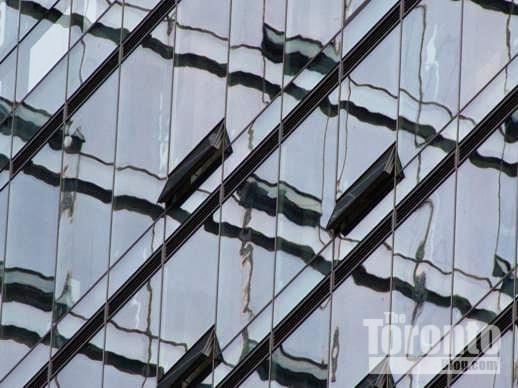 August 6 2011: Reflections on windows of the East Residence tower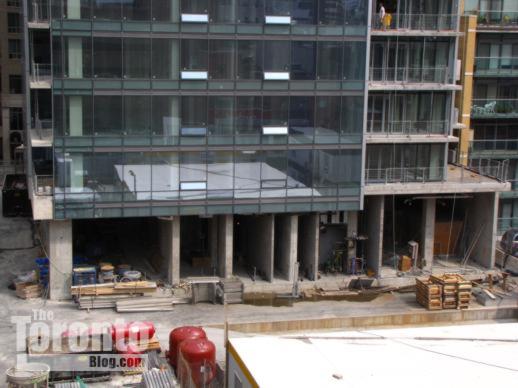 August 6 2011: The base of the East Residence tower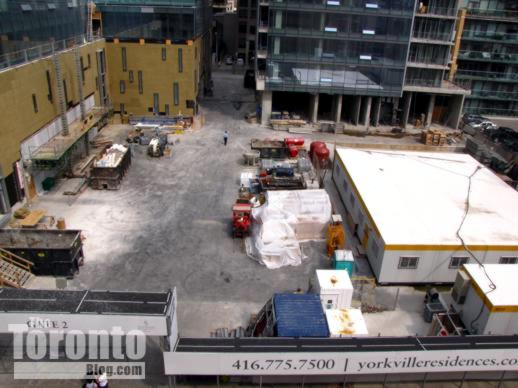 August 6 2011: This area will become a showpiece courtyard garden + hotel/condo entrance driveway designed by Claude Cormier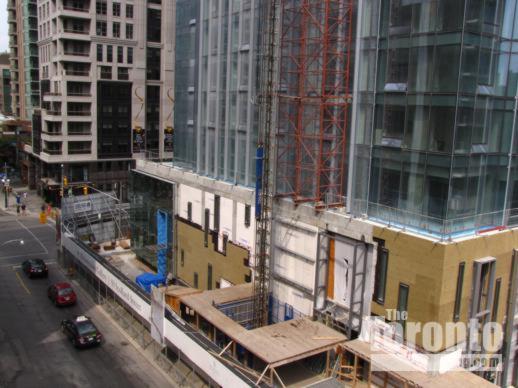 August 6 2011: The hotel tower base at Yorkville Avenue & Bay Street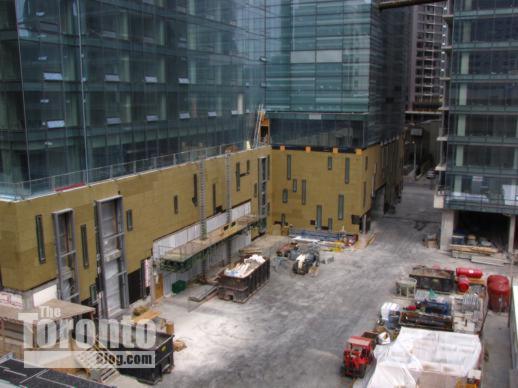 August 6 2011: The hotel tower base awaits its exterior cladding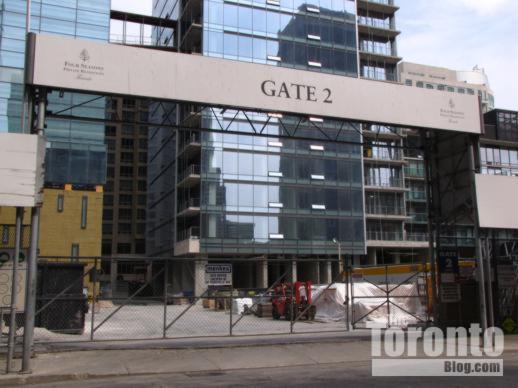 August 6 201: Yorkville Avenue view of what will become the driveway entrance to both the hotel and condo towers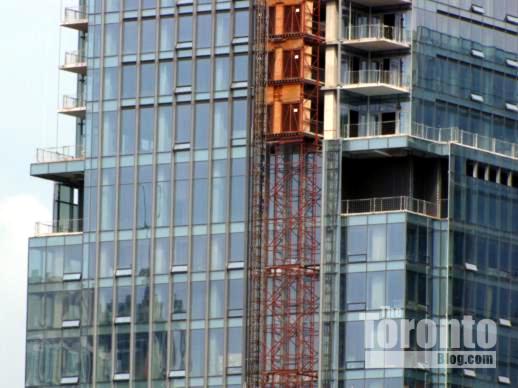 August 6 2011: The condo floors rise from the slightly broader hotel base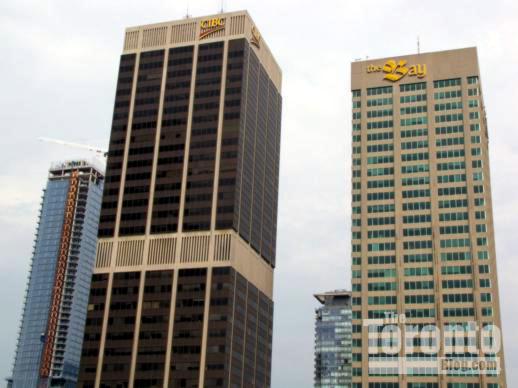 August 6 2011: The Four Seasons west tower looks short from this angle, but actually rises high above the office towers at Yonge & Bloor Streets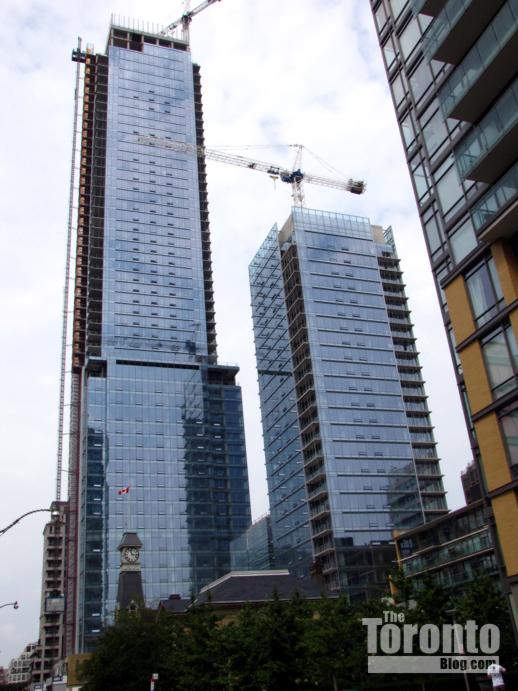 August 6 2011: Four Seasons complex viewed from Yonge Street