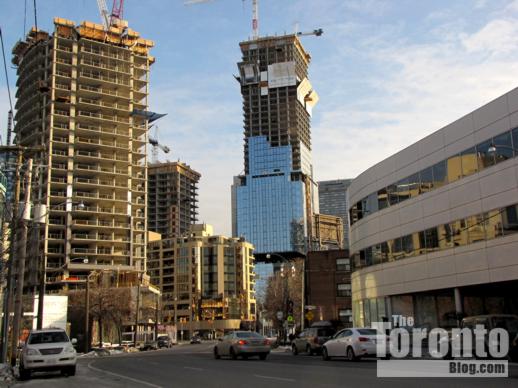 Davenport Road (near Bay Street) view of new towers being built in Yorkville
Growing up: Construction activity is apparent in practically every corner of downtown, and the Yorkville neighbourhood is no exception.
Pedestrians and drivers approaching Bay Street along Davenport Road are greeted by this view of three highrise towers currently under construction: The Florian condo building (left) and the two towers of the new Four Seasons Toronto Hotel and Private Residences.
Meanwhile, just beyond the bend in the road, east of Bay, there's more construction in progress.  Excavation is underway for the Milan condominium tower on Church near Yonge, while in a few years' time there could be as many as three towers rising right behind The Florian on McMurrich Street.