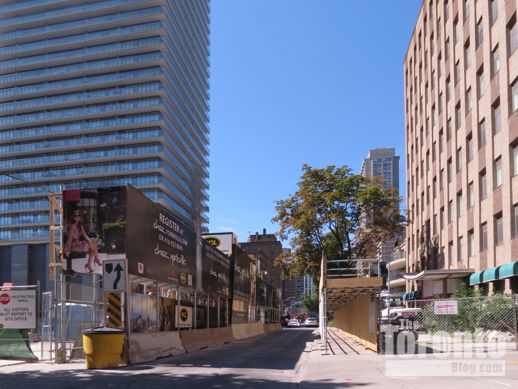 September 1 2012 : One-way Charles Street squeezes into a single narrow lane while hoarding and security fences cramp the already-narrow sidewalks along the facing condo construction sites for ChazYorkville, left, and Casa 2 right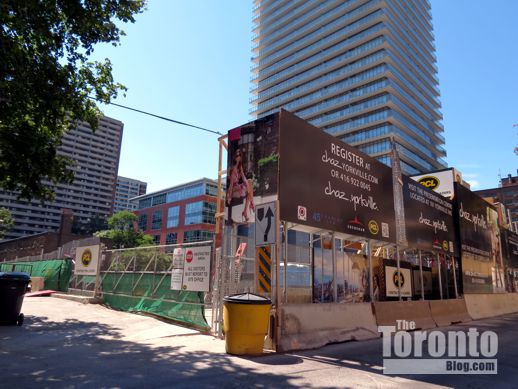 September 1 2012: Hoarding has surrounded the ChazYorkville site at 45 Charles East since last fall, when demolition started on a 45-year-old, 8-storey Modernist-style office building that formerly occupied the property  …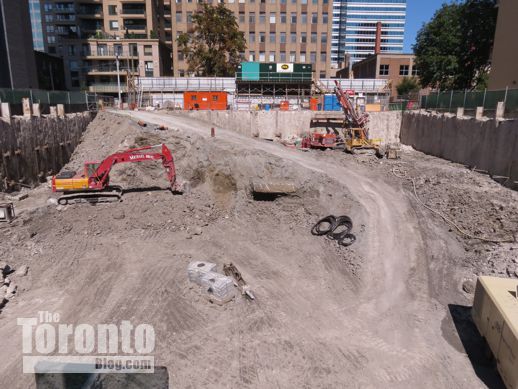 … now the site of a large excavation that gets deeper each day
August 31 2012: Hoarding was installed on the north sidewalk, along the front of the office building at 42 Charles, in late August …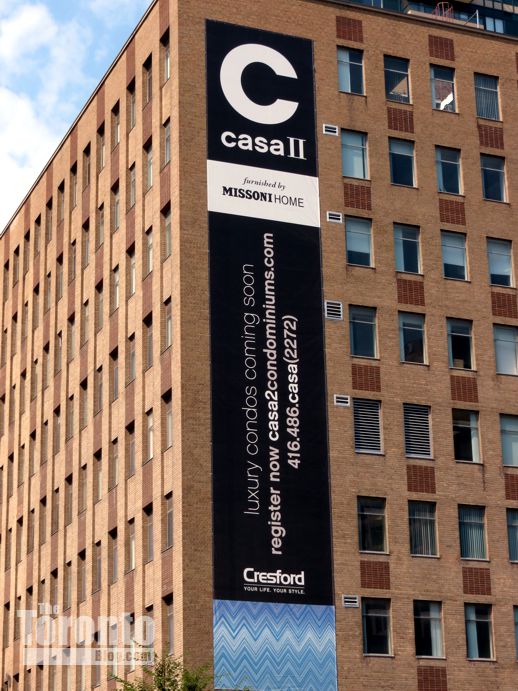 … where the 9-storey brick building, once administrative offices for the YMCA, will be demolished to make room for the 56-storey Casa 2 Condominiums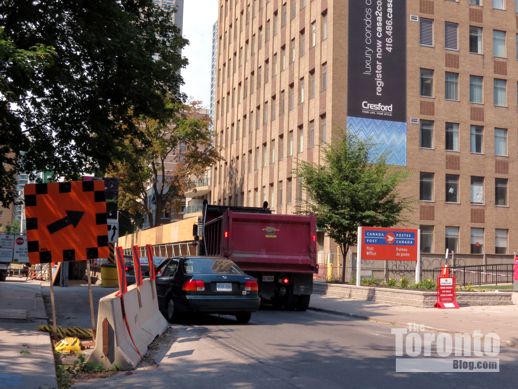 August 31 2012: Cars try to squeeze past a dump truck waiting its turn to enter the ChazYorkville site and pick up a load of soil from the excavation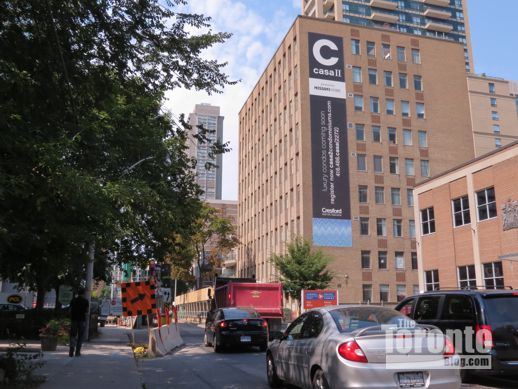 August 31 2012: Motorists and pedestrians alike will face disruption and traffic congestion on this block of Charles Street for at least the next three to four years …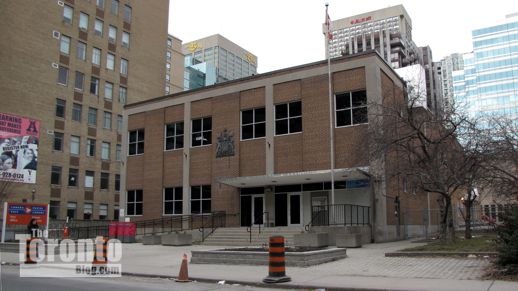 … and possibly much longer, if Canada Post sells Postal Station F at 50 Charles East, right next door to the Casa 2 site, for residential highrise redevelopment
Tight squeeze: Residents on and near the block of Charles Street between Church & Yonge Streets have reluctantly resigned themselves to at least four more years of dirt, dust, noise and traffic congestion, courtesy of two condo tower construction sites practically within whispering distance of each other on opposite sides of the street.
Construction of the 47-storey ChazYorkville condo tower commenced last fall when demolition crews destroyed a Modernist-style office building that had occupied 45 Charles for more than four decades. Foundation shoring and drilling work started in the spring, and excavation activity has been underway since May. 
The same process is set to repeat itself directly across the street where hoarding was installed in late August along the public sidewalk in front of 42 Charles. Demolition of the 9-storey brick office building that presently stands on the site will start this fall, followed by shoring and excavation for the 56-floor Casa 2 Condominiums tower.
CONTINUED ON PAGE 2