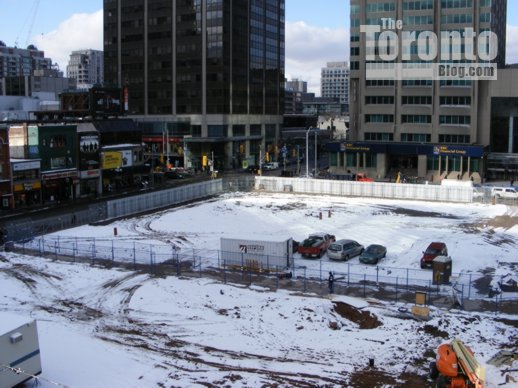 November 20 2008 view of snow-covered One Bloor condo tower site …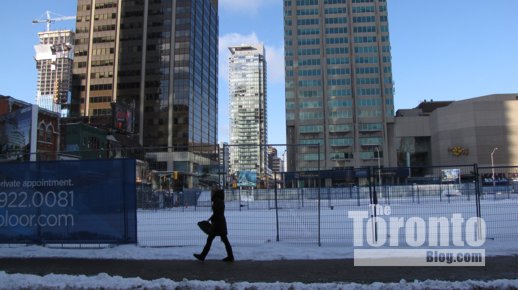 …and on January 9 2011 — over two years later — little has changed
Bloor Street blahs: I'm getting increasingly anxious for construction to start on the One Bloor condo tower. Every time I pass the One Bloor building site at the southeast corner of Yonge & Bloor, it bugs me to see a big empty lot — a site that the media and real estate agents for years have described as Canada's "premier" and "most prestigious" address. If it's such a hot and important spot, what's taking developer Great Gulf Group so long to get shovels in the ground? C'mon, guys, get going already!
Actually, Great Gulf is getting there — and digging should start soon. Back in November, the company applied to the city for a permit to begin work on the building's foundation. Meanwhile, it's preparing to open a spiffy new condo sales centre in the Xerox tower right next door. So things are moving along, though seemingly at a snail's pace to impatient people like me.
I know I won't be the only one cheering when hoarding is installed around the site and excavation equipment finally begins breaking ground — there's a lot of building and skyscraper fans who can't wait to watch a tower soar into the sky here. But exactly how tall will it stand?
The excavation permit application refers to a mixed-use highrise tower with 67 residential floors, 2 commercial floors (including a "p1 level commercial concourse")  and six underground parking levels. That suggests the developer is set to build a 69-storey skyscraper.
Personally, I'd prefer to see a much taller tower — something closer to the 80 storeys envisaged for the ill-fated condo + hotel + retail complex originally proposed and sold for the site. (For those who either don't recall or aren't familiar with the dramatic recent history of the 1 Bloor Street East site, the Toronto Star describes crucial events in this story from July 18 2009 and this follow-up article from August 21 2009, while The Globe and Mail offered an even more detailed account in this story from September 17 2009.)
Heck, I wish One Bloor would go even higher — if Melbourne, Australia can build a 91-storey skyscraper (the Eureka Tower), why can't we? Hasn't Canada (i.e. Toronto) traditionally held bragging rights to the tallest building in the Commonwealth?
I'm keeping my fingers crossed and hoping that Great Gulf ultimately hikes the height of One Bloor to make it the tallest condo in Canada, but I won't hold my breath just yet.
Below are several more photos I've taken of the One Bloor site, along with pics of Great Gulf marketing billboards featuring artistic renderings of their tower design. Additional renderings as well as more details about the project can be viewed on the project website, onebloor.com.