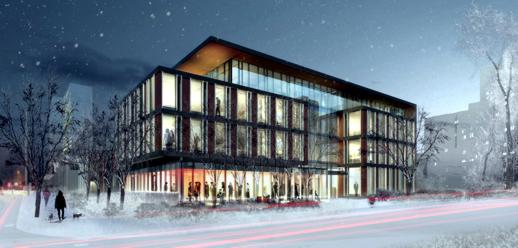 This rendering, provided courtesy of KPMB Architects in Toronto, illustrates a southwest winter view of the new offices to be built at Huntley & Isabella Streets for The Elementary Teachers' Federation of Ontario (ETFO) …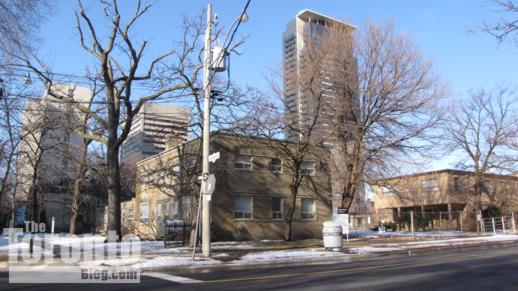 …while this photo shows how the building site appeared this past winter on February 28 2011. The two brown brick buildings on the corner site are former Children's Aid Society of Toronto facilities that are currently being demolished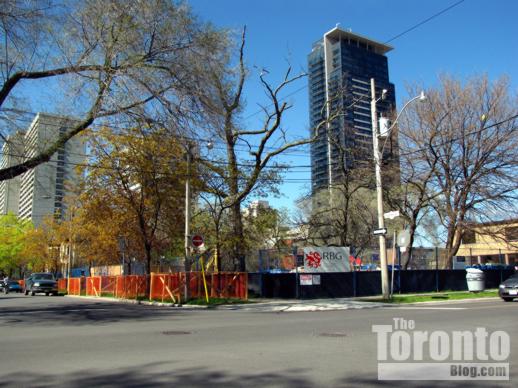 May 9 2011: This is how the site appears today, now that one of the two former CAS buildings has been reduced to a heap of rubble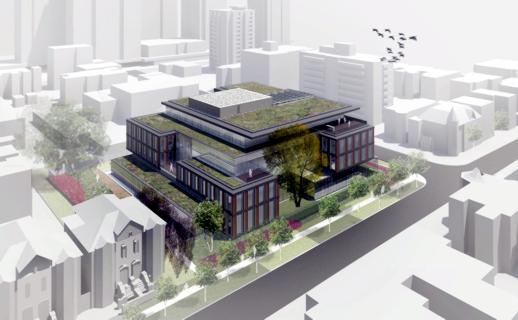 This KPMB Architects rendering depicts a northwest aerial view of the ETFO office building, showing its frontage along Huntley Street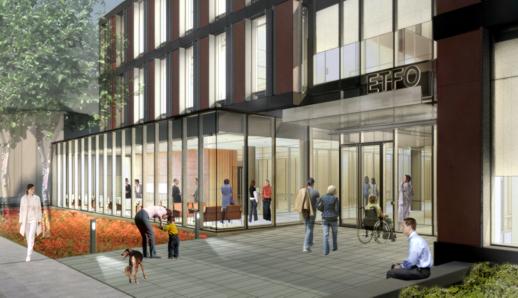 The main Isabella Street entrance to the ETFO office building is shown in this rendering provided courtesy of KPMB Architects
New HQ for ETFO: Residents in downtown's Upper Jarvis area are bracing for two more years of dust, dirt, noise and increased traffic as construction gets underway on a new office building for The Elementary Teachers' Federation of Ontario (ETFO) at the northeast corner of Huntley and Isabella Streets. The four-storey structure will be built on the 15 Huntley Street site once occupied by the Children's Aid Society of Toronto (CAS), which five years ago moved into new offices of their own only three blocks west on Isabella.
Designed by Toronto's KPMB Architects, the ETFO headquarters will stand four storeys tall with one level of underground parking for 50 vehicles.  The building is being designed to achieve LEED (Leadership in Energy & Environmental Design) certification. It will replace a pair of 2-storey brick buildings that have been sitting vacant, and in a visible state of disrepair, since the CAS relocated to its new premises in 2006. Demolition of those structures started two weeks ago and should conclude shortly. Kael Opie, the ETFO project architect at KPMB , said construction of the new headquarters  is expected to begin within the next month. Completion is anticipated for May 2013.
The Huntley-Isabella neighbourhood is bounded on three sides by busy downtown thoroughfares: Jarvis Street on the west, Bloor Street on the north, and Sherbourne Street on the east. Isabella runs east-west, linking Jarvis and Sherbourne. Earl Street and Earl Place, to its south, are quiet cul-de-sacs on the east and west sides of Huntley Street, respectively.  The area is predominantly residential in character, with several highrise and lowrise apartment buildings plus numerous semidetached three-storey homes on tree-lined Selby, Linden and Huntley Streets, as well as on Earl Street and Earl Place. The area also is home to the Casey House HIV/AIDS hospice, the Isabella Hotel & Suites, the Sacré-Coeur Catholic elementary school, a campus of the Msgr. Fraser College adult learning centre, and various offices (the massive Rogers Communications head office building looms large over the neighbourhood from the northwest, while the Greenwin Square office tower, highrise apartment building and shopping centre complex do the same from their location to the north between Bloor and Selby Streets).
Like many other downtown neighbourhoods, Upper Jarvis has witnessed a flurry of condo construction during the past three years. The dust is still settling at the new James Cooper Mansion condo tower at the corner of Linden and Sherbourne Streets, where occupancy began in February and exterior landscaping is still underway. Two other condo towers — X Condos at Jarvis and Charles Street, and 500 Sherbourne just below Earl Street — both opened last spring. Two more — Couture Condos and X2 Condos — are currently under construction at Jarvis & Charles, while several more condo highrises have been proposed for nearby locations. Now, the ETFO project is tossing office construction into the neighbourhood's mix of ongoing building activity.
Some Upper Jarvis residents are wondering what impact the 20-meter-tall ETFO building will have on their neighbourhood. Besides the usual building-period irritants of noise, dust, and movement of heavy construction vehicles and equipment, they're concerned about a potentially substantial increase in traffic along Isabella Street, especially at evening rush hour. The entrance and exit to the employee parking garage for the gargantuan Rogers building is on Isabella, and when the place empties out at quitting time, traffic often slows to a crawl between Jarvis and Sherbourne, making it difficult for southbound motorists to turn from Huntley onto Isabella Street. Residents are still waiting to see how much extra traffic the new James Cooper Mansion condo will draw to their streets (the tower is only half occupied at this point), and fear that dozens more vehicles for ETFO staff could only worsen the situation.
For the next two years, though, one thing is certain already: they'll definitely see a sharp increase in the number of dump trucks, concrete mixers and heavy construction vehicles driving down their streets. The ETFO held a groundbreaking ceremony at the construction site last Wednesday and, since then, demolition teams have reduced one of the two former CAS buildings to rubble. I will continue following construction of the ETFO headquarters, and will be writing a "Neighbourhood Watch" report on building activity in the neighbourhood this summer. Below is a series of photos showing the old CAS buildings on 15 Huntley Street both before and during demolition. There is also a series of photos showing buildings on Huntley and Isabella Streets that will be neighbours to the new ETFO offices.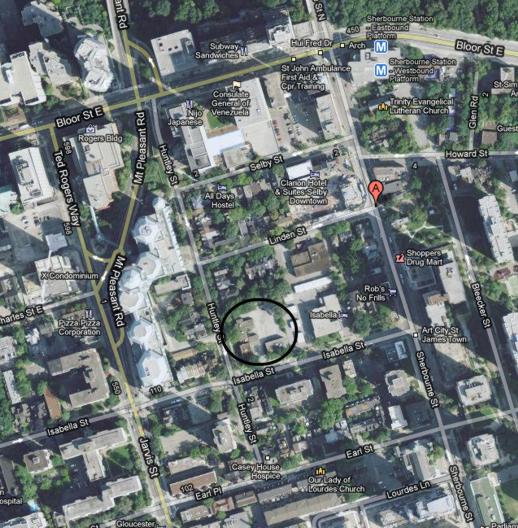 A Google map view of the Upper Jarvis area and the ETFO office site (circled)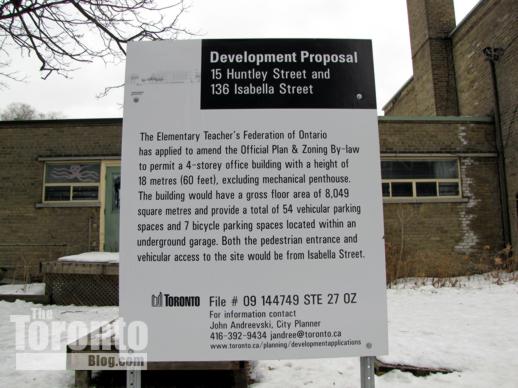 ETFO office building development proposal sign outside 15 Huntley Street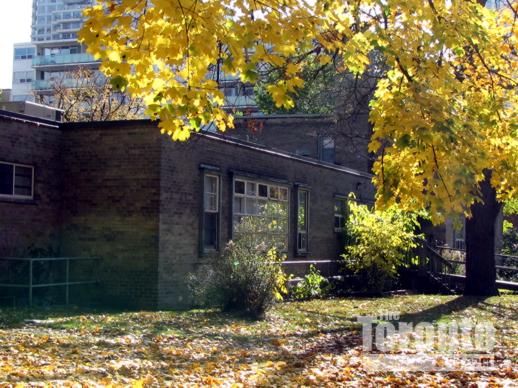 November 2 2009: Looking southeast from Huntley Street at one of the former CAS buildings on the 15 Huntley Street site for the ETFO office building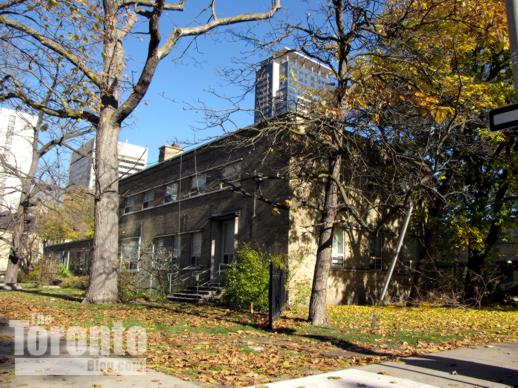 November 11 2010: Looking northeast toward 15 Huntley Street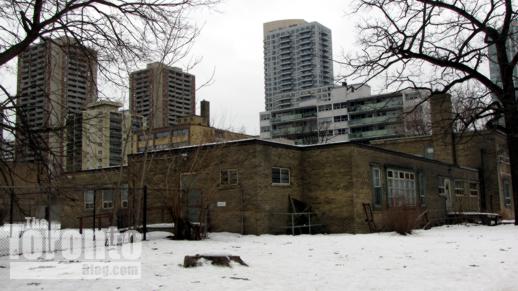 February 16 2011: Southeast winter view of 15 Huntley Street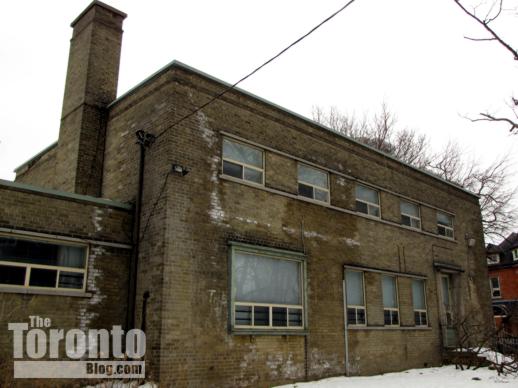 February 16 2011: The former CAS building at the corner of Huntley & Isabella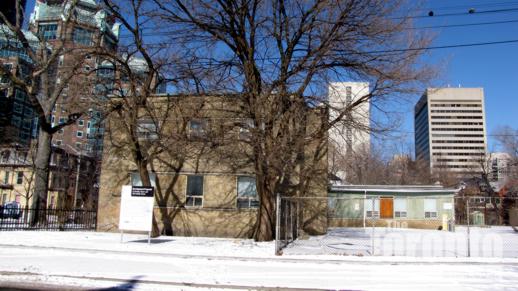 February 23 2011: The huge Rogers Communications head office sits at left rear; the Greenwin Square apartment and office towers on Bloor Street stand at right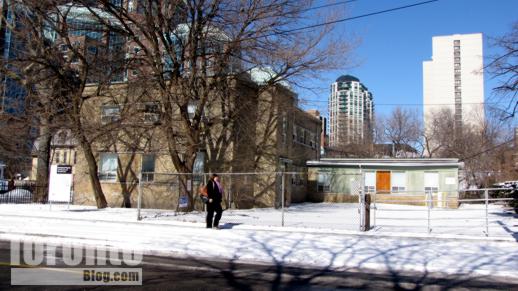 February 23 2011: One of the former CAS buildings at 15 Huntley Street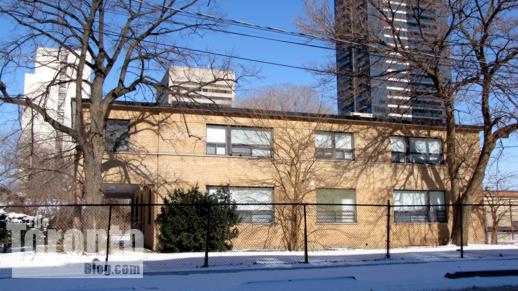 February 23 2011: The second former CAS building at 15 Huntley Street. The tower at right rear is the James Cooper Mansion condo complex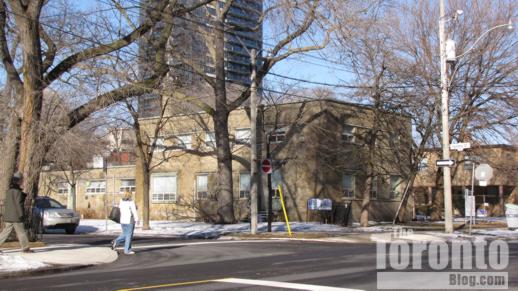 February 28 2011: The former CAS buildings viewed from the southwest corner of Huntley & Isabella Streets
March 19 2011: Huntley Street view of the old CAS building, looking southeast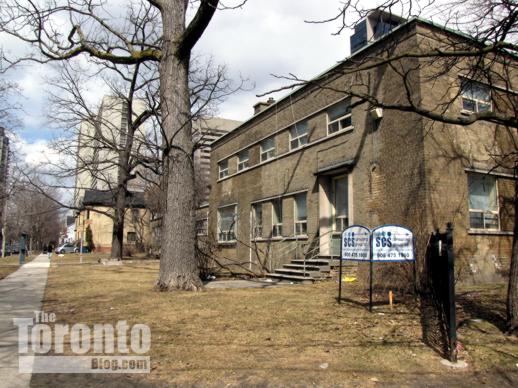 April 2 2011: 15 Huntley Street, looking north along Huntley from Isabella Street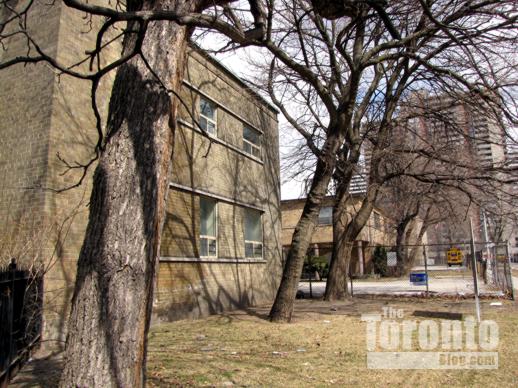 April 2 2011: Looking east along Isabella Street at the two former CAS buildings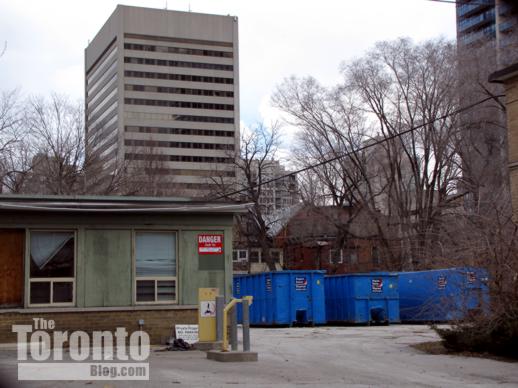 April 2 2011: Dumpsters have been delivered for the crews that will demolish the old brick buildings at 15 Huntley Street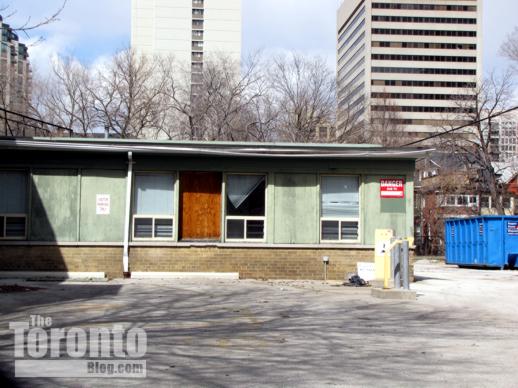 April 2 2011: The one-storey east wing of the former CAS building at the corner of Huntley & Isabella Streets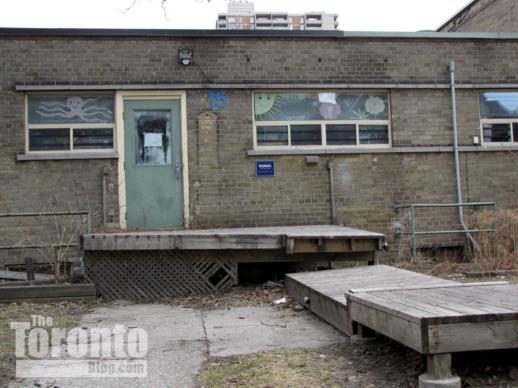 April 2 2011: The dilapidated west side of the building at Huntley & Isabella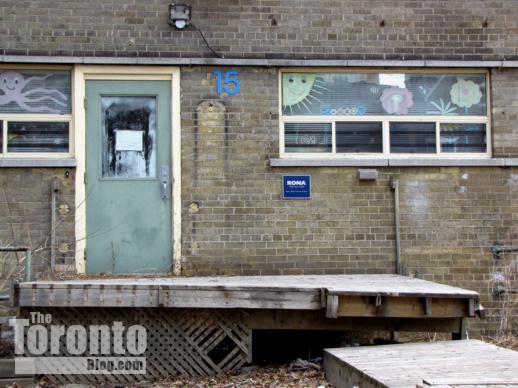 April 2 2011: The brick buildings have sat vacant since the CAS relocated to new headquarters on Isabella Street five years ago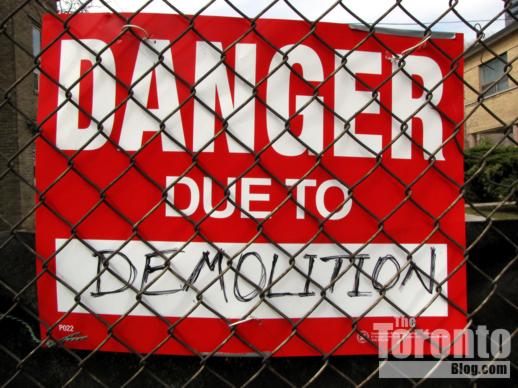 April 22 2011: Security fencing has been installed around 15 Huntley Street so demolition crews can knock down the old buildings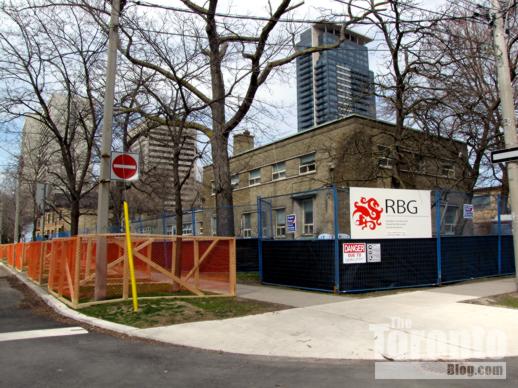 April 22 2011: Tree protection zones have been established along Huntley Street to ensure that trees on the boulevard aren't damaged by demolition and construction machines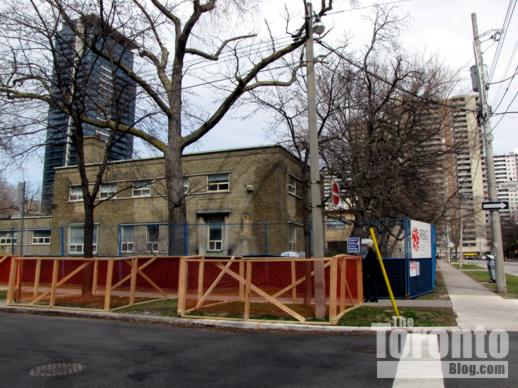 April 22 2011: Looking east from Huntley Street at the tree protection zones and security fences outside 15 Huntley Street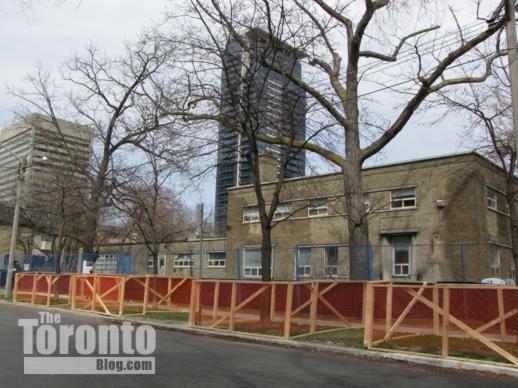 April 22 2011: Northeast view along Huntley Street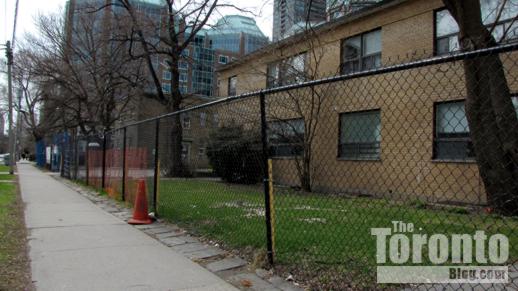 April 22 2011: A security fence along the Huntley Street perimeter of the demolition site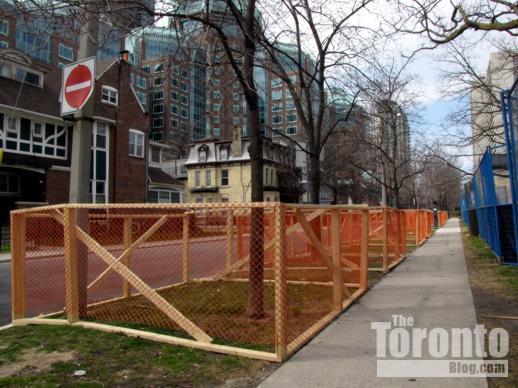 April 22 2011: Looking north at the tree protection zone along Huntley Street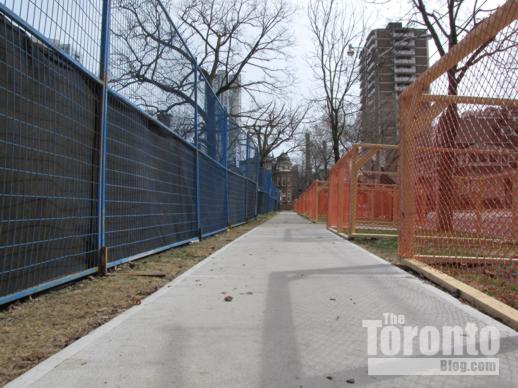 April 22 2011: Looking south at the tree protection zone along Huntley Street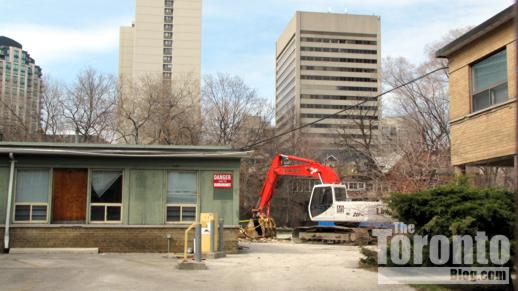 April 22 2011: Equipment has been brought in to knock down the old buildings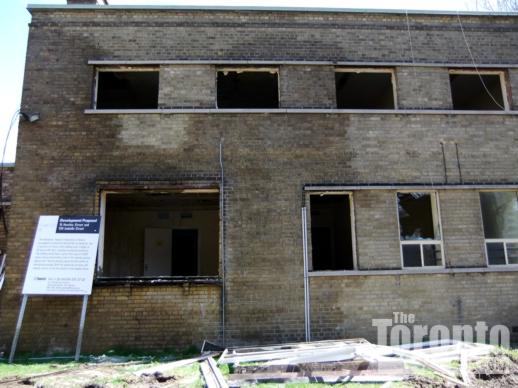 April 30 2011: Demolition of 15 Huntley Street is well under way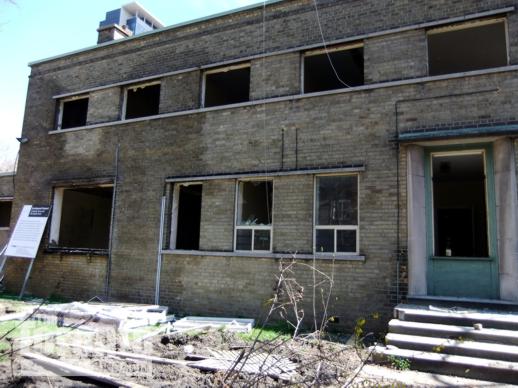 April 30 2011: Another view of the 15 Huntley Street demolition progress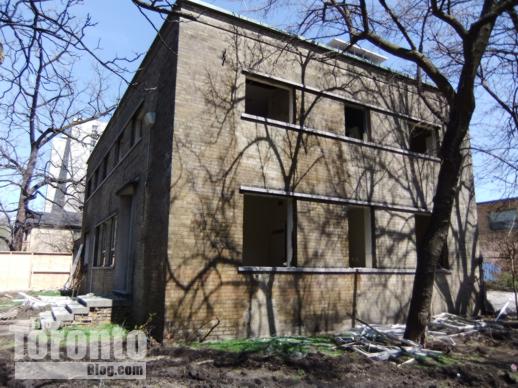 April 30 2011 The former CAS building at the corner of Huntley & Isabella is the first to be razed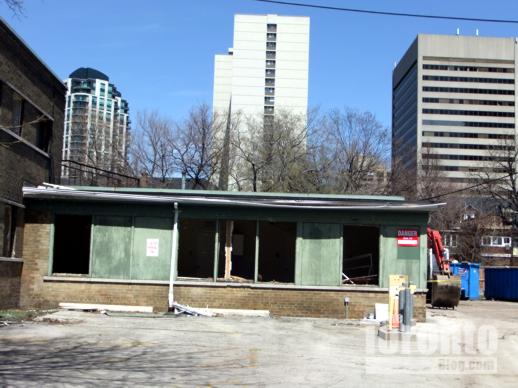 April 30 2011: The east wing of 15 Huntley Street will be torn down shortly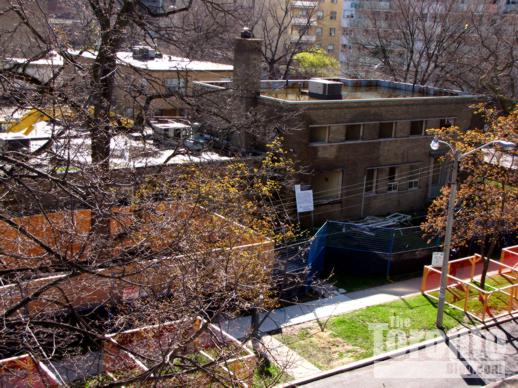 May 4 2011: Demolition equipment on the Huntley Street side of the site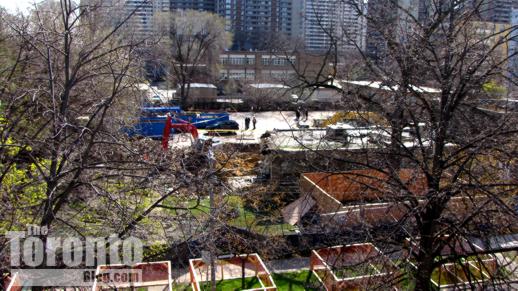 May 4 2011: The ETFO building site viewed from the top floor of an apartment building on Huntley Street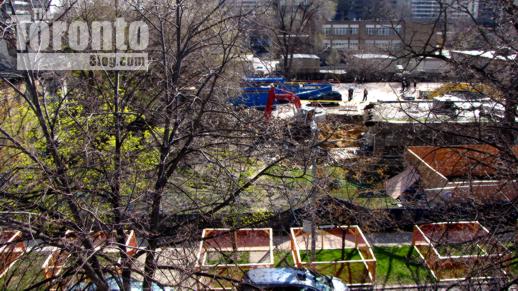 May 4 2011: An overhead view of the north half of the ETFO building site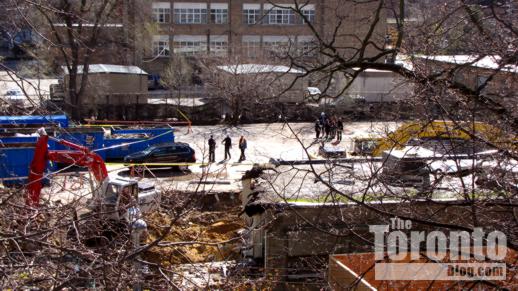 May 4 2011: Construction crews, ETFO staff and guests begin to gather on the property for last Wednesday's groundbreaking ceremony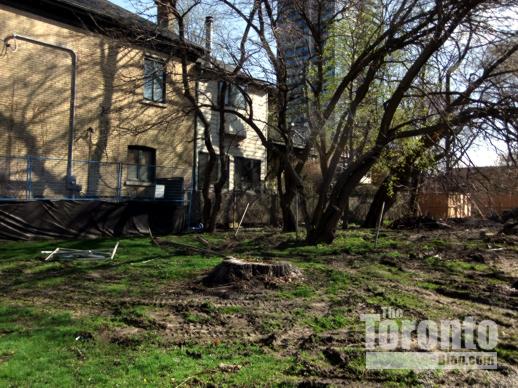 May 4 2011: These trees at the north end of the property will be destroyed to make way for construction of the new ETFO office. The buildings next to the trees are semidetached private homes on Huntley and Linden Streets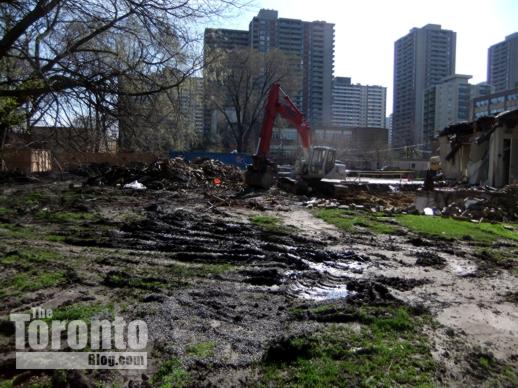 May 4 2011: A demolition machine near the northeast corner of the property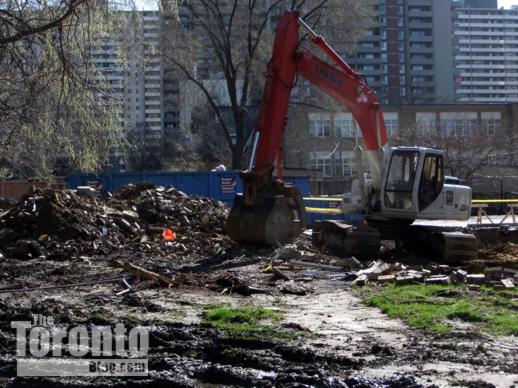 May 4 2011: A demolition machine near the northeast corner of the property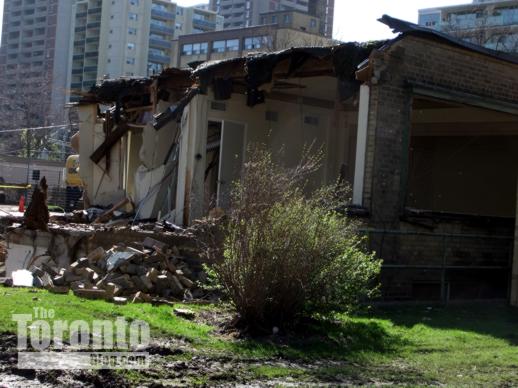 May 4 2011: The north side of one building has already been ripped down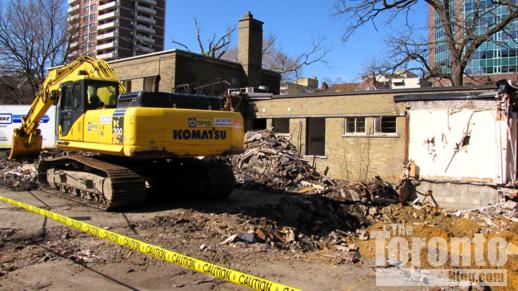 May 4 2011: Demolition progress viewed from the groundbreaking ceremony site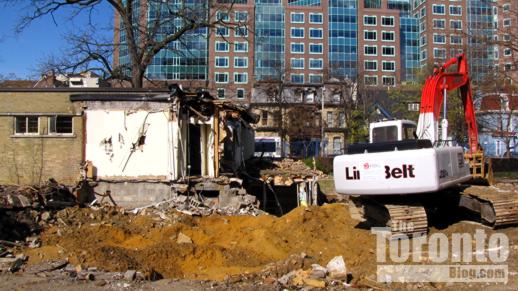 May 4 2011: Demolition progress viewed from the groundbreaking ceremony location, looking west toward the enormous Rogers Communications building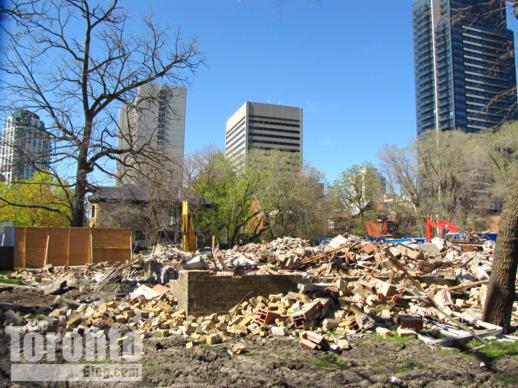 May 9 2011: All that's left of one of the old CAS buildings is a large heap of rubble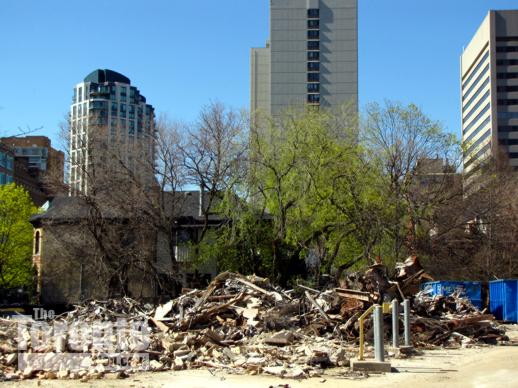 May 9 2011: Looking north at the mound of rubble at 15 Huntley Street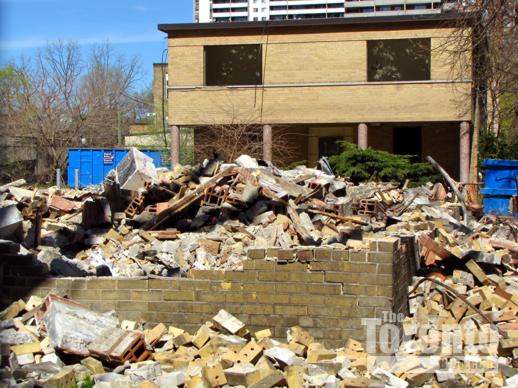 May 9 2011: The corner building is toast; the second building goes next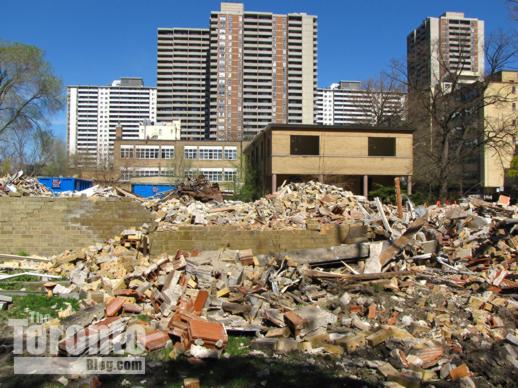 May 9 2011: Looking east from Huntley Street across the demolition site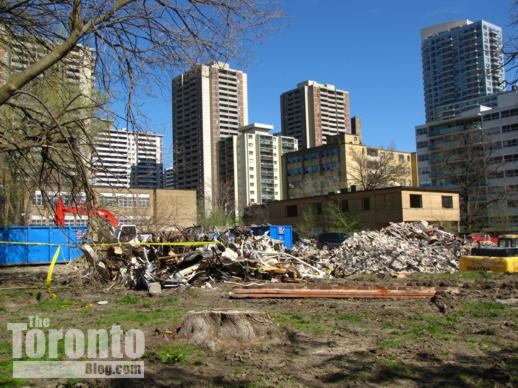 May 9 2011: Southeast view from Huntley Street across the demolition site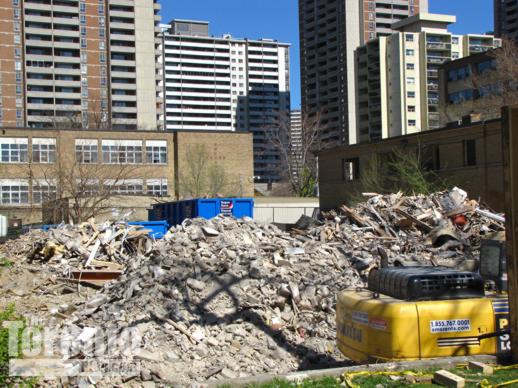 May 9 2011: An excavation machine has dug itself into a hole next to the rubble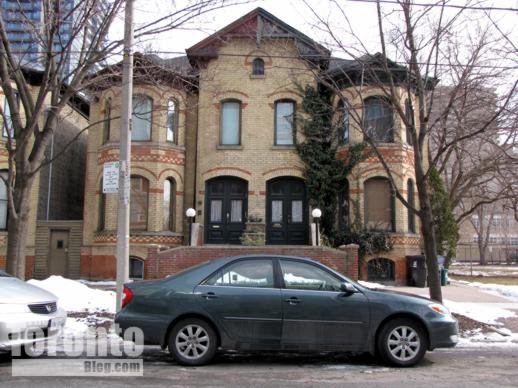 March 1 2011: These charming brick homes at 37 and 35 Huntley Street sit to the immediate north of the ETFO office building construction site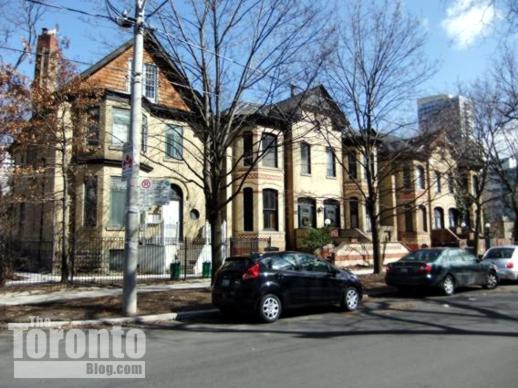 March 19 2011: Brick homes on Huntley Street, between Linden Street and the EFTO building construction site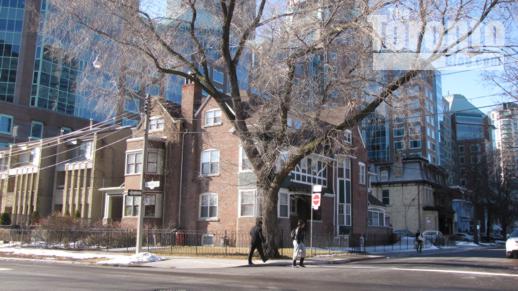 February 28 2011: The northwest corner of Huntley and Isabella Streets, directly across the street from the ETFO building site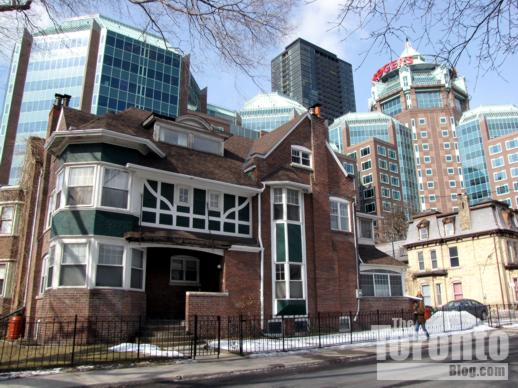 March 1 2011: The building on the northwest corner of Huntley & Isabella is the Samuel R Wickett House, built in 1901 at 122 & 124 Isabella Street. The Rogers Communications building and X Condos tower loom large in the background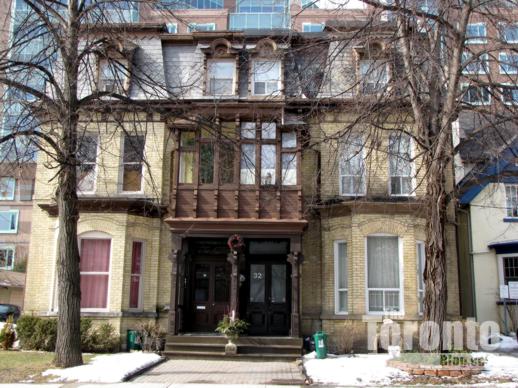 March 1 2011: The Alfred R Williams House and Francis Despard House were built in 1884 at 30 & 32 Huntley Street. Now rental apartments, they sit directly across the street from the ETFO building site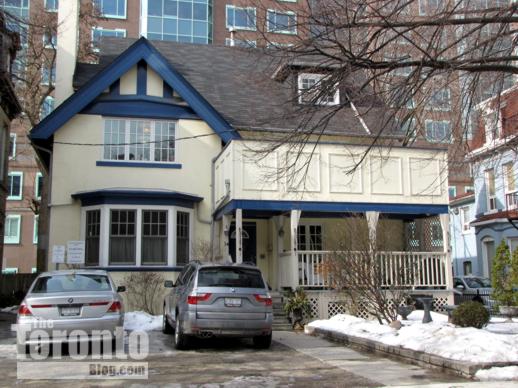 March 1 2011: The Charles E Calvert house built in 1905 at 34 Huntley Street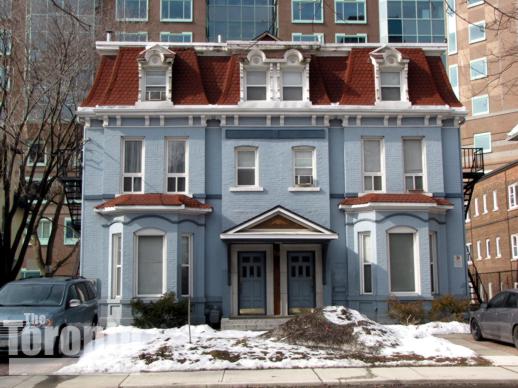 March 1 2011: The George Morphy House at 38 & 40 Huntley Street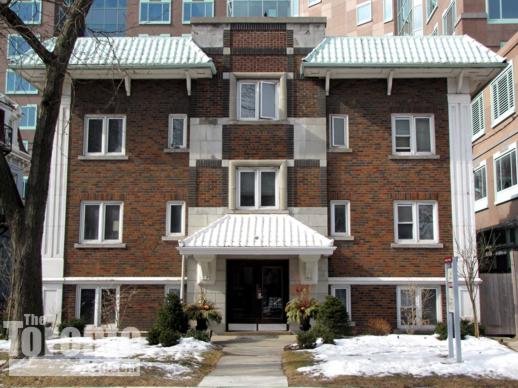 March 21 2011: The rental apartment building at 44 Huntley Street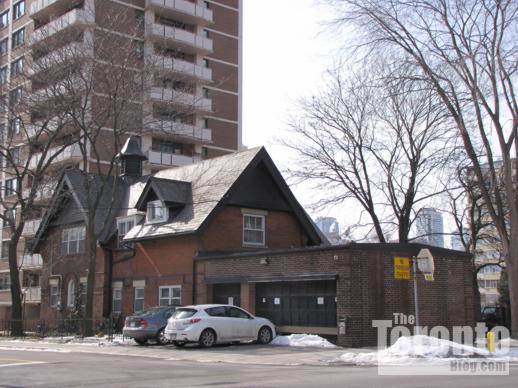 March 1 2011: This Coach House at 119 Isabella Street was built in 1889, and is part of the Casey House hospice. It sits on the southwest corner of Huntley & Isabella, kiddy-corner to the ETFO office building site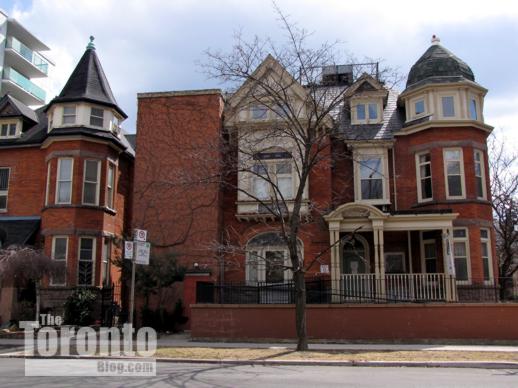 April 2 2011: The Casey House Hospice at 9 Huntley Street sits directly across the street from the ETFO office building site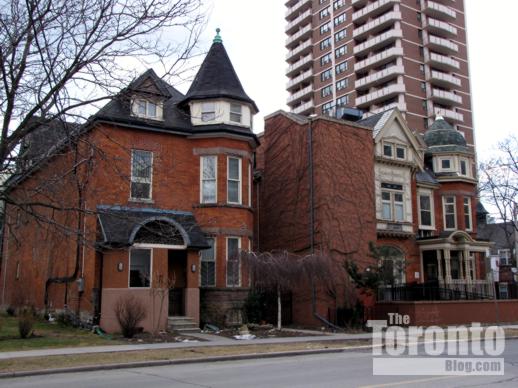 April 2 2011: Another view of 127 Isabella Street and the Casey House Hospice at 9 Huntley Street, on the south side of the street across from the ETFO site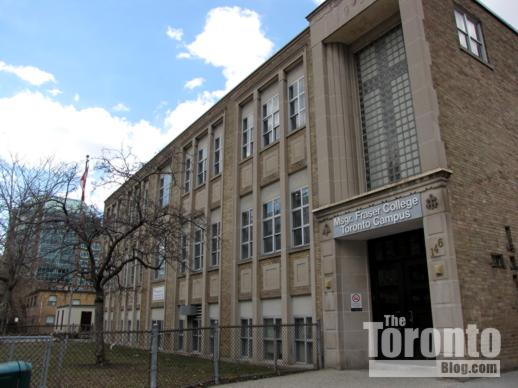 April 2 2011: The Msgr Fraser College adult learning centre will be the ETFO building's next-door neighbour on Isabella Street