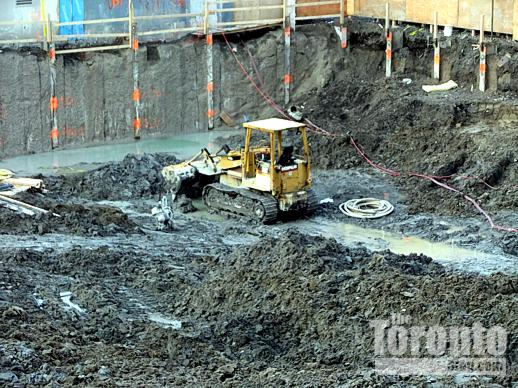 Earth mover in the muck at the Milan condo tower excavation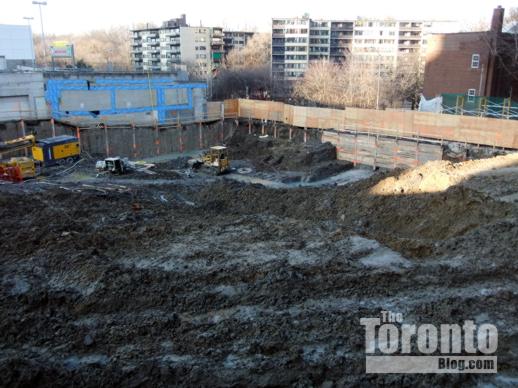 Church Street view of the Milan condo excavation, looking northeast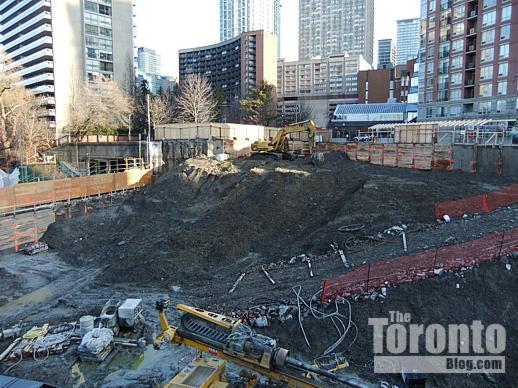 Canadian Tire parking lot view of the Milan condo excavation, looking south

Messy mass of muck: At a property on the north end of Church Street, where the road makes a long sweeping curve to the northwest as it approaches Yonge Street, crews spent the entire winter digging out — literally. And they're nowhere near finished yet. But it isn't snow they've been shovelling; Toronto didn't get much of the white stuff over the winter.  Instead, the workers have been moving muddy brown earth by the truckload as they excavate the site where the Conservatory Group's 37-storey Milan condominium tower will be built.
Designed by E.I. Richmond Architects Inc., the condo complex will occupy a wedge-shaped parcel of land bordered by the Canadian Tire store to the north and west, Church Street to the south, and the Yonge subway line to the east.
Below is a tower rendering from a billboard outside the Milan condo sales centre, along with another rendering — from the Milan website — suggesting how the condo's podium rooftop terrace will look. There's also a series of photos I've taken at the Milan site over the past three years, along with recent pics of some of Milan's neighbours.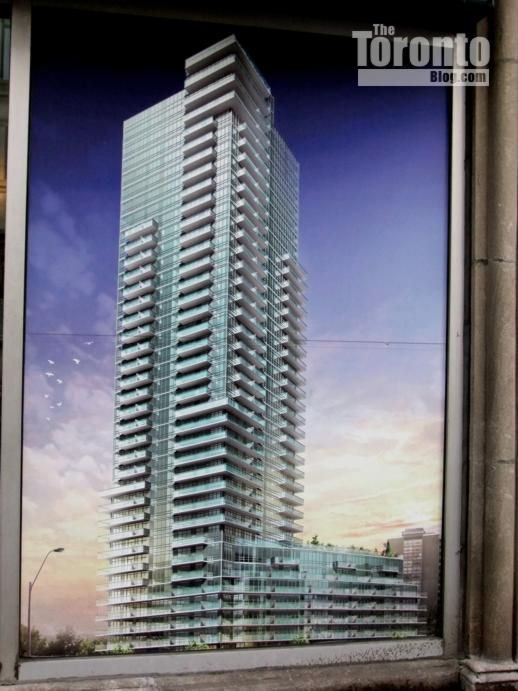 This rendering of the Milan condo tower appears on the exterior of the sales centre on Yonge Street. The condo tower will rise from a long podium that will stretch along the north side of Church Street.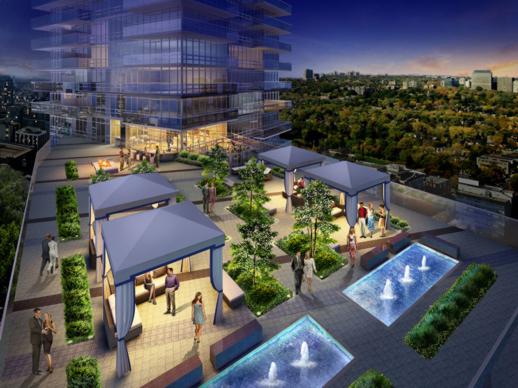 Architectural rendering of Milan's podium rooftop terrace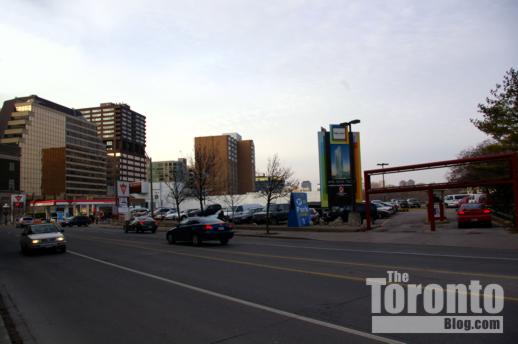 December 3 2008: Milan condo site viewed from Church Street looking north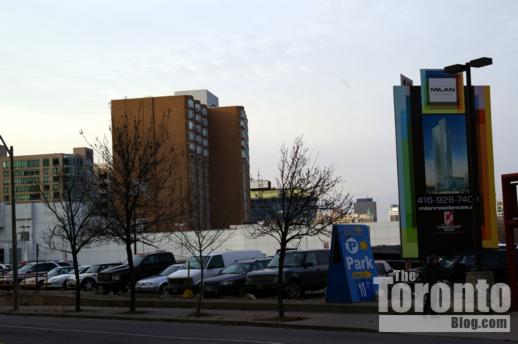 December 3 2008: Milan billboard on the condo tower site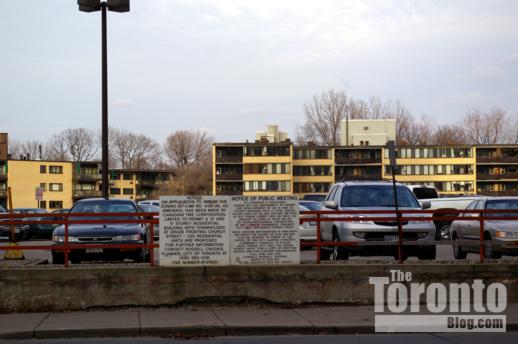 December 3 2008:  Milan condo location viewed from Church Street looking north. A pay parking lot occupied the site until construction commenced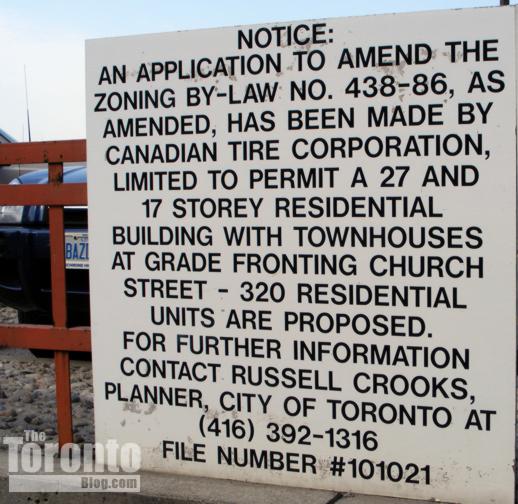 This notice, seen in September 2008, was posted next to the Milan site on Church Street for several years. If I recall correctly, stiff neighbourhood opposition to the two buildings originally proposed by a developer led city council to approve construction of only one taller tower instead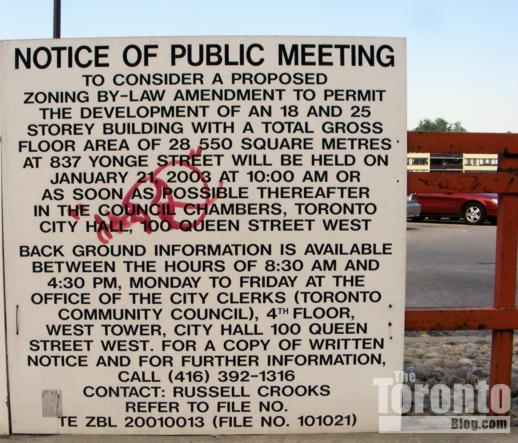 This sign also stood on Church Street next to the Milan site. My understanding is that, in the early 2000s, developers proposed building a complex of several condo towers and townhouses on the lands occupied by the big Canadian Tire store as well as on the parking area where Milan currently is under construction. However, Canadian Tire ultimately decided to retain and renovate its Yonge Street store instead, and sold off the parking lot property. Now only one tower is being built
December 3 2008: The Milan condo sales office in the two-storey building at left, and the Canadian Tire gas bar at the corner of Yonge & Church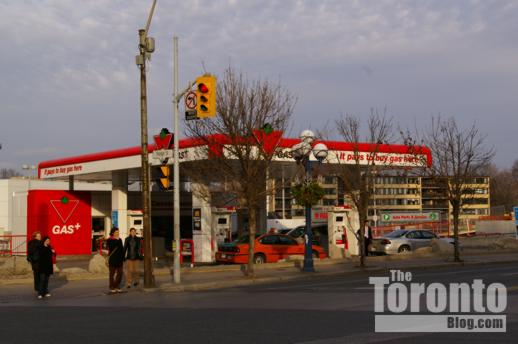 December 3 2008: Milan will rise on the gas depot's right side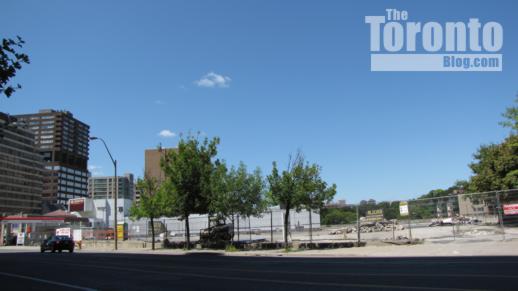 July 25 2010:  The parking lot has been closed and fenced off so the site can be prepared for excavation and construction of the condo tower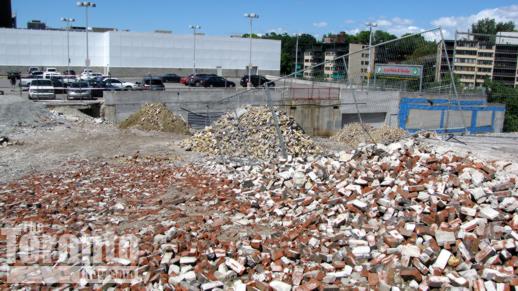 July 25 2010: Rubble remaining  from structures demolished on the condo site. The Canadian Tire store and its parking lot are visible to the north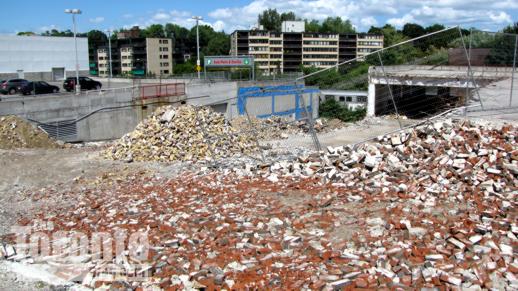 July 25 2010: Northeast view of demolition activity. A subway train can be seen passing the property (upper middle of the photo) along the Yonge subway line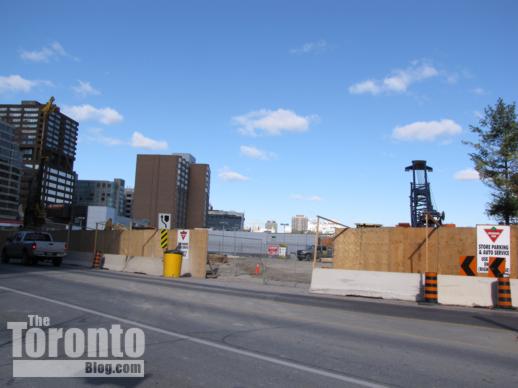 November 1 2010: Preliminary site excavation work has begun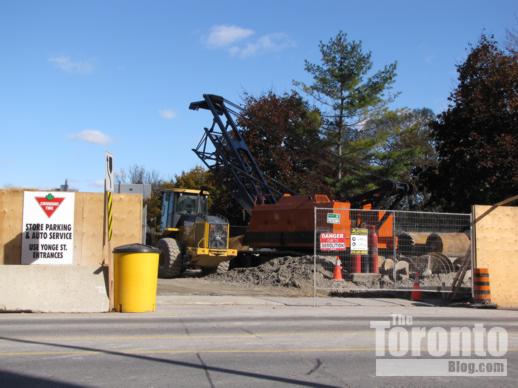 November 1 2010:  Preliminary excavation work at the site's northeast corner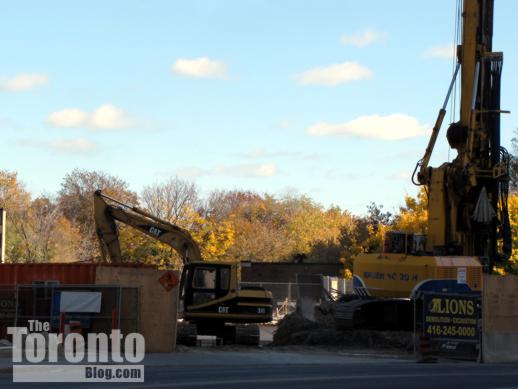 November 1 2010: Pile driving and excavation equipment at work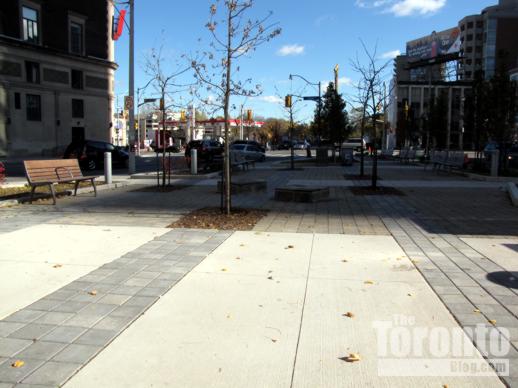 November 1 2010: Eastward view toward the Milan site from a new parkette in front of the Lotus condo tower on Davenport Road at Yonge Street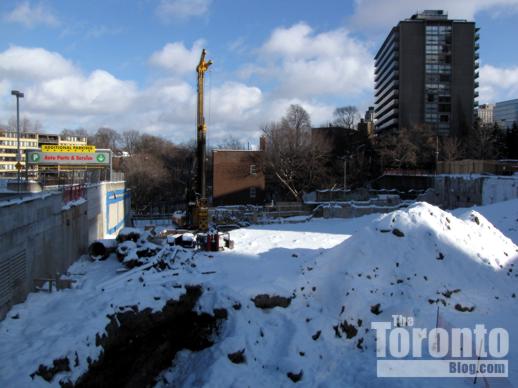 January 9 2011: Eastward view of the Milan condo tower excavation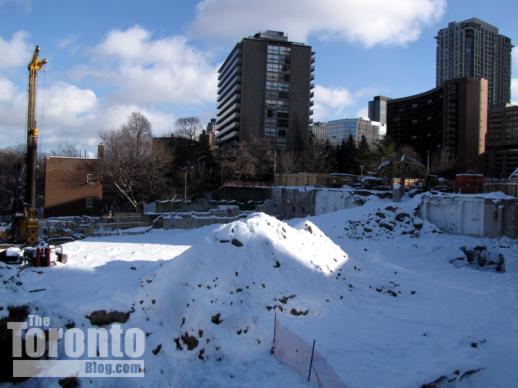 January 9 2011: Southeasterly view of the Milan condo excavation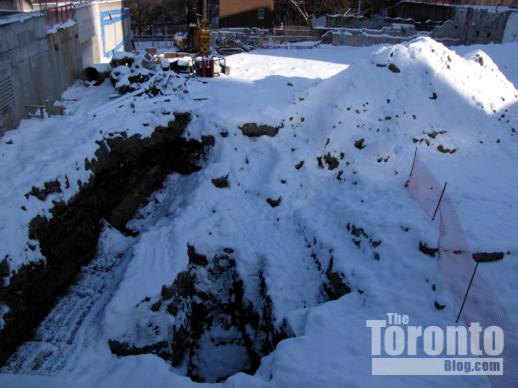 January 9 2011: Snow-covered excavation at the west end of the site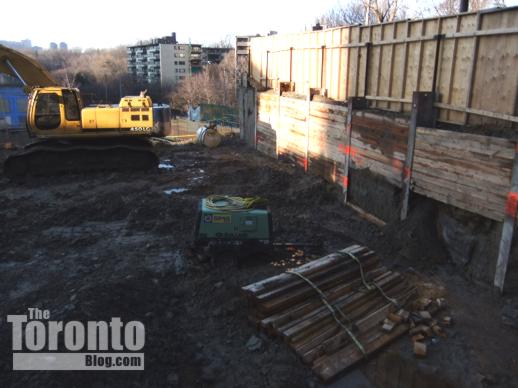 March 16 2011: Excavation progress at the southeast corner of the site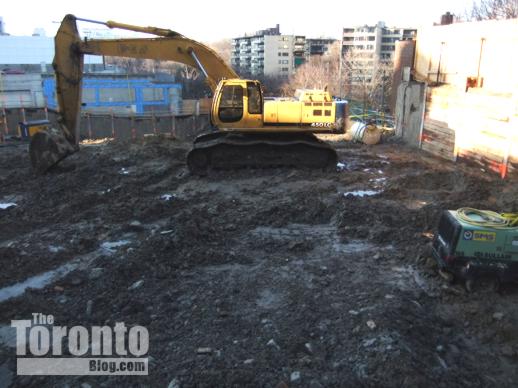 March 16 2011: Excavation progress at the southeast corner of the site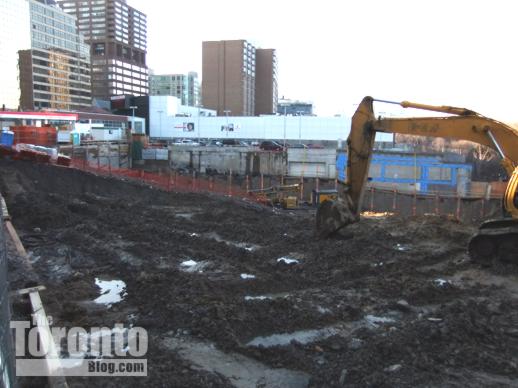 March 16 2011: A sea of mud stretches all the way to the west end of the site next to the gas bar on Yonge Street, visible at the top left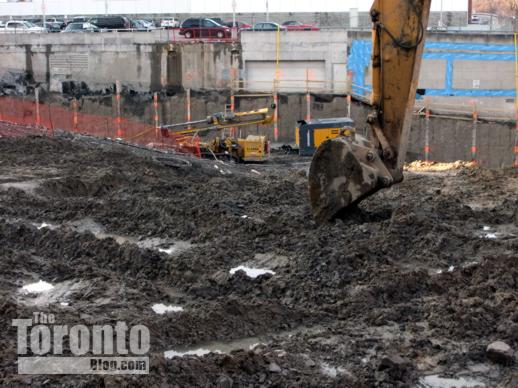 March 16 2011: From Church Street, the Milan property slopes toward the TTC subway tracks and Aylmer Avenue in the Rosedale ravine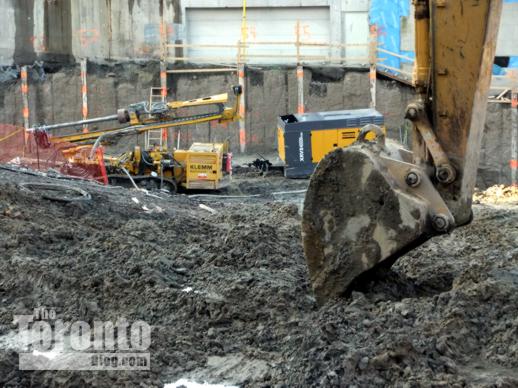 March 16 2011: The excavation is deepest on the north edge of the site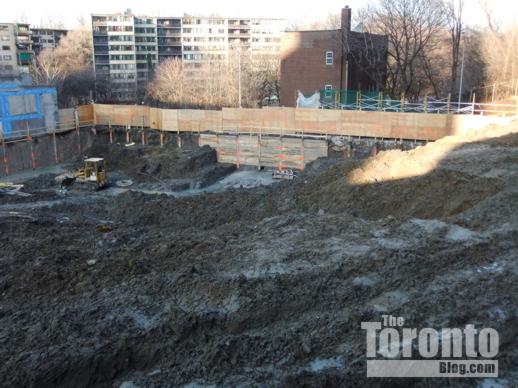 March 16 2011: The subway tracks run along on the other side of the wall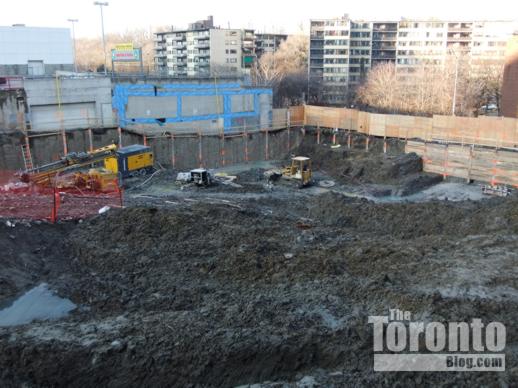 March 16 2011: Milan site looking northeast toward Rosedale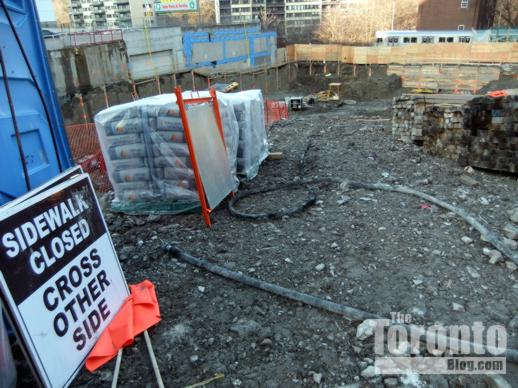 March 16 2011: Truck ramp from Church Street to the bottom of the pit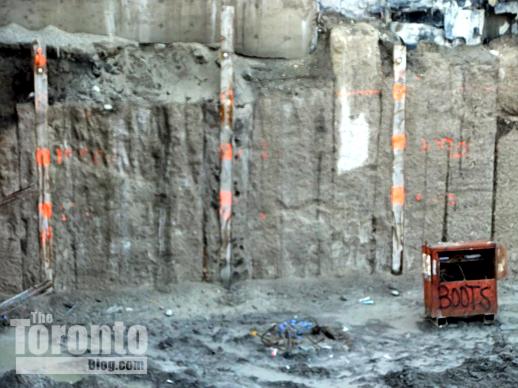 March 16 2011: Boots box in a muddy pit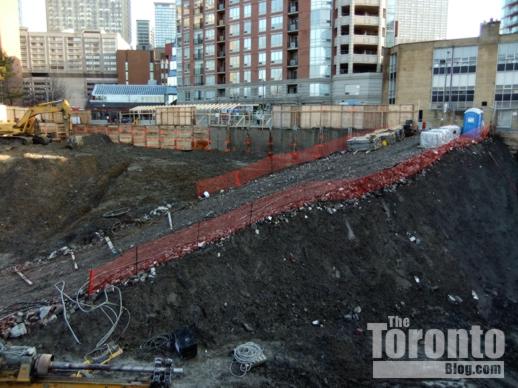 March 16 2011: The ramp from the Church Street construction entrance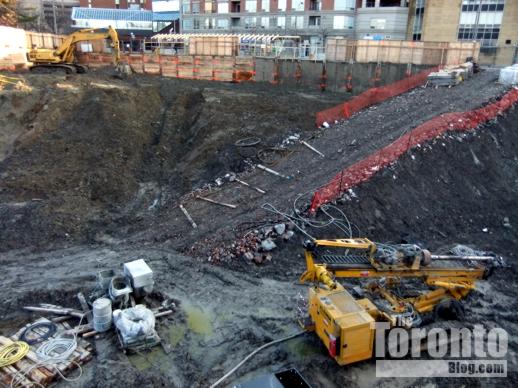 March 16 2011: Machines and equipment at the bottom of the ramp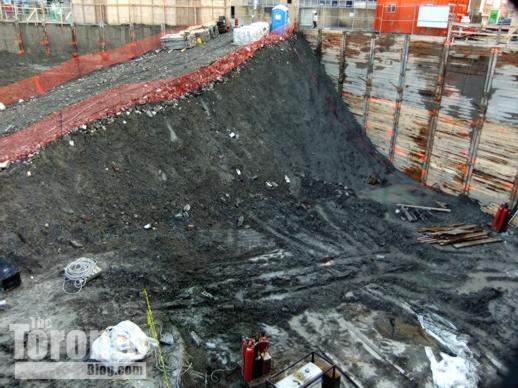 March 16 2011: The deep pit below the Canadian Tire gas station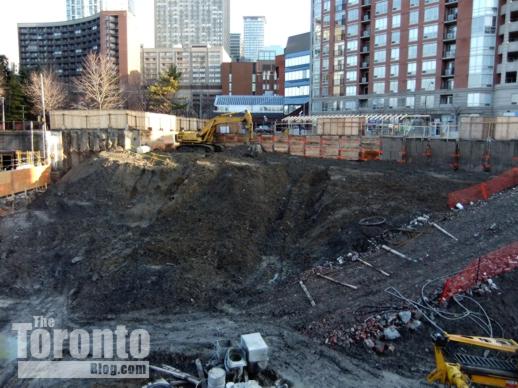 March 16 2011: The Milan excavation, looking south toward Church Street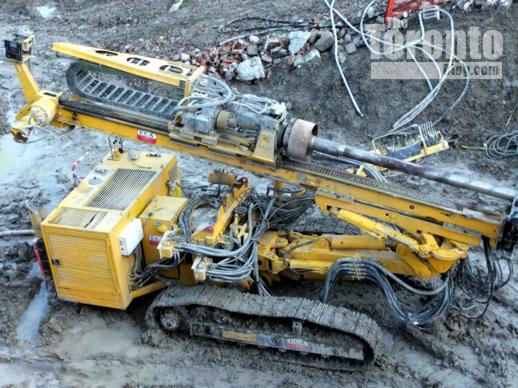 March 16 2011: Foundation building machine at the bottom of the pit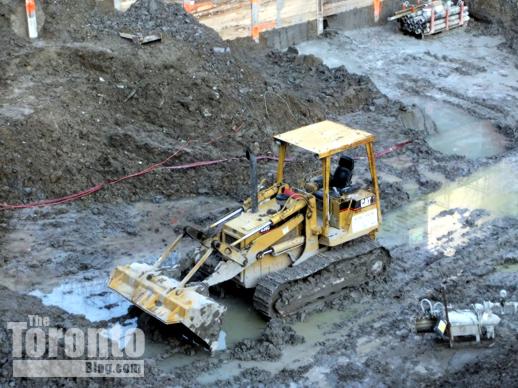 March 16 2011: An earth mover in a muddy pool of water in the pit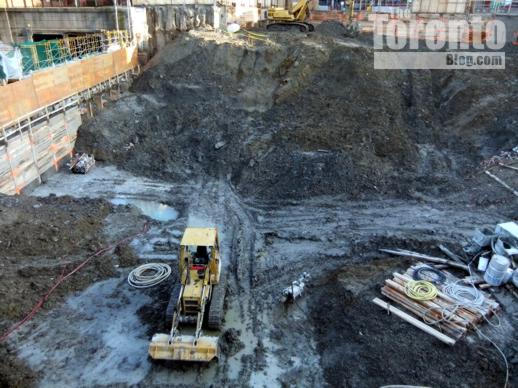 March 16 2011: The entrance to the subway tunnel leading to the Bloor-Yonge subway station can be seen at the top left corner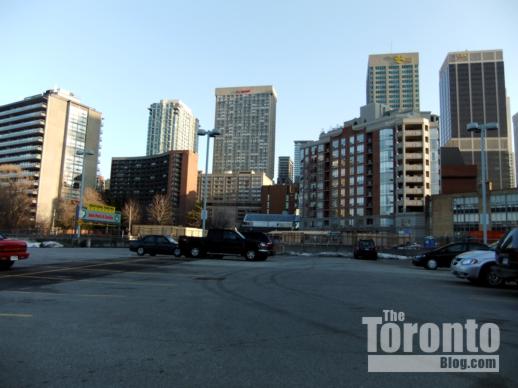 March 16 2011: Canadian Tire view toward the Milan location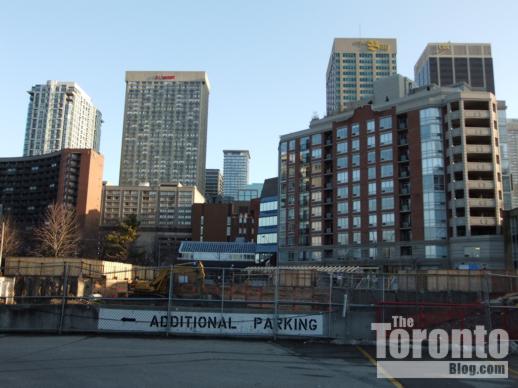 Milan's neighbours to the south and east include several condo and apartment buildings, as well as The Bay and CIBC office towers at Yonge & Bloor (rear right)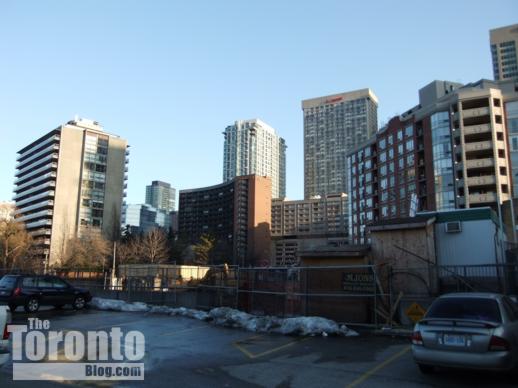 March 16 2011: Canadian Tire southeast view of the Milan location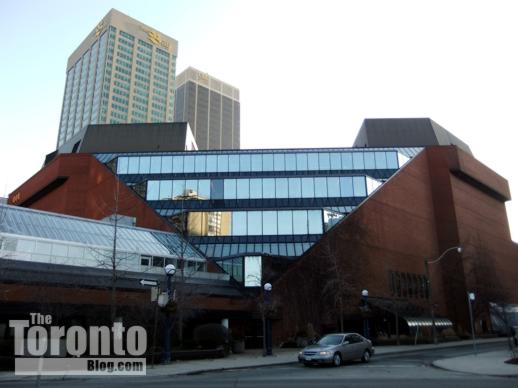 The Toronto Reference Library is situated directly across Church Street from Milan; the office towers at Bloor & Yonge are just a short walk south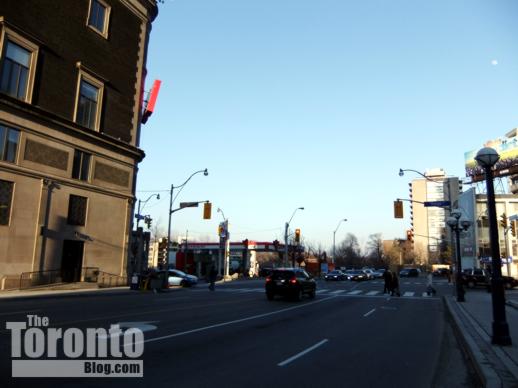 March 16 2011: Davenport Road view toward the Milan site. The 37-storey condo tower will dominate this view once construction is complete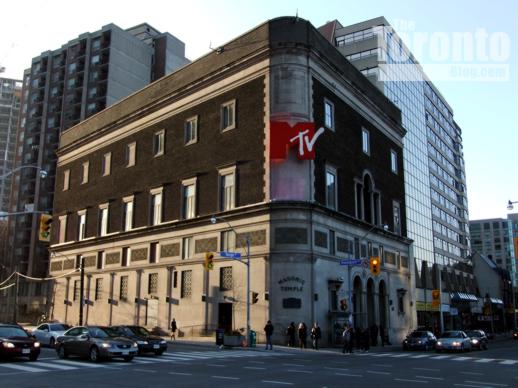 March 16 2011: One of Milan's neighbours will be the MTV studios in the historic Masonic Temple building on the corner of Yonge Street and Davenport Road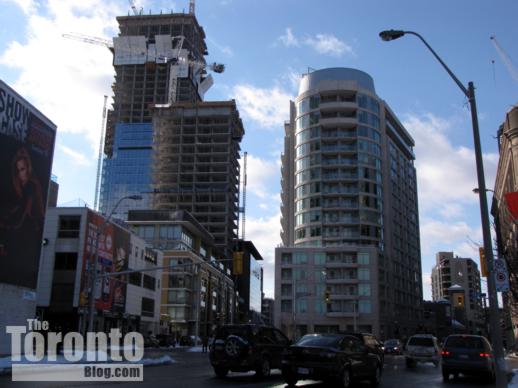 Milan's neighbours to the west are the two Four Seasons Toronto hotel and condo towers currently under construction (left), and the Lotus condos (right)