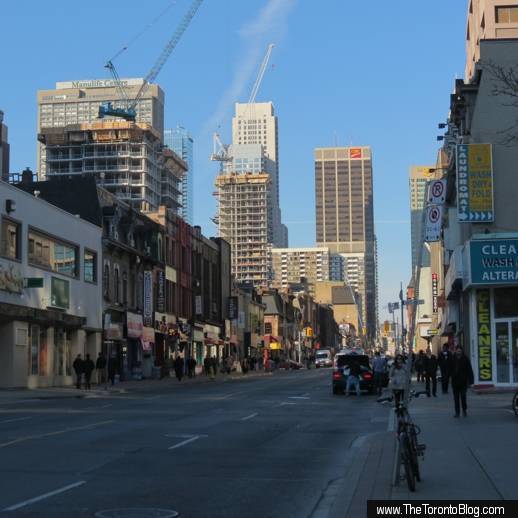 November 14 2013: Construction of FIVE Condos (left) and Nicholas Residences (center rear) is dramatically changing the landscape of north downtown Yonge Street. This is a view from the east side of Yonge just below Maitland Street, one block south of Wellesley Street.
Shifting landscape: Two condo tower construction projects are rapidly changing the look of Yonge Street's west side, between College and Bloor Streets, while a third new building will soon make a dramatic impact on views up the east side of Yonge Street.
The steadily rising concrete frames for FIVE Condos and Nicholas Residences now dominate the views up Yonge from as far south as its intersection with Carlton and College Streets. Depending upon your particular vantage point along the 10-block stretch of what city planners call "north downtown Yonge," FIVE and Nicholas already obscure or partially block from sight several skyscrapers in the Yorkville neighbourhood — including the 51-storey Manulife Centre tower, which has been a familiar landmark indicating the intersection of Bloor & Bay Streets since 1972.
But with a long way still to go before construction of FIVE and Nicholas is complete, it's already obvious that both new buildings will exude an even more powerful presence on the landscape once they have attained their full height. As of this weekend, construction of Nicholas has reached the 27th level on the way to 35, with cladding and windows installed up to the 13th floor so far. Two blocks down the street, construction of FIVE Condos has climbed to the 16th storey — exactly one-third of its way to the building's final 48 floors. Installation of that tower's cladding has not yet begun.
Meanwhile, the One Bloor condo project is poised to begin an equally remarkable transformation of views up the east side of Yonge Street. Rising at the southeast corner of Yonge & Bloor Streets, One Bloor will ultimately top off at 75 floors, completely reshaping the Yorkville skyline and one of the country's most famous crossroads in the process.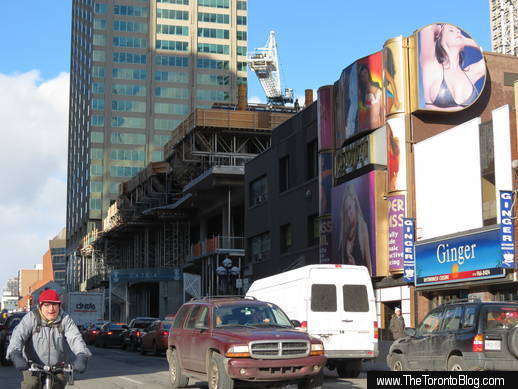 November 27 2013: Looking toward the One Bloor condo construction site from one block to the south, at the intersection of Yonge and Charles Streets.
CONTINUED ON PAGE 2