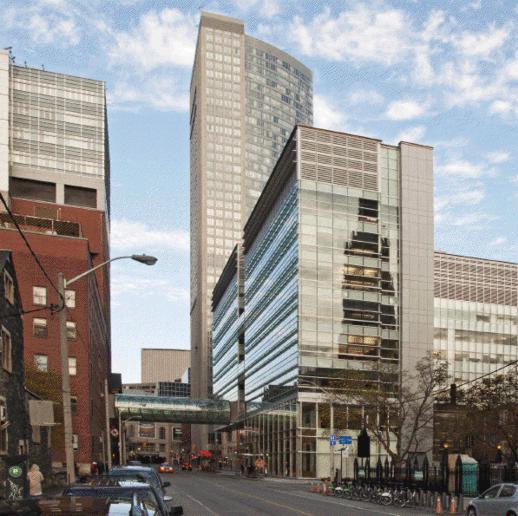 West view from along Shuter Street of the Li Ka Shing Knowledge Institute (right) and the tubular pedestrian bridge linking it to St. Michael's Hospital. Photo courtesy of Elizabeth Gyde/Diamond and Schmitt Architects.
Centre celebration: St Michael's Hospital yesterday celebrated the official opening of its new Keenan Research Centre and Li Ka Shing International Healthcare Education Centre — facilities collectively known as the Li Ka Shing Knowledge Institute. The hospital says the Centres  "are among the first in the world — and the only ones in Toronto — specifically designed to bring together researchers, educators and clinicians to brainstorm ideas across professions and to take best practices and research discoveries to patient bedsides faster."
The Keenan Research Centre occupies 25,200 square metres (271,300 square feet) with three floors of flexible, open concept wet laboratories and two floors for dry lab study in a wide range of medical research programs. 400 research staff will work there. The building's education component includes a library, classroom and meeting facilities. These are linked by multi-level lounges that sit above Victoria Lane and are connected by an elegant wishbone staircase, providing a focal point for informal encounters. A 200-seat raked auditorium also serves as a conference centre and lecture hall.
The nine-storey building was designed by Jack Diamond, a principal with Toronto's Diamond and Schmitt Architects. It occupies the north side of Shuter Street between Victoria and Bond Streets, and is connected to St Michael's Hospital by a 21-meter tubular glass pedestrian bridge.
A Diamond and Schmitt press release says design highlights of the Li Ka Shing Knowledge Institute building "include a glass curtainwall, which allows natural light to penetrate deep into the building. This serves not only to create an open and engaging workspace but also a visibly accessible connection into the world of medical research for the community at large. Solar shading placed horizontally on the south façade and vertically on the west façade minimizes heat gain and is made of glass instead of the typical metal shades so as not to impede the views to landmark buildings such as St. Michael's  Cathedral and Massey Hall. Other sustainable features include energy recovery systems on air handling units, reflective roofing, light sensors and a high use of recycled content in materials."