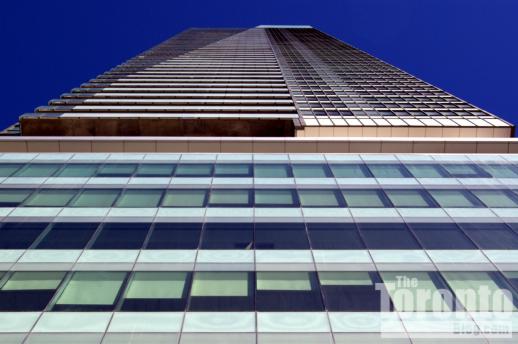 Design details: The various design patterns in the glass walls and balconies of the Maple Leaf Square south condo tower become evident in this photograph of the 50-storey skyscraper, shot from the east sidewalk on York Street. A project of Lanterra Developments, Maple Leaf Square was designed by Page + Steele IBI Group Architects and KPMB Kuwabara Payne McKenna Blumberg Architects.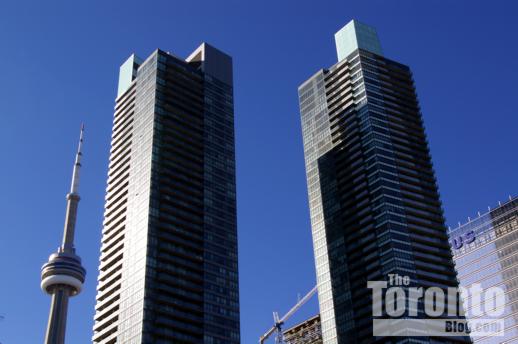 Five towers: From left are the CN Tower, Maple Leaf Square south tower, a construction crane atop the PWC 18 York office tower, Maple Leaf Square north tower, and the Telus office tower. Photo was taken from a parking lot next to the Toronto Harbour Commission building on Harbour Street on February 18 2011.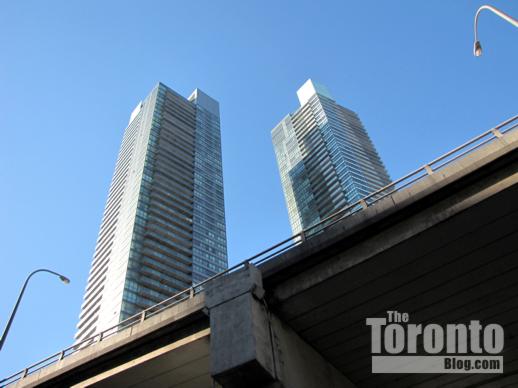 High road: The Maple Leaf Square towers viewed from a parking lot located off Harbour Street beneath the Gardiner Expressway.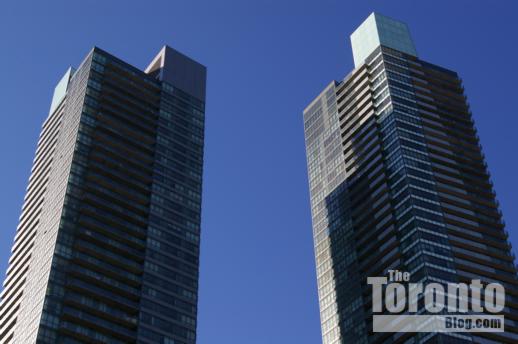 High life: The two Maple Leaf Square condo towers viewed from Harbour Street. The towers rise from a nine-story podium housing a Le German boutique hotel, offices, shops, restaurants, a grocery store and a bank. The South Tower, left, stands 50 floors, while the North Tower soars a little higher: 54 storeys.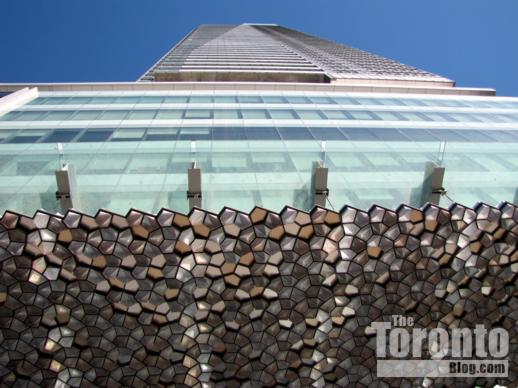 Above the awning: Another view of the Maple Leaf Square south condo tower, this time from beneath the unique artistic awning that extends above the sidewalk along the east side of York Street. More pics of the entire complex — from both indoors and out — can be viewed in the Maple Leaf Square album on the Photo Sets page of the blog.