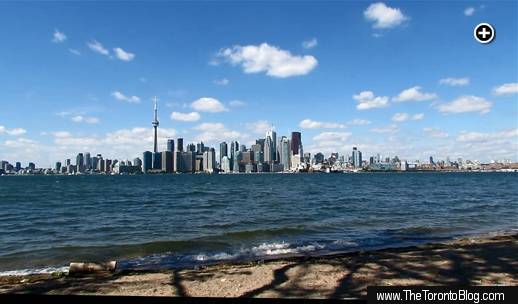 A Ward's Island view of the downtown Toronto skyline earlier this month
Pics and video: A lunchtime bikeride on the Toronto Islands earlier this month gave me a chance to check out how much the downtown skyline has changed in the one-year period since my last trip to the islands.
Although there are dozens and dozens of condo towers and several office highrises under construction in downtown Toronto, only a handful of projects have so far made a significant impact on the skyline views.
The southwest downtown core is now dominated by the two ÏCE Condominium towers which are still under construction on York Street, while the nearby Delta Hotel tower at Southcore Financial Centre on Bremner Boulevard also makes a big impact from some perspectives. 
Off to the west, the Library District Condominium tower is a noteworthy addition to the Concord CityPlace skyline; a year ago, only its construction crane was visible.
Over on the southeast side of the downtown core, The L Tower is the most eye-catching new building, with the water's edge Residences of Pier 27 also commanding attention even though it's only a midrise condominium project.  Much farther east, the Distillery District is easier to locate now that construction is drawing closer to completion on the Gooderham Tower.
CONTINUED ON PAGE 2