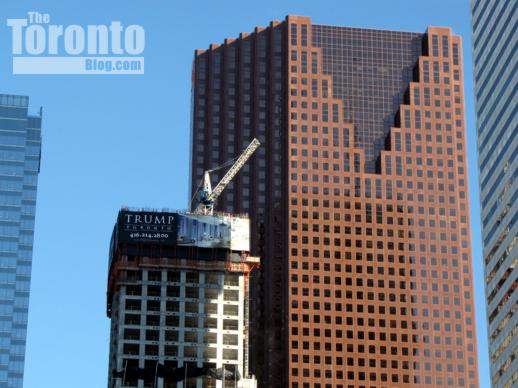 Trump Toronto seen from Adelaide Street West on February 3
46 floors and counting: The Donald's first construction foray into Canada is three-quarters of its way up.
On Thursday I counted 46 floors on the Trump International Hotel & Tower Toronto, the luxury condo + hotel skyscraper that will ultimately soar 60 storeys above the corner of Bay and Adelaide Streets. With construction crews pouring a new floor about every six days, the granite- and glass-clad tower should top off sometime around mid- to late March.
I'm loving the Trump already — especially its distinctive green glass walls, which will add a refreshing new colour to a skyline that has been basically black, white and bronze for more than two decades. I think the building works well at ground level, too, where it looks right at home in the middle of the Financial District's canyon of towers old and new. It almost feels like it's always been there; I can't even remember what stood on the site before.
Designed by a Zeidler Partnership Architects team led by Lydon Delaney, the Trump will house 261 hotel rooms on the tower's lower levels, and 118 luxury condominiums from floors 33 to 60. With hotel rooms ranging from 550 to over 2,000 square feet, the Trump will offer the largest accommodations in Toronto, the project's website brags.  And just as you'd expect for a building bearing business mogul Donald Trump's imprimatur, it will be "the most luxurious residential building in Canada."
The superlatives don't end there, of course. The Trump won't be just an instant new landmark on the city skyline, the website gushes, it will be "an elegant new beacon for luxurious sophistication" (whatever the heck that means).  "Accentuated by an articulated spire at its peak that commands attention from any angle, the Tower pays homage to classic Manhattan skyscrapers yet embraces the modern cosmopolitan flair that is distinctly Toronto."
Aw, shucks. Is that The Donald's kind way of saying Toronto has finally come of age and matured into a world class city? Below are two building renderings from the Trump Toronto's website, along with some photos I snapped of the tower on Thursday afternoon.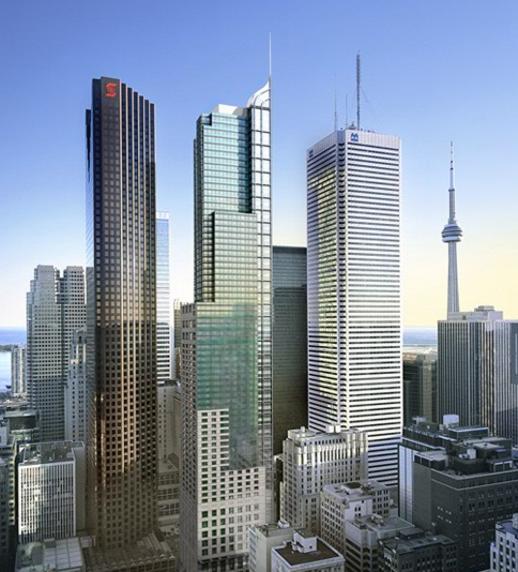 Rendering shows Trump standing tall with Scotia Plaza and First Canadian Place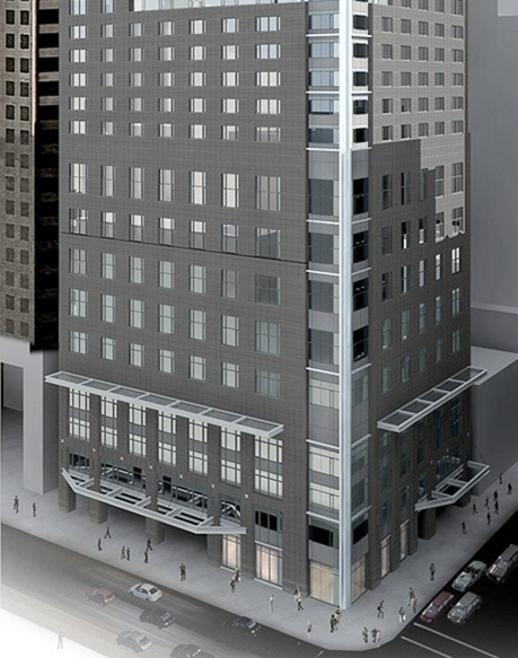 Website rendering of Trump Toronto's lower levels above Bay & Adelaide Streets
Trump rising behind Commerce Court West (57 floors; built 1972)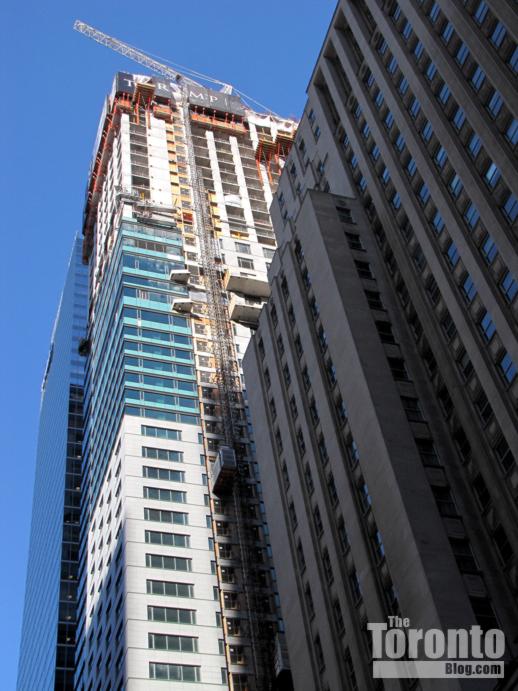 Trump Toronto rising behind the Bank of Nova Scotia tower (27 floors; built 1951)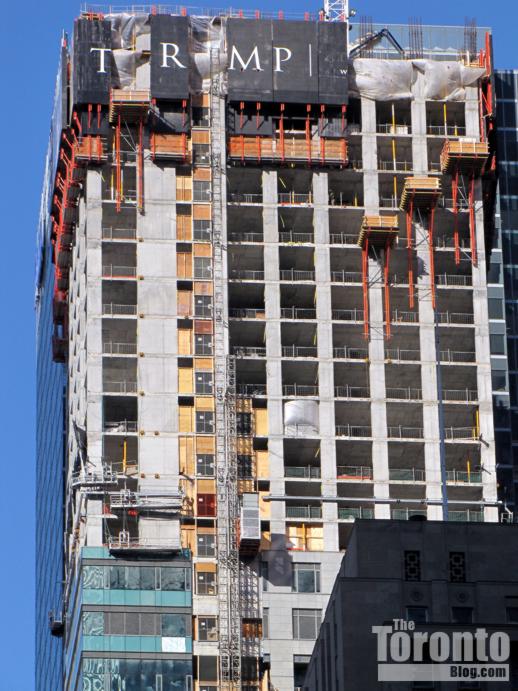 Trump Toronto seen from Bay Street just above King Street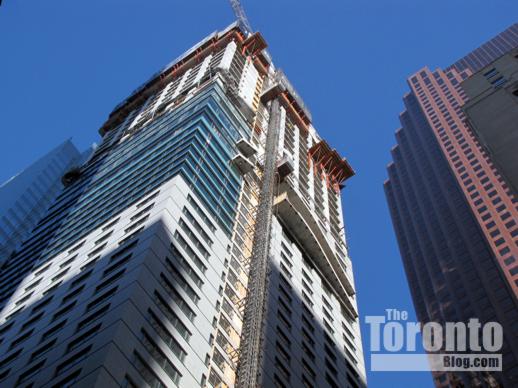 Trump Toronto climbs skyward beside Scotia Plaza (68 floors; built 1988)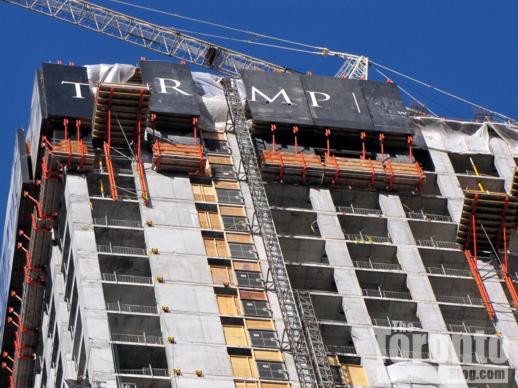 Looking up to the top (so far) of the Trump Tower from Bay Street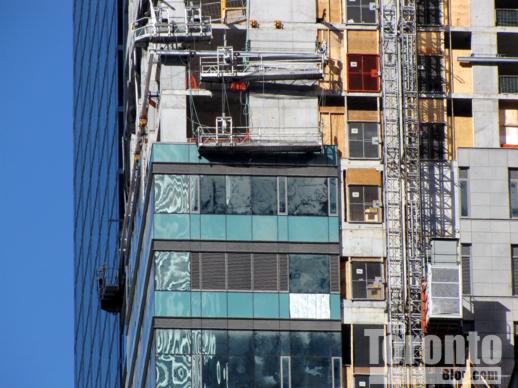 Trump Toronto is clad in granite and glass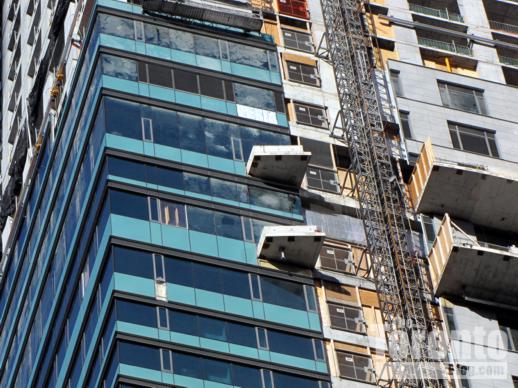 Green glass windows and cladding on the tower's southwest corner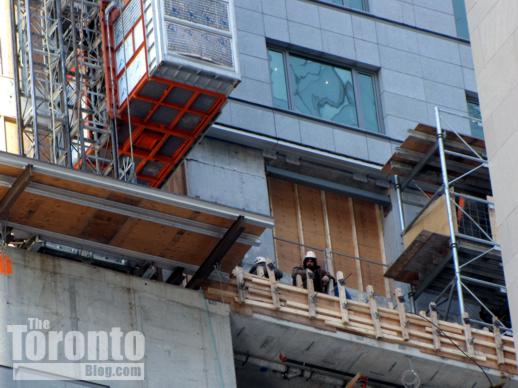 Construction workers on a platform high above Bay Street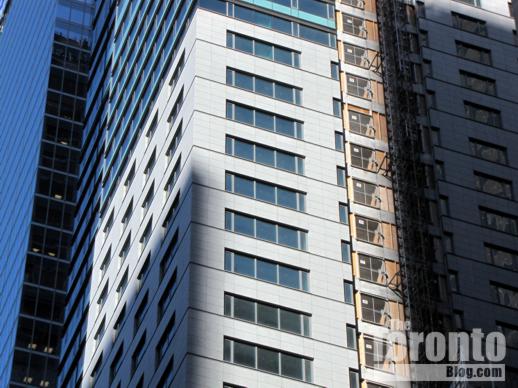 Granite exterior on the lower southwest corner of the tower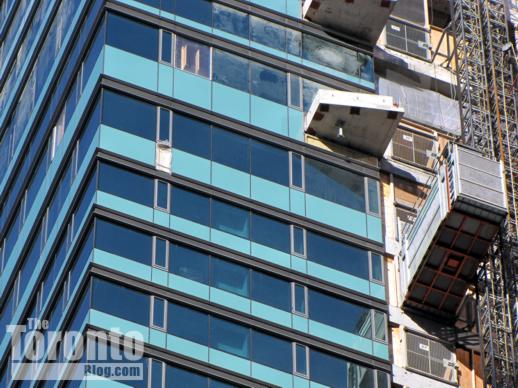 One of the construction workers' elevators stops at the 28th floor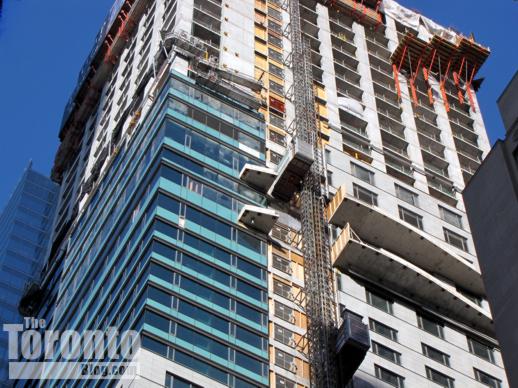 Platforms extend from nearly a dozen different floors on the south side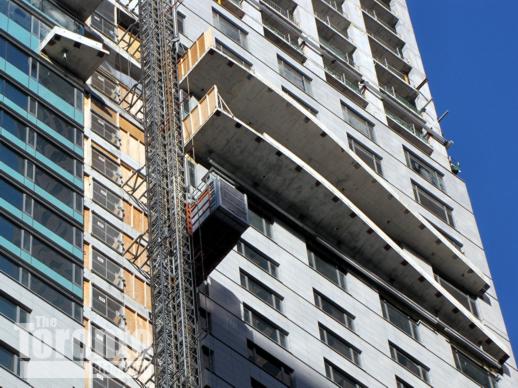 Two angled platforms on the exterior of the tower's south side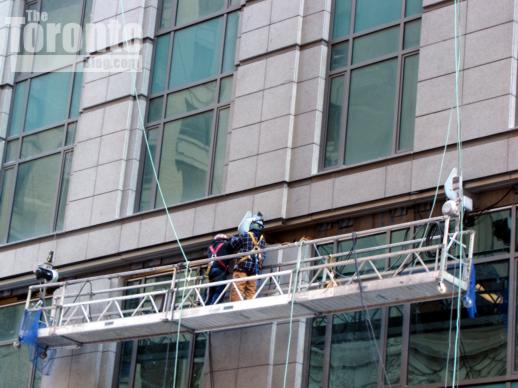 Construction workers on a swing stage two storeys above Bay Street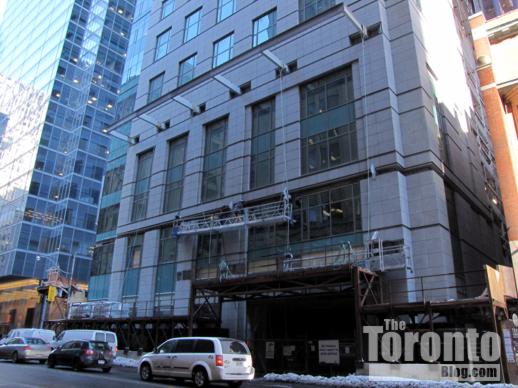 Classic granite facade fits right in on the Bay Street corridor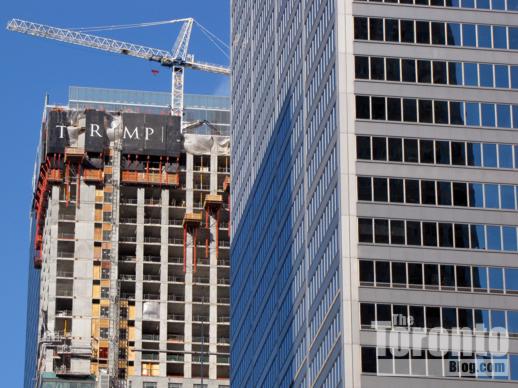 Bay Street view of Trump Tower behind Commerce Court West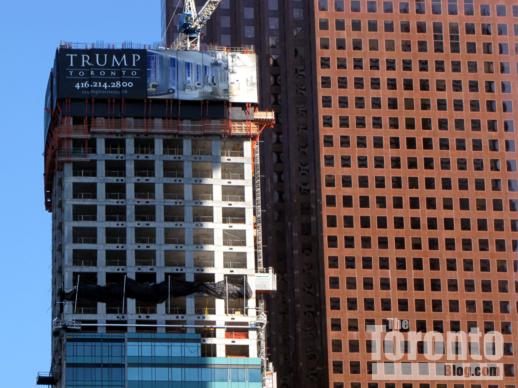 Trump Tower cozies up to its next-door neighbour, Scotia Plaza