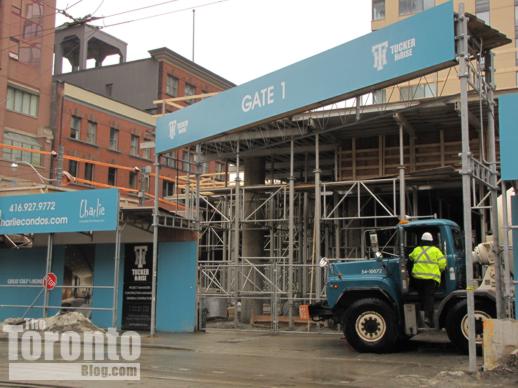 With construction up to its second level, Charlie Condos on King West is no longer hidden from view by the hoarding around the building site.
Name blame: When I was snapping some pics of construction progress at Charlie Condos on King Street West a few weeks ago, a bicycle courier rushed toward me, a furious look on his face. I thought he was angry at me, perhaps thinking I'd been taking his photo (I wasn't; he was standing far off to the side of the construction gate I was photographing at the time). Turned out he was actually pissed at Charlie's developer, Great Gulf Homes, and its builder, Tucker HiRise Construction, instead.
Jabbing his index finger toward signs on the construction site hoarding, the courier yelled: "These guys should get their asses sued off for copyright infringement!" Totally surprised and confused, I asked, "What guys? Why?" Face turning beet red, he bellowed: "Tucker HiRise! They have no right to use Chris Tucker's name for their company! And they have no right to use Charlie Sheen's name for their condo, either! I happen to know a thing or two about copyright law, and I know for a fact that Charlie and Chris could take these guys to the cleaners for trying to make money off their name!"
He proceeded to explain that the developer and builder were running afoul of civil law because, in his expert legal opinion, they were misleading people into purchasing condominiums in the belief the two Hollywood actors were somehow connected to the building. I had to bite my tongue to keep from laughing; this fellow was dead serious, yet he knew absolutely diddly-squat about trademark law.
Just as quickly as he had come running towards me, he flew into another tirade, this time raging about the fact Charlie is being built on a site that used to be a parking lot. "Where are all the cars supposed to park now?" he shrieked. "I guess they'll have to buy a condo if they want to park here," I replied. "That's exactly what those bastards want!" he exclaimed, once again gesturing toward the hoarding signs before quickly stomping away.
Below are some pics I took of Charlie after receiving my Trademark Law 101 lecture on the street corner.
To view pics of the parking lot that once occupied the site, as well as building renderings and photos of the early stages of Charlie's construction, check out my first Charlie progress post on January 31.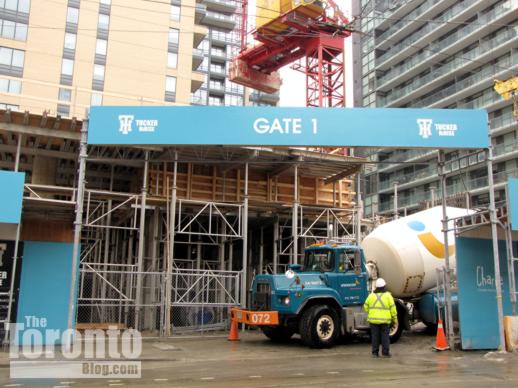 Construction forms rise above the hoarding on February 17 2011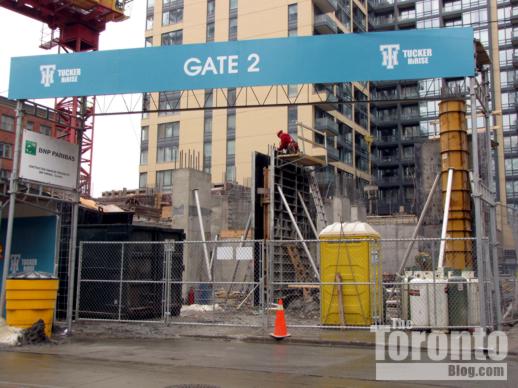 A construction worker atop one of the ground-level wall forms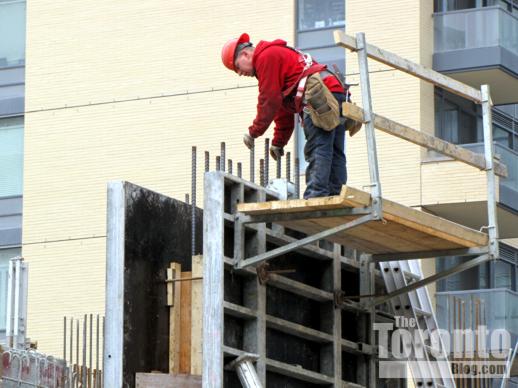 Arranging the rebar rods before concrete is poured in the form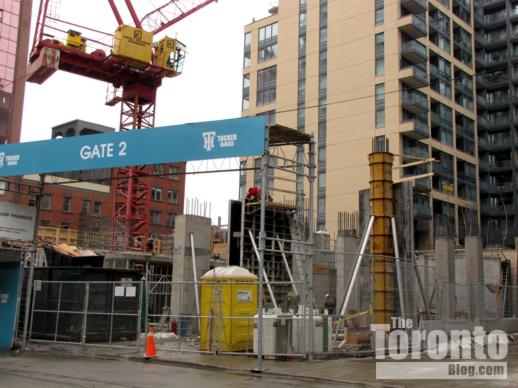 Charlotte Street view of the construction on February 17 2011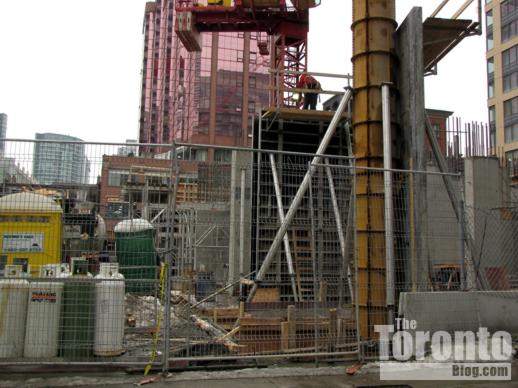 Charlie Condos construction viewed from a laneway to the north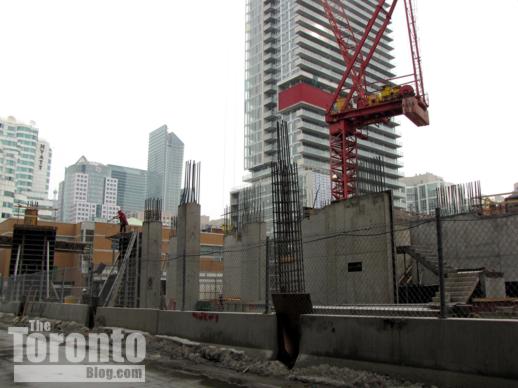 Laneway view of Charlie Condos construction, looking to the southeast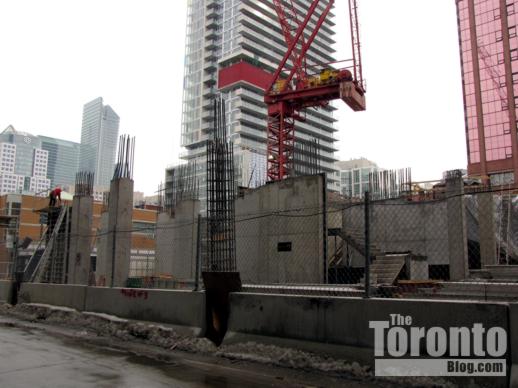 M5V Condos on King is the tower with the bold red stripe behind Charlie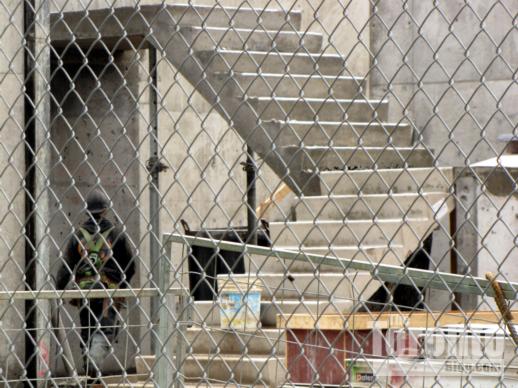 This way to the next level of construction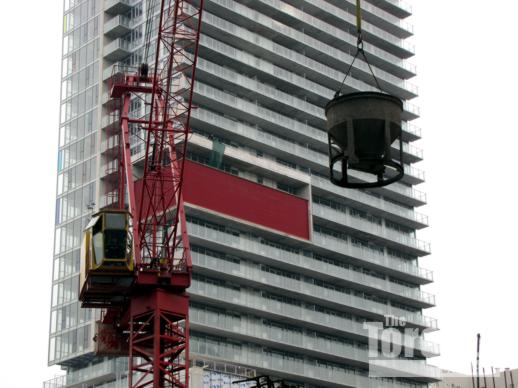 The crane lifts a bucket of concrete into place for pouring