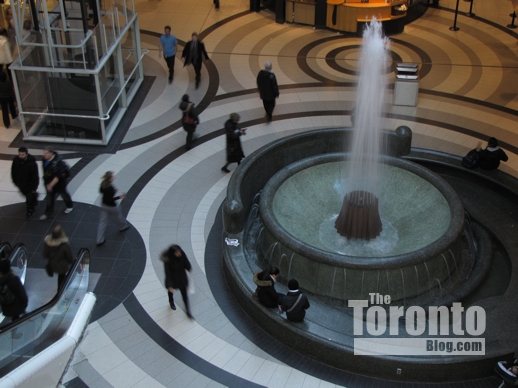 The big squirt is back! The Eaton Centre's famous "shooting fountain" is once again entertaining children and adult shoppers alike now that most of the flooring and handrail renovations in the mall's Centre Court have been completed and scaffolding cleared away.
The interior of the 33-year-old Eaton Centre, one of Toronto's top tourist attractions, has been getting spruced up and modernized in a two-year, $120 million revitalization project. So far, new flooring plus glass and stainless steel railings have been installed from Centre Court all the way south to the Queen Street end of the complex, while the Eaton Centre's dingy public washrooms also have been overhauled and upgraded. During much of the past six months, tall scaffolding has limited traffic flow and sightlines in the shopping concourses as well as access to the fountain, which was turned off so it could get spiffed up, too. But when I walked through the south half of Eaton Centre this afternoon, there wasn't any scaffolding in sight, and water was flowing in the fountain once more.
Meanwhile, renovators are gradually working their way toward the north end of the mall, where they are taking up the old floor and installing new railings between Centre Court and the galleria outside Sears. Construction of a new entrance from the mall to the adjoining 250 Yonge Street office tower also is underway. Below are some photos I took of Centre Court today as well as a pic from last August of the court and fountain; today's pics show how markedly the floor and railing changes have improved the Eaton Centre interior. Still to come are redevelopment of the mall's food court areas plus lighting enhancements and the installation of what promises to be a spectacular galleria ceiling light sculpture created by the U.K.'s United Visual Artists. You can read more about the Eaton Centre revitalization project here.