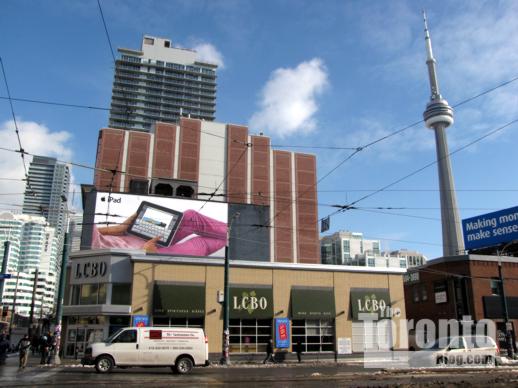 The LCBO store at the corner of King Street West and Spadina Avenue on Jan. 14 2011. A developer wants to build a 39-storey condo tower here.
Goldilocks planning principles?: The bizarre attitudes that City Hall sometimes displays toward building development proposals in the downtown core can be enough to drive a guy to drink. Thank God the big liquor store at the southeast corner of King & Spadina should be staying put for at least a few more years!
The one-storey LCBO outlet occupies part of a prime piece of property on which a developer has unveiled plans to build a 39-storey condo tower featuring high-tech windows that would harness solar energy. The proposed building would have fewer floors than the Theatre Park tower I wrote about yesterday — the condo building that Lamb Development Corp. got the go-ahead to build just three blocks east, next door to the Royal Alexandra Theatre, after initially getting double thumbs-down from city planners and politicians. (Lamb appealed to the Ontario Municipal Board; ultimately, the parties settled the case and the Theatre Park project is now being marketed to purchasers.)
Councillor advocates block-by-block development
Yesterday I mentioned a November 11, 2010 National Post story that described the Theatre Park planning ruckus. The article quoted Ward 20 City Councillor Adam Vaughan as saying Theatre Park "may be the last tall building on this block." According to the National Post, Vaughan "wants to move away from site-by-site development, and toward block-by-block development, so that neighbourhoods retain a certain scale, and residents can count on keeping the view they purchased."
Protecting precious views sounds like a great idea, but it's totally unrealistic for a city that's expecting its population to increase by hundreds of thousands of people in the decades ahead. Toronto certainly won't be able to pack all those people into low-rise accommodations (which wouldn't have views in any event). And while it seems completely reasonable for the city to oppose highrise construction in certain places, such as established, low-rise residential neighbourhoods, it doesn't make sense to object when towers are proposed for downtown locations totally suitable for tall structures.
Is developer "aiming too high?"
That's the case with the LCBO site, over which Vaughan is up in arms because the developer is aiming too high with its condo plans. "We've got a building there that's too short. They're coming in with a building that's just a bit too tall," Vaughan told The Globe and Mail earlier this week. He "would like to see the developers shave at least 50 metres off the proposed height — and throw in some community benefits like supportive housing or family-centred units," the Globe reported in a story published on Tuesday.
Okay, so a one-storey building is "too short," 39 storeys is "too tall," but something 50 metres shorter would be just right? Sounds to me like the city is purporting to apply Goldilocks' porridge and furniture preferences to city development planning!  Given Vaughan's strenuous objection, you'd think that the developer, Cabo Three Investments Inc., was proposing to plunk its tower smack in the middle of a historic residential district with streets of distinguished one- and two-storey houses. But that's not the situation with the liquor store location.
Neighbourhood already has condo towers
Spadina is one of the city's widest and busiest streets and there's already several condo towers in the immediate vicinity, with more under construction and even more being marketed for sale. And just two blocks south, the mammoth Concord CityPlace condo development is a dense urban canyon of enormous tall towers, with even more on the way. I have walked around the King & Spadina area three times in the past six weeks, and think Cabo Three's tower would suit the site perfectly. Heck, an even taller one would, too! To me, Vaughan's height complaint seems ridiculous. Besides, the tower won't be going up until the end of this decade at the earliest, because the LCBO's lease runs until 2019. Moreover, the solar-energy gathering glass windows the developer would like to install in its tower are still in the development stage, but should be a viable technology by the time Cabo Three wants to sink its shovels into the ground.
Residential plus office and retail space
By the end of this decade, tens of thousands more people will be living downtown, and the King & Spadina area will be substantially more busy and dense than it is now.  In those circumstances, building tall makes sense and is realistically the only way to go. So I'm hoping that this project, like Theatre Park, gets the green light and ultimately comes to fruition. By the way, as proposed, the tower would house 443 residential suites atop two floors of commercial office and retail space (the LCBO has said it would be interested in acquiring space in the new building, no doubt because the neighbourhood's population is forecast to grow by nearly 11 per cent in the next five years). The tower would have five underground parking levels with 311 spaces, and the brick heritage building next to the LCBO on King Street would be incorporated into the complex. Below are photos I've taken recently of the project site and immediate vicinity.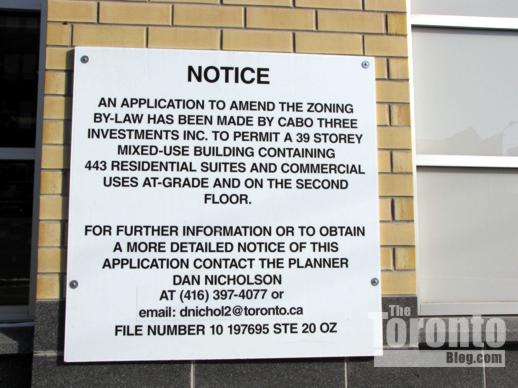 Development proposal sign on the LCBO store at King & Spadina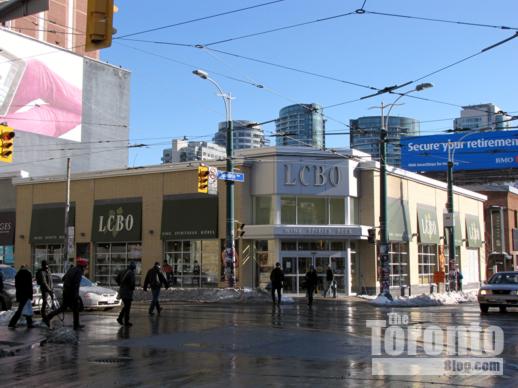 The LCBO store at King & Spadina seen here on February 3 2011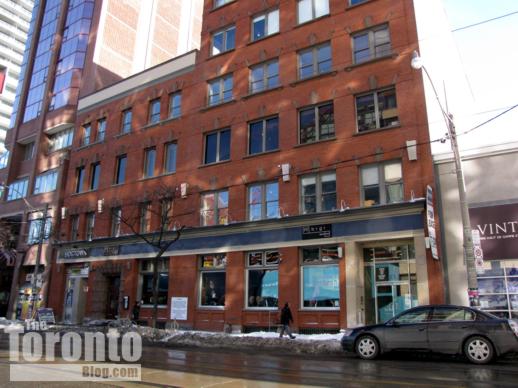 This 6-storey heritage building at 401 -409 King St. W. would be incorporated into the 39-storey condo complex proposed for this prime corner location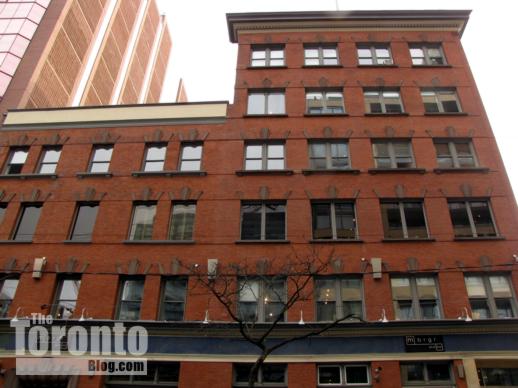 Upper floors of 401 – 409 King St. W. seen February 17 2011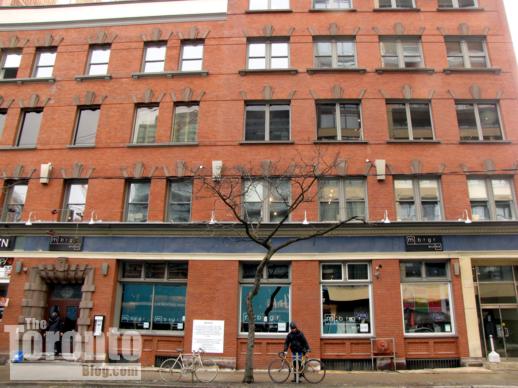 Street level view of 401 – 409 King St. W. on February 17 2011
Site viewed from the NW corner of King and Spadina on February 17 2011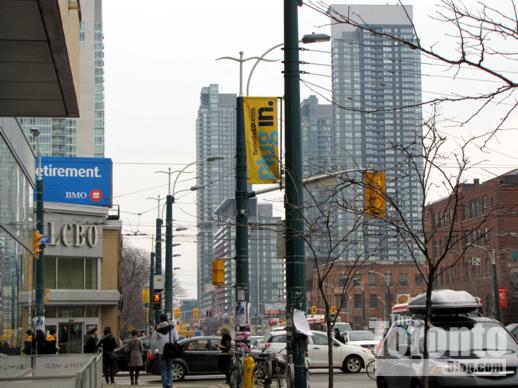 Spadina Avenue view of the LCBO store, left, and some of condo skyscrapers at the massive Concord CityPlace development two blocks south on Spadina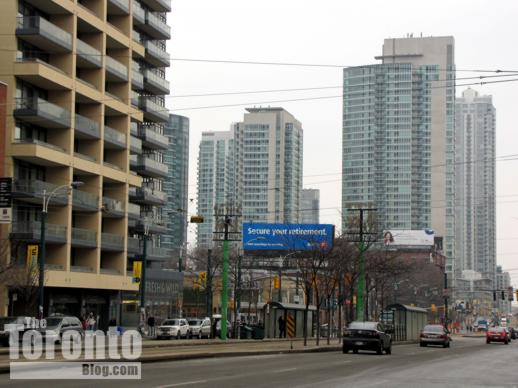 Site viewed from west side of Spadina Avenue, just north of King Street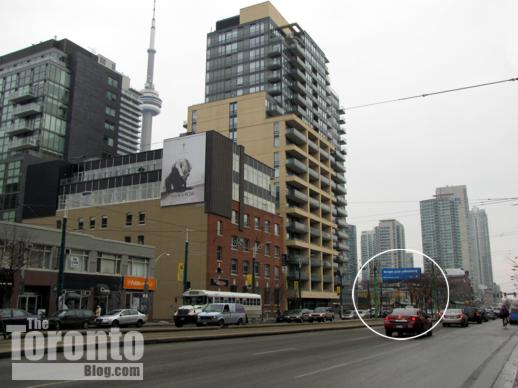 Site viewed from the NW corner of Spadina Ave. and Adelaide St. W.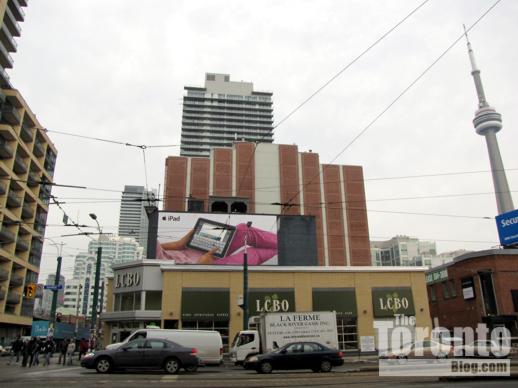 LCBO store seen from west side of Spadina Avenue on Feb. 17 2011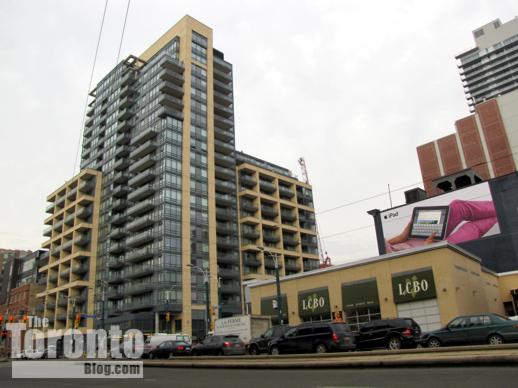 Intersection of King and Spadina viewed from the west side of Spadina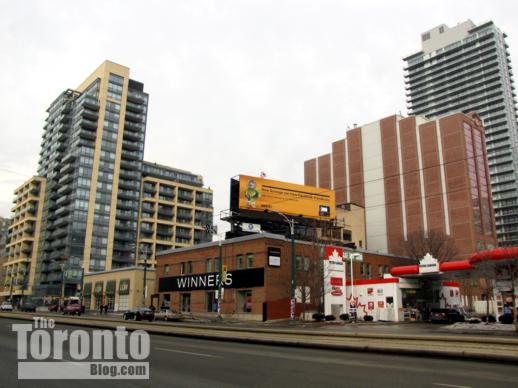 Oh the horror! The proposed condo would completely dwarf the Winners store and the Petro Canada gas station to its south, seen here on February 17 2011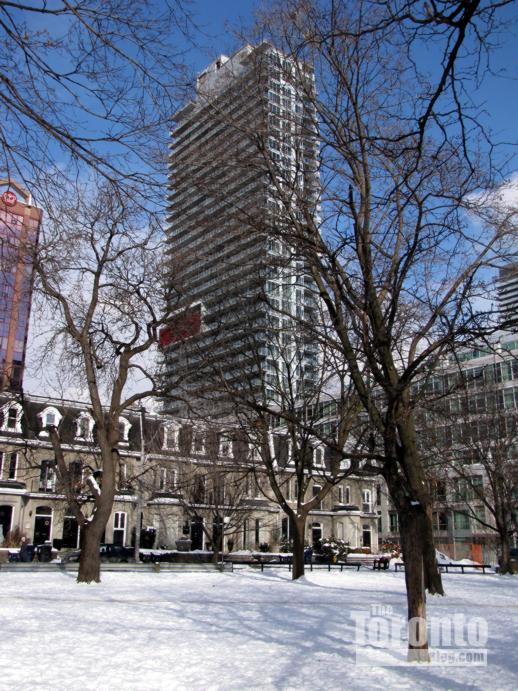 These townhouses on Clarence Square, one block south, are the nearest low-rise houses. Although  highrises already overlook their back decks, including the M5V condo tower at center, they face charming tree-lined Clarence Square, so residents can't complain about losing nice views.