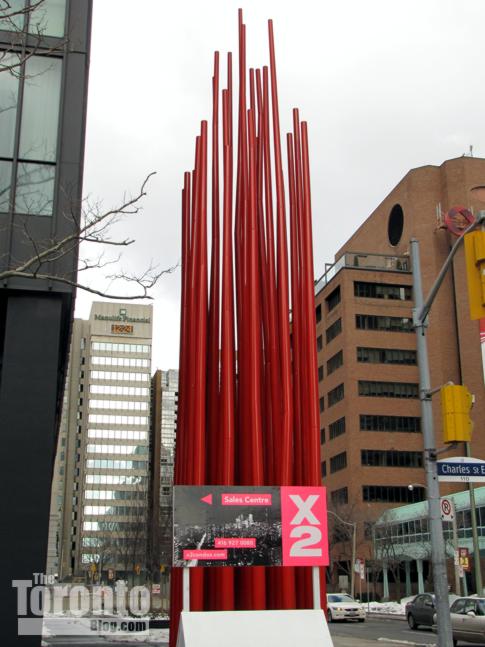 A condo ad detracts from views of Shayne Dark's bold red "Double Vision" sculpture outside X Condos

An affront to art?: I remember the first time I saw the Shayne Dark sculpture, "Double Vision," outside the new X Condominium tower. The slender, long lipstick-red tubes rising from the sidewalk at the southeast corner of the tall coal-black condo tower caught my attention from more than two blocks away, so I hurried up Jarvis Street to take a closer look.
Because of its striking visual impact next to the building, Dark's sculpture, which reminds me of bamboo shoots, instantly became one of my favourite pieces of public condominium art. But it didn't take long before the eye-catching art unwittingly became a tacky marketing tool for X Condo's sister project, X2 Condos. In next to no time, a garish black, white and hot pink billboard advertising the X2 condo sales centre was plunked in front of "Double Vision."
Not only does the sign spoil views of the stunning sculpture, it also cheapens the artwork — which I'm certain cost the condo developer a pretty pile of cash. And speaking of cash, I'm willing to bet lawyers could make a good case demonstrating that the sign violates Dark's moral rights … after all, remember what happened when the Eaton Centre tied Christmas bows on artist Michael Snow's Canada geese sculpture, "Flight Stop?"
Memo to the clever marketing people at X2: Time to find a more appropriate place to park the sales office sign; perhaps on the south side of Charles Street, away from the sculpture. Please show some respect and class for the art, folks.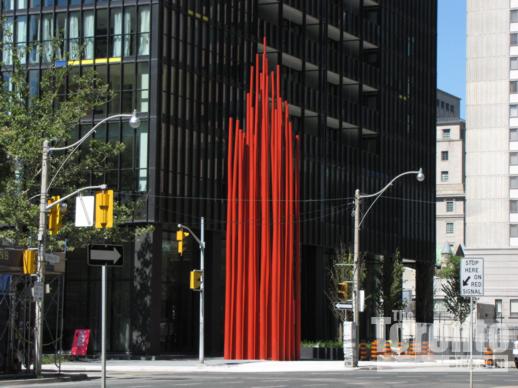 For readers who haven't seen it, here is a photo from last August showing "Double Vision" when it wasn't obscured by advertising. A pink sandwich board sign for the X2 sales office looks much less obnoxious placed away from the artwork.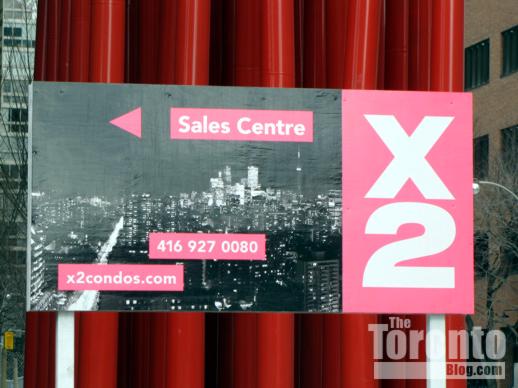 This is what you see now when you view "Double Vision" from the south