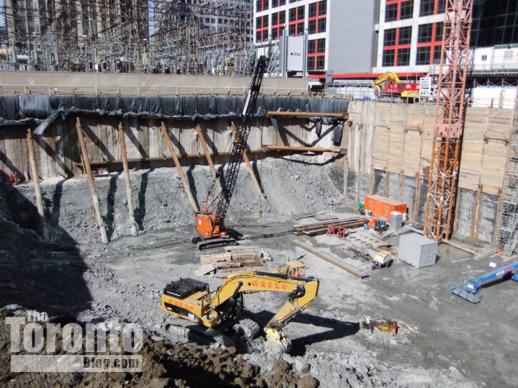 March 29 2011: Excavation machines and equipment inside the deep pit at the Three Hundred Front Street West condo tower construction site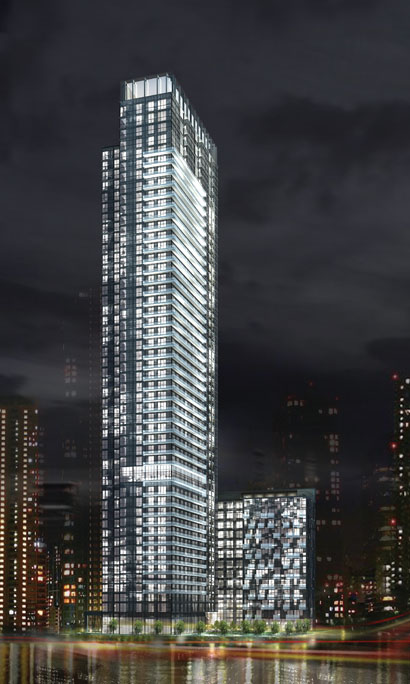 From the Tridel website, an artistic illustration of a southeast night view of the Three Hundred Front Street West condo building
Deep dig: An already huge hole in the ground is getting even bigger at the northwest corner of Front and John Streets, where Toronto developer Tridel is building its latest luxury condominium tower on the site of a former parking lot. Designed by Rudy Wallman of Toronto's Wallman Architects, the L-shaped Three Hundred Front Street West will actually be two buildings in one. A 49-storey tower offering a variety of 1- and 2-bedroom condo suites plus spacious penthouse residences will rise from the west side of the property, while a connected 15-storey loft building will stand to the north. A grand two-storey lobby entrance will overlook a large landscaped garden gracing the southeast corner of Front & John.
Design-wise, Three Hundred Front Street West will bring a bit of Big Apple appeal to downtown Toronto. "I was inspired by the classic skyscrapers of the modern era to create a structure that is timeless and elegant," Wallman explains in a video presentation on the Tridel website.  Three Hundred Front Street West, he adds, will be "a unique and elegant addition" to the neighbourhood, complementing the new Ritz-Carlton Toronto hotel and condo tower one block to the east, as well as the new Festival Tower and TIFF Bell Lightbox buildings two blocks north at John and King. Interior designer Alex Chapman of Chapman Design Group says Wallman has conceived a "Manhattan-style" tower that is "totally reminiscent of many of the famous complexes" in New York City. Unfortunately, I haven't been to Manhattan yet, so I can't draw any comparisons myself. But I do think that,  with its soaring height and its striking silver and charcoal grey glass exterior, Three Hundred Front Street West will become a landmark commanding attention both in its immediate area and on the city skyline. The neighbourhood is dominated by office and condo towers with similar green glass exteriors, so Three Hundred Front Street West's unique silver and grey tower accents should provide a refreshing visual break from the rest as well as an attractive addition to the skyline.
Amenities-wise, Three Hundred Front Street West will be a contemporary condo offering the look and feel of an exclusive, upscale boutique hotel. The airy two-storey lobby off Front Street will be "a sophisticated urban arrival space" with a lounge atmosphere, Chapman says, while a 13,500-square-foot recreational center on the 15th floor will feature a "professional-level" exercise area. The rooftop of the loft wing will look like a chic "urban resort" with its infinity pool, sundecks, Roman fountain and barbecue. Interior recreational amenities will include a party room with south views, a private dining room with a catering-size kitchen and its own "cocktail balcony," a poker room, billiards room and lounge. I'm jealous; with the exception of a ground-level swimming pool, all of the amenity areas in the downtown condo where I live are windowless basement spaces with all the sophistication of a recreation room from a 1970s-era suburban house.
Overall, I think Three Hundred Front Street West will significantly enhance the streetscape in one of the city's most popular tourist areas, particularly since it will block many sightlines of the Windsor hydroelectric station on Wellington Street. And with plans in the works for John Street to get a major makeover in the next several years, Three Hundred Front Street West's main entrance park will become a classy southern gateway to the Entertainment District's main north-south street. The only downside to the development, that I can see, is the block full of ugly power transformers on its north flank. But since Wallman's design means all of the loft suites face south, their residents will still enjoy good views and won't get stuck overlooking electrical equipment.
Below are photos I've taken of recent construction activity at Three Hundred Front Street West, along with several artistic illustrations provided by Tridel that suggest how the tower, its street-level exterior, and its landscaped park will appear. Additional artistic illustrations of the building exterior, lobby and amenities, as well as floor plans and brief video presentations by Rudy Wallman and Alex Chapman, are available on the Three Hundred Front Street West website.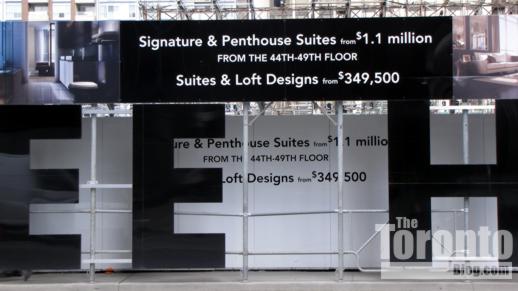 November 28 2010:  Signage on hoarding around the construction site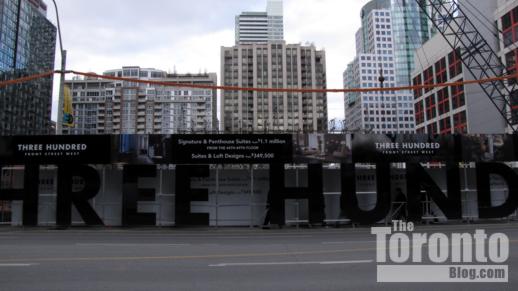 November 23 2010: North-facing view of the 300 Front West site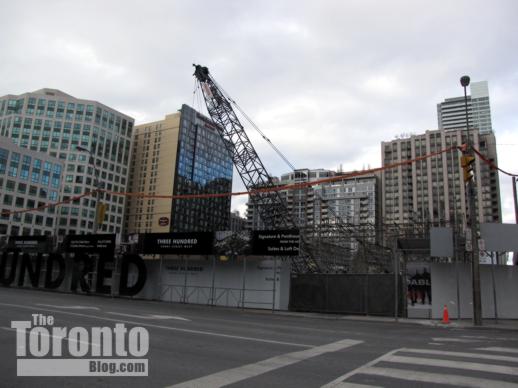 November 23 2010: A tall shoring machine at work on the condo excavation site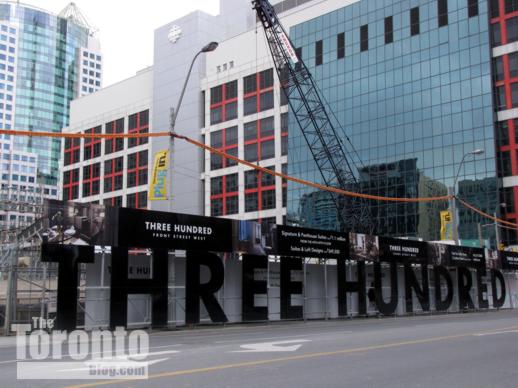 November 23 2010: Northeast view of the condo construction site. The building with the red window frames is the CBC broadcasting headquarters on the southeast corner of Front & John Streets.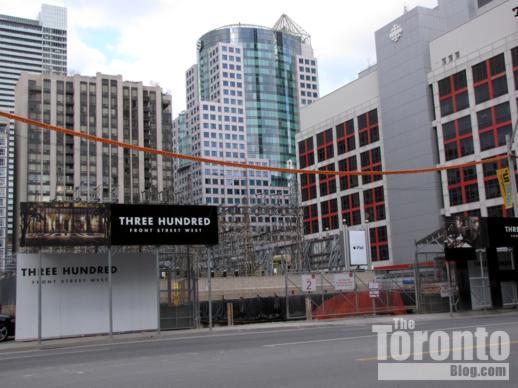 November 23 2011: Northeast view across the 300 Front Street West condo site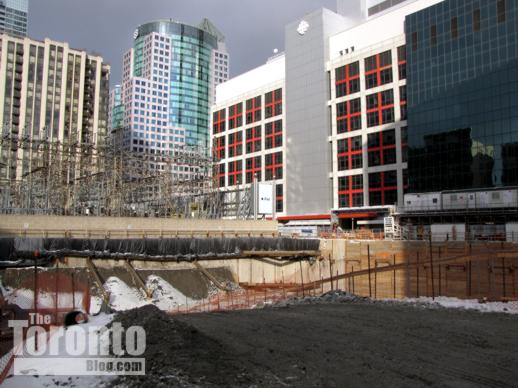 January 14 2011: The ramp leading from Front Street into the excavation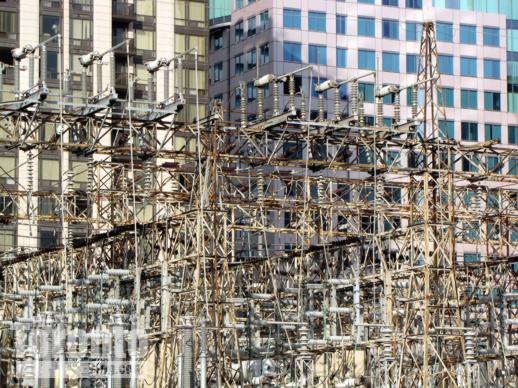 January 14 2011: Some of the hydroelectrical equipment at the Windsor Station on the north side of the 300 Front Street West site. Thankfully, the condo will block views of the hydro station from most parts of Front and John Streets.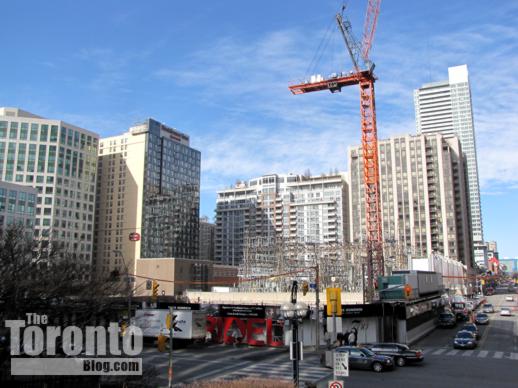 February 18 2011: A view of the crane recently installed on the site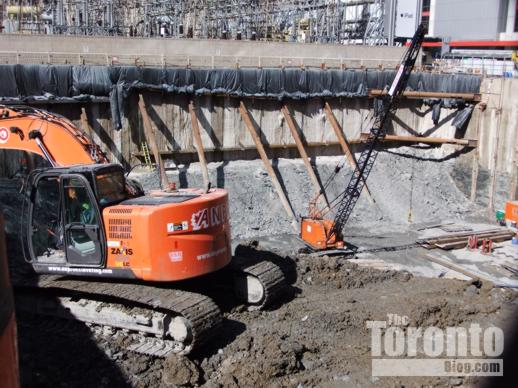 March 29 2011: Excavation machines inside the pit at 300 Front West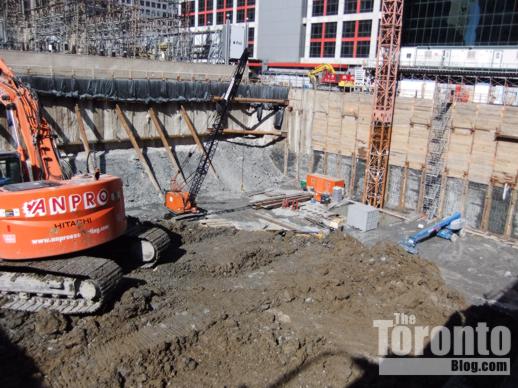 March 29 2011: Looking toward the northeast corner of the excavation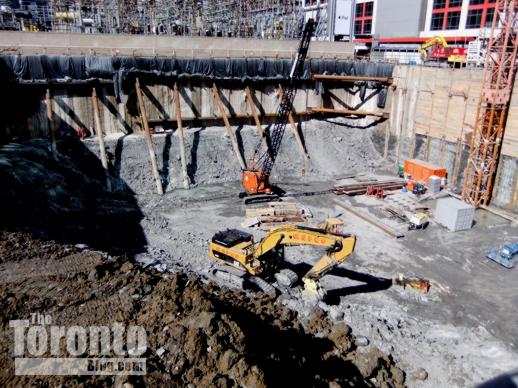 March 29 2011: Excavation machines at the bottom of the deep pit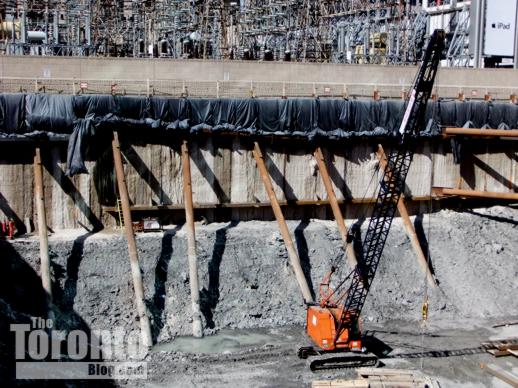 March 29 2011: The supporting wall on the north side of the excavation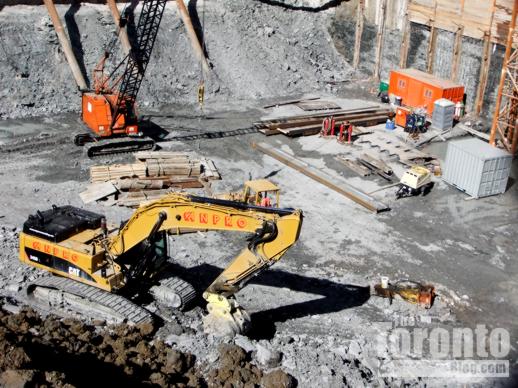 March 29 2011: Excavation activity at the eastern half of the site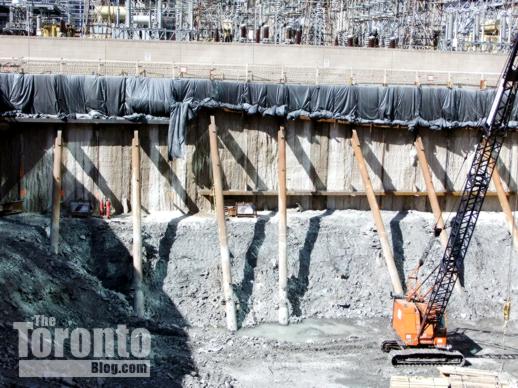 March 29 2011:  Considerable excavation work remains on the west side of the site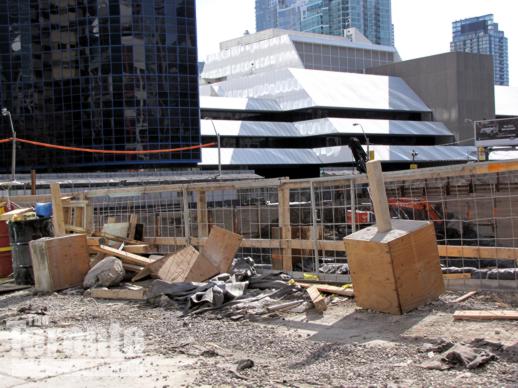 March 29 2011: Looking toward Front Street from the site's NE corner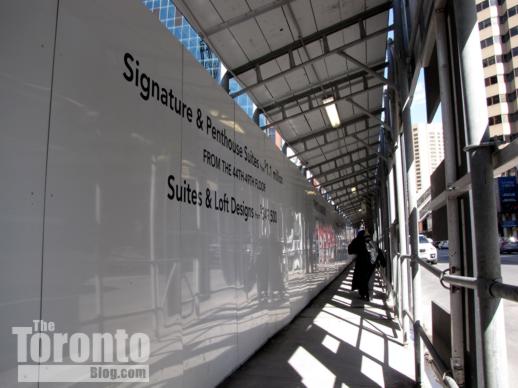 March 29 2011:  Slick white hoarding protects pedestrians on Front Street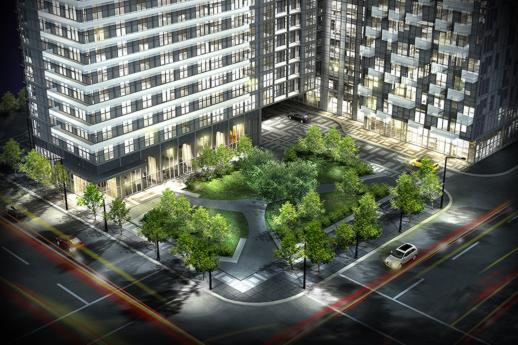 From the condo website, an illustration of the landscaped SE corner park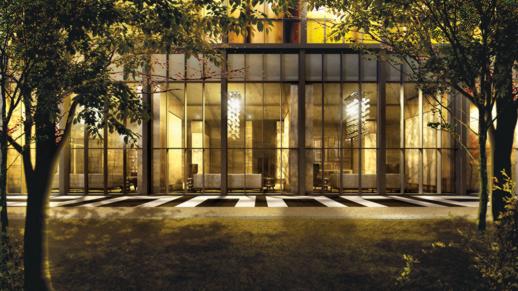 Website illustration of the lobby exterior, viewed from the condo park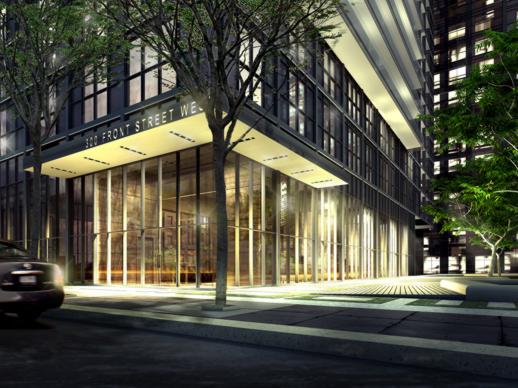 Website illustration of the Three Hundred Front West lobby exterior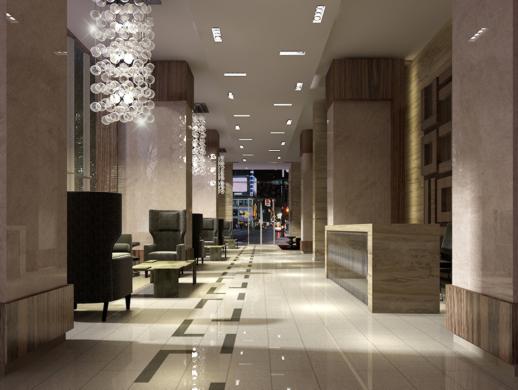 Website illustration of the Three Hundred Front Street West lobby interior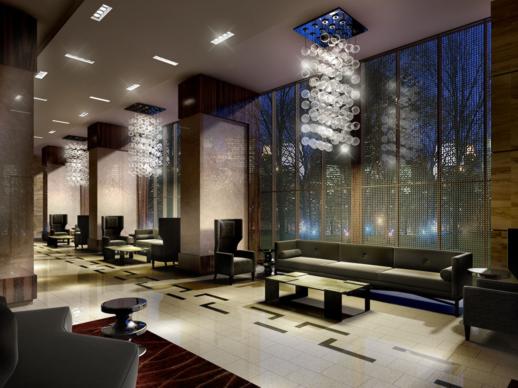 Another illustration of the Three Hundred Front Street West lobby interior