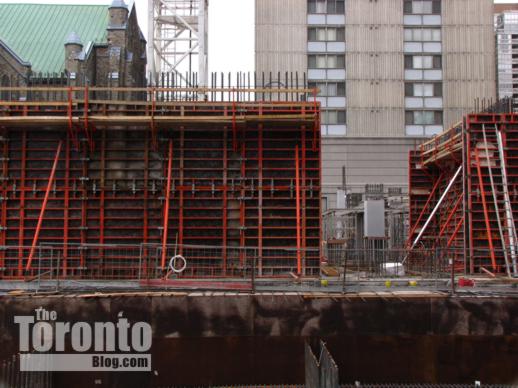 June 22 2011: Forms for first floor walls stand in place as construction of the Couture Condominium tower climbs above street grade (seen here looking north from street level behind Couture's neighbour, X Condos).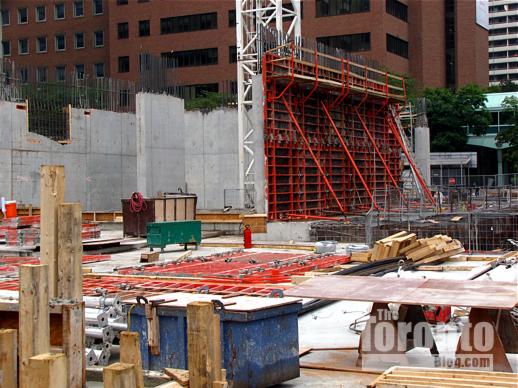 June 22 2011: Concrete walls for the first floor rise above the street near the tower's northeast corner and right beside the construction crane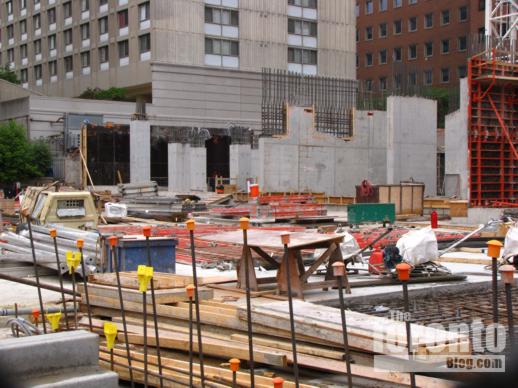 June 22 2011: A view of first floor construction progress, looking to the northeast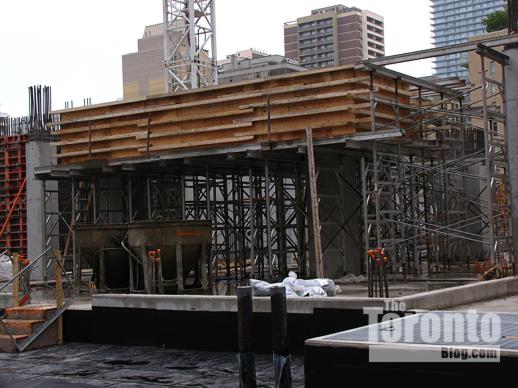 June 22 2011: First floor takes shape near the building's northeast corner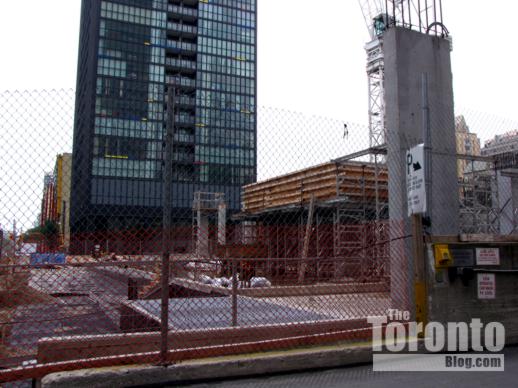 June 22 2011: X Condos looms to the south as Couture's first floor rises
Couture's climb: Just weeks ago there was still a huge hole in the ground where the Couture Condominium tower has been under construction. Now that the underground levels are almost finished, the tower is pushing above grade, and walls for the first floor of the 44-storey skyscraper are taking shape.  Passersby will no longer have to peer into a large pit to watch the tower's progress — it's all straight up from this point. Below is a series of photos chronicling Couture's construction progress at various times this spring.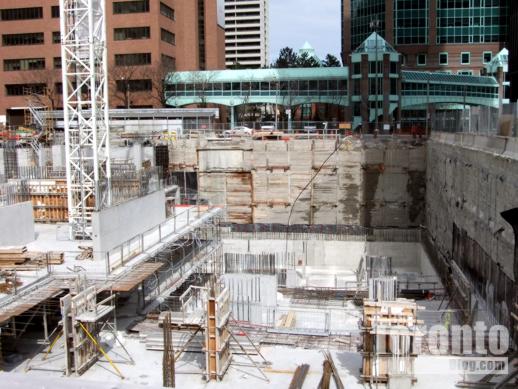 April 22 2011: The foundation's southern third slowly fills in …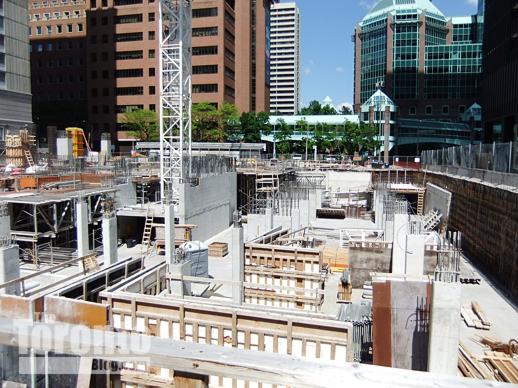 … by June 5 2011, it has made great strides in catching up …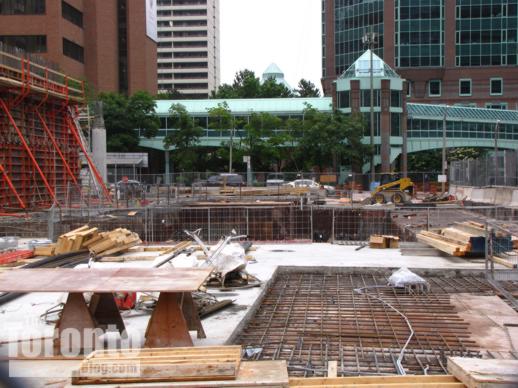 … and by June 22 2011 most — but not all — of the foundation is finished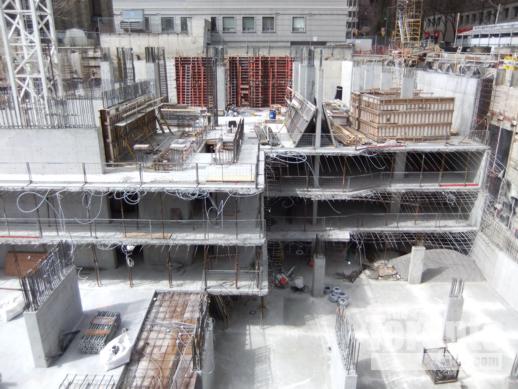 April 22 2011: Foundation viewed from the southeast corner, looking north …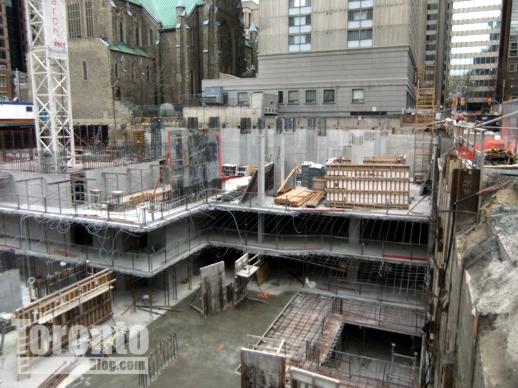 … by May 1 2011 crews haven't yet made tremendous progress on the SE corner …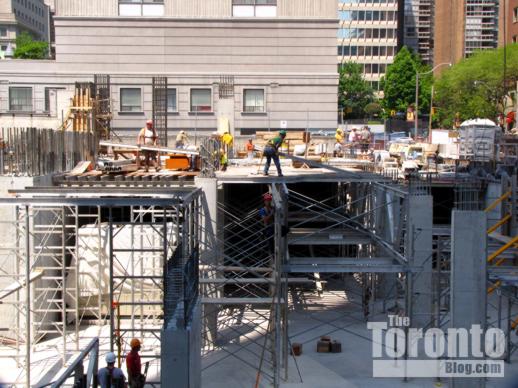 … but on May 31 2011 they're placing forms for the first floor concrete pour …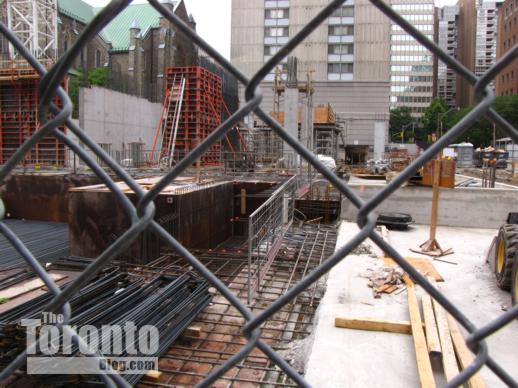 … and by June 22 2011, the corner has filled in right up to street level
May 1 2011: This view from the southeast corner shows how much work remains to be done on the foundation's southern section …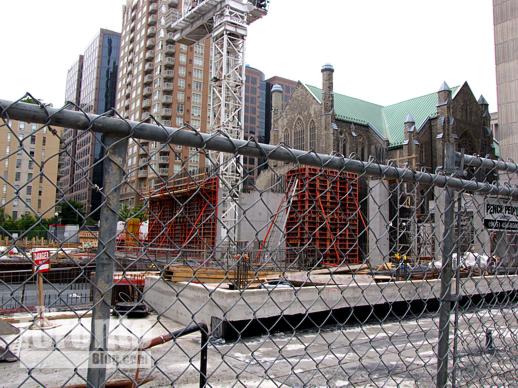 … but by June 22 2011 most of the foundation has filled in up to grade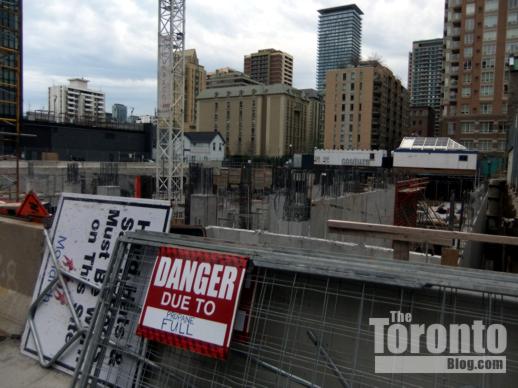 May 1 2011: Looking to the southwest, wall forms are seen approaching grade …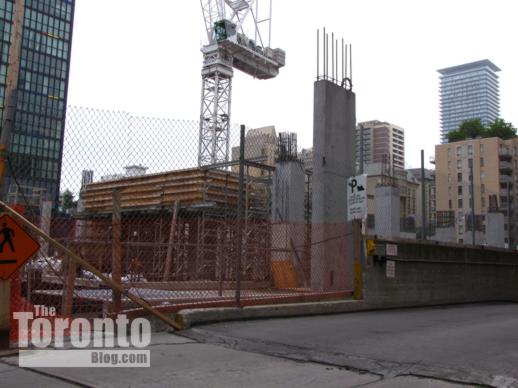 … and by June 22 2011 forms begin to rise  high above the street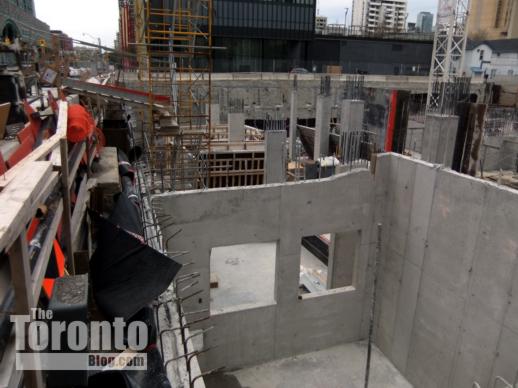 May 1 2011: Looking south at foundation progress at the front of Couture, along Ted Rogers Way (a.k.a. Jarvis Street) …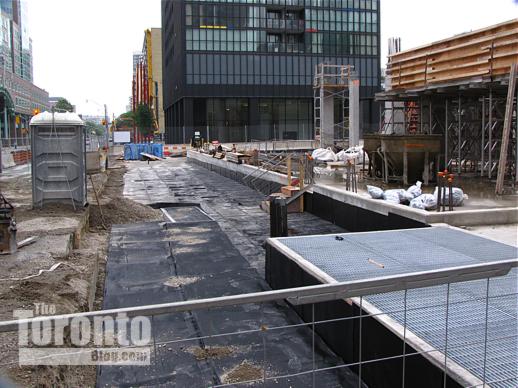 … by June 22 2011, the stretch of property along Ted Rogers Way is fully filled in
April 22 2011: Four underground levels visible from the site's southeast corner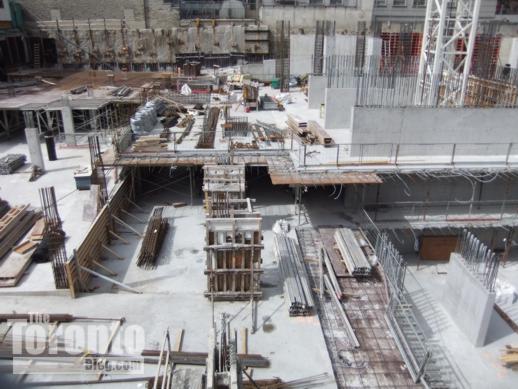 April 22 2011: Looking north across the center of the construction site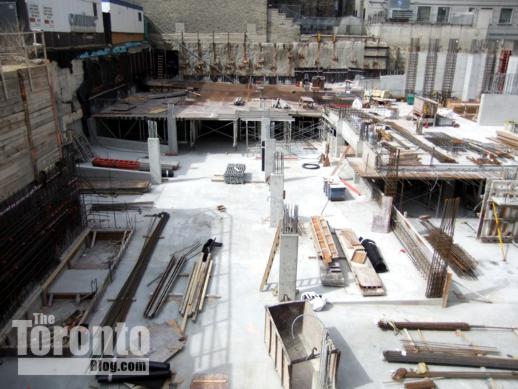 April 22 2011: Looking north across the west side of the site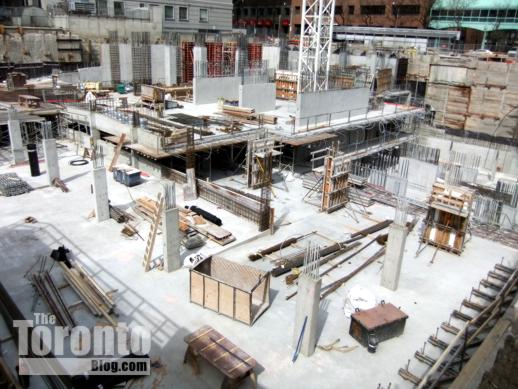 April 22 2011: The view from the site's southwest corner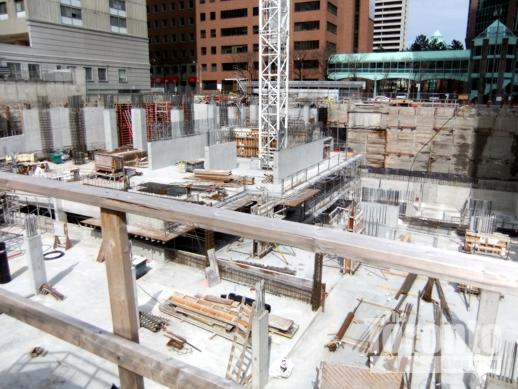 April 22 2011: Looking across the site toward Ted Rogers Way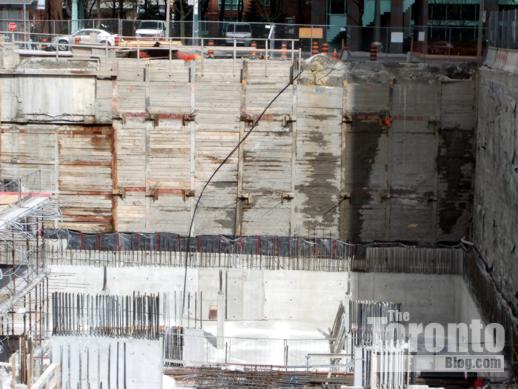 April 22 2011: The southeast corner has a lot of catching-up to do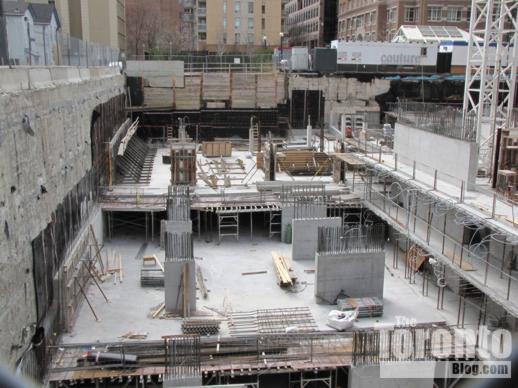 April 22 2011: Looking west across the southern third of the Couture site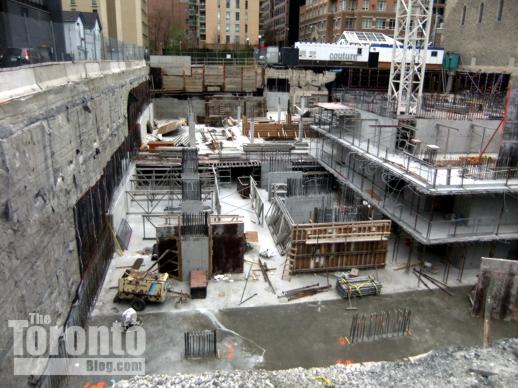 May 1 2011: Underground floors on the southern section slowly start to fill in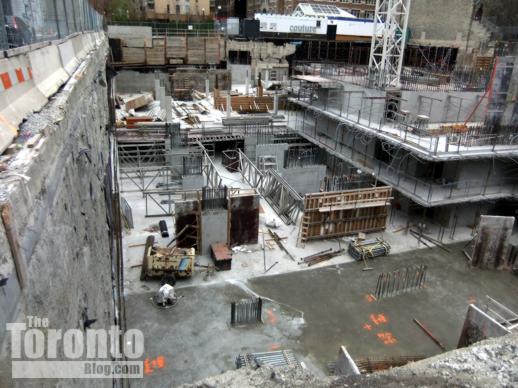 May 1 2011: Looking down into the southeast corner of the foundation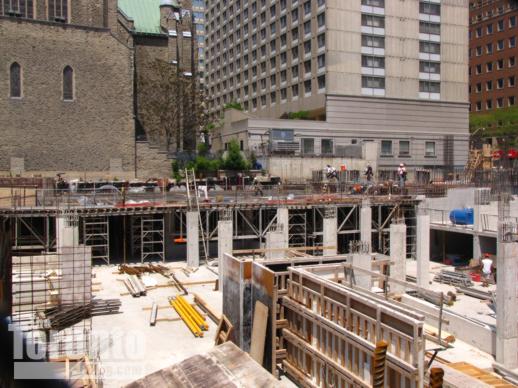 May 31 2011: Forms being put in place to prepare for concrete pour for the street-level main floor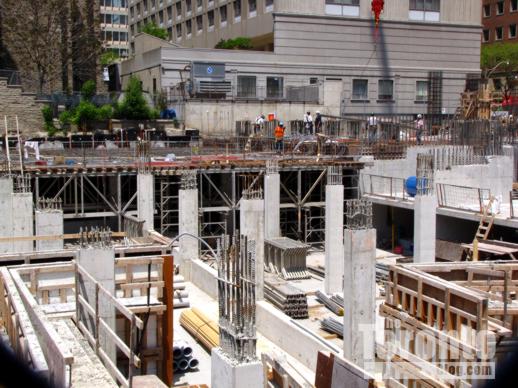 May 31 2011: Another view of grade-level work on the northern third of the site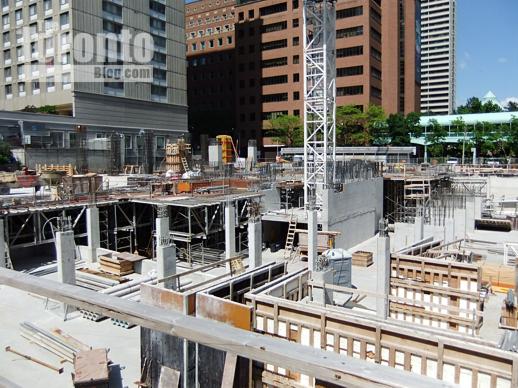 June 5 2011: Most of the foundation starts closing in on street level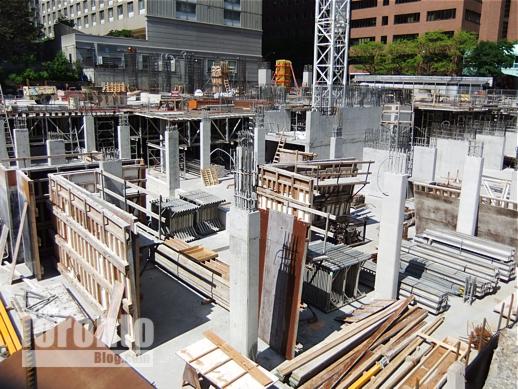 June 5 2011: Looking across the Couture foundation from the southwest corner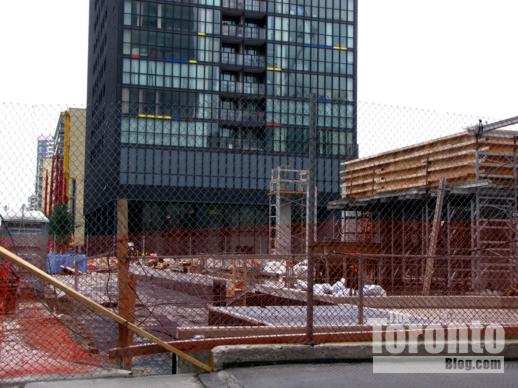 June 22 2011: Looking south along Ted Rogers Way as Couture starts climbing above the street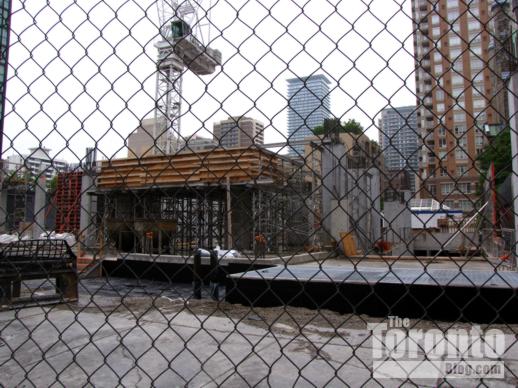 June 22 2011: Looking west across the northern third of the Couture site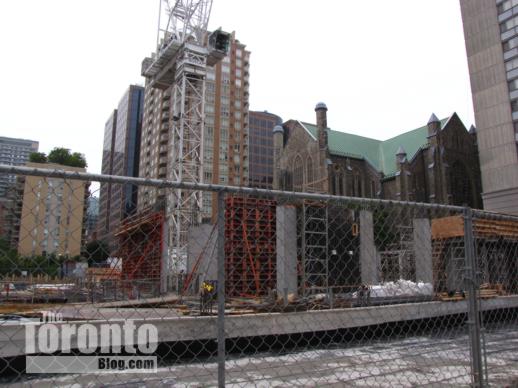 June 22 2011: Looking northwest from Ted Rogers Way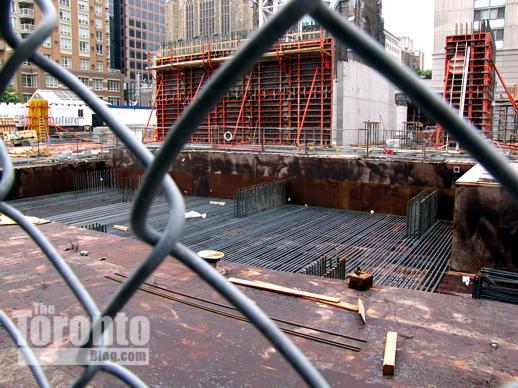 June 22 2011: Street-level floor nearly complete at the south end of the site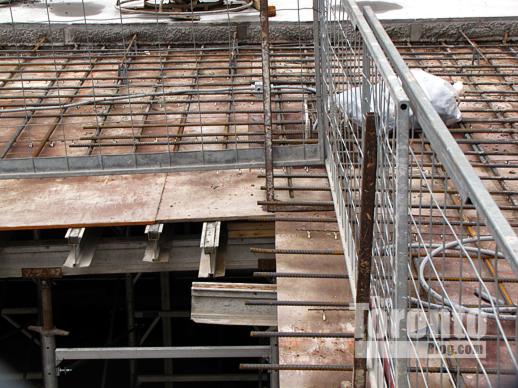 June 22 2011: The southwest side of the building isn't completely at grade yet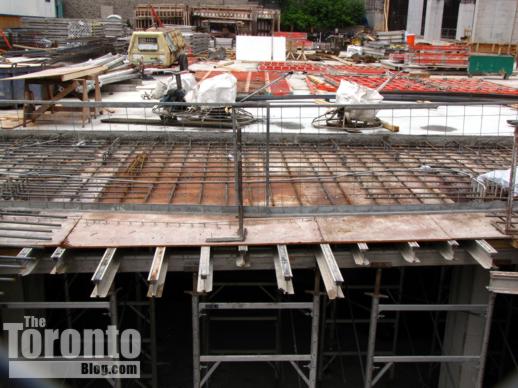 June 22 2011: Part of the first underground level remains to be closed in