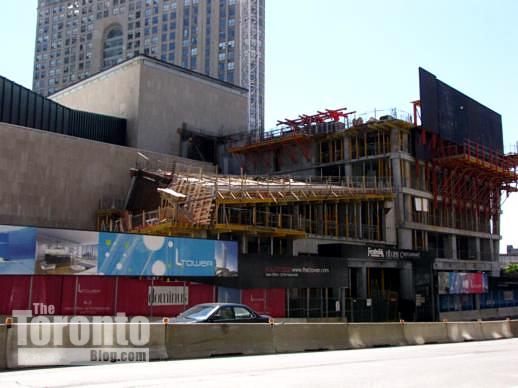 July 1 2011: Concrete shaping forms obscure an intriguing angled structure at the north end of The L Tower being built at Yonge Street & The Esplanade …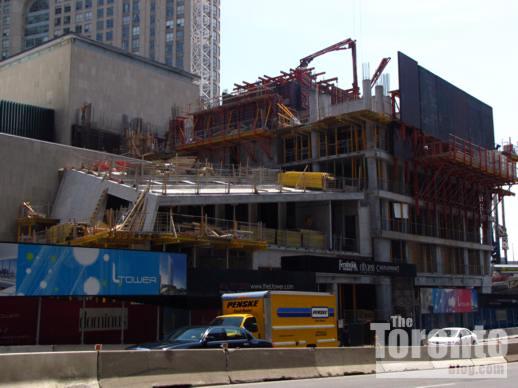 … but it's fully visible to passersby on Yonge Street now that the forms have been removed (as seen in this photo from July 20 2011)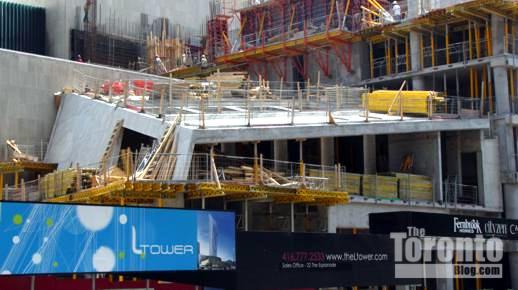 July 20 2011: A closer look at the odd structure on the lower north side of The L Tower. I'm speculating, but think it's where the condo tower's swimming pool, fitness centre and other amenities will be situated.

A new twist on Yonge: I've heard more people criticize the design of The L Tower Condominium than say they like it. Detractors I've spoken to have described artistic illustrations of the Daniel Libeskind-designed condo tower as  "ridiculous," "silly," "corny," "tacky" and "embarrassing." I'm reserving my own judgment until the 57-storey tower is closer to completion, but so far I'm happy to see L Tower won't be just another rectangular glass and steel box — at least, not at street level.
A unique six-storey "A" shape dominates the building's southwest corner, while several more interesting angles recently were unveiled on a concrete structure at the north side of the tower's podium — likely the future location of the condo pool and amenities area. Call The L Tower what you will but, if the lower-level features are any indication, I don't think you'll be able to call it "boring."
Below are some photos showing both parts of the building. Pictures of earlier stages of construction can be viewed in my June 20 2011 post as well as my March 8 2011 post.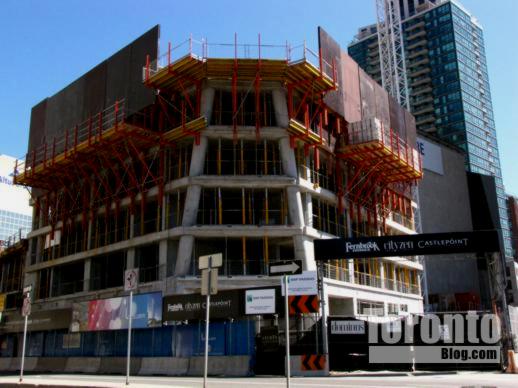 July 1 2011: The "A"-shaped southwest corner of The L Tower condo tower at the northeast corner of Yonge Street and The Esplanade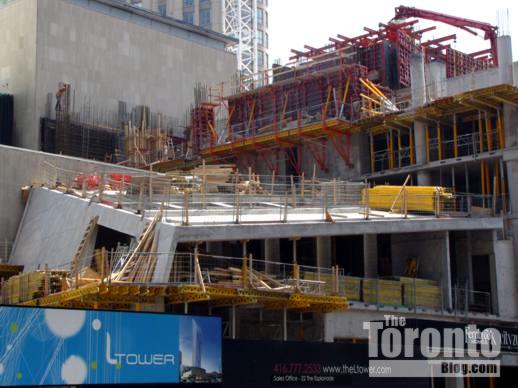 July 20 2011: The L Tower viewed from the southwest corner of Yonge & Front Streets. The condo tower is a project of Fernbrook Homes, Cityzen Real Estate Group and Castlepoint Realty Partners.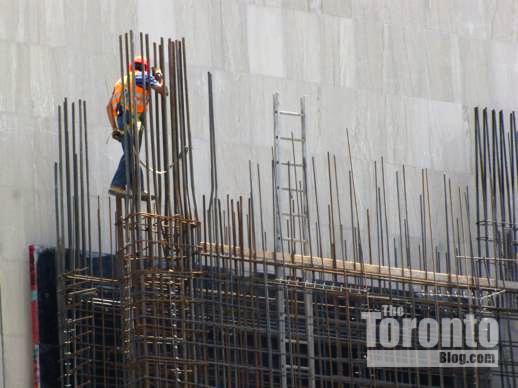 July 20 2011: A worker assembles rods on the northeast corner of The L Tower, next to the west wall of the Sony Centre for the Performing Arts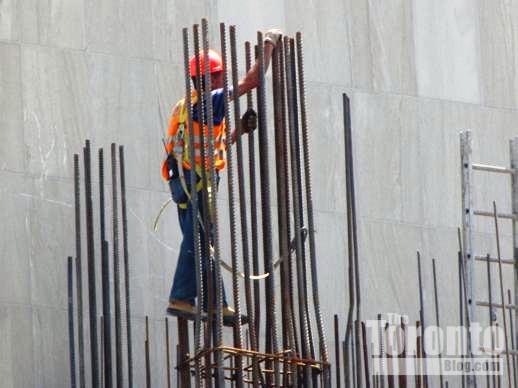 July 20 2011: Lining up the steel bar reinforcements for a support pillar