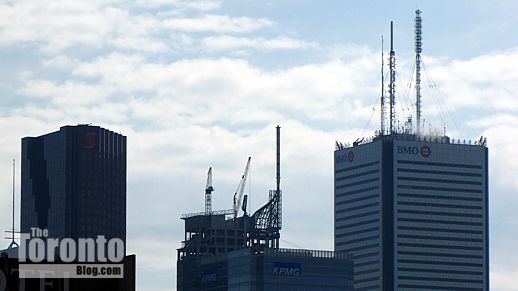 September 29 2011: The spire on the Trump Tower Toronto soars skyward between neighbours Scotia Plaza, left, and First Canadian Place, right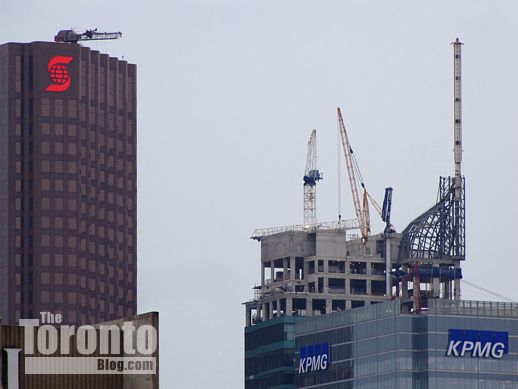 September 28 2011: With its spire, the Trump Toronto is supposed to stand 276.9 meters — that's 2 meters taller than next-door neighbour Scotia Plaza, left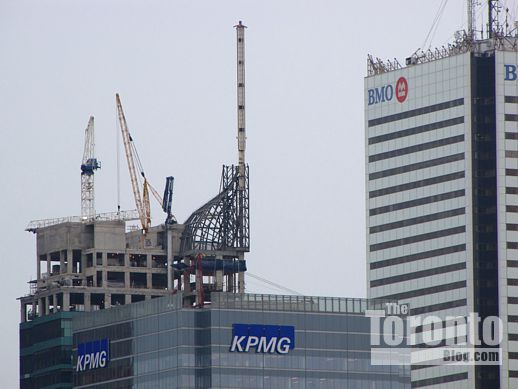 September 28 2011: First Canadian Place, right, retains its crown as Toronto's tallest building at 298 meters (not including its antennae).
Soaring spire: Construction of the Trump International Hotel & Tower Toronto is drawing closer to completion — a point punctuated this week when work crews added the top section of the skyscraper's signature spire and began disassembling the rooftop construction crane.
Soaring skyward between Scotia Plaza and First Canadian Place, the spire cements Trump Toronto's status as a new architectural landmark on the Financial District skyline. According to the Toronto Skyscraper Diagram on skyscraperpage.com, the spire gives Trump Toronto a total height of 276.9 meters. Technically speaking, that means Trump Toronto takes honours as the city's second-tallest tower, after 298-meter First Canadian Place. However, the slender spire rises only 2 meters higher than Scotia Plaza next door which will nevertheless continue to look like it's still the second-tallest skyscraper.
With cladding remaining to be installed on only the three top floors, the building appears to be on schedule for the 261-room Trump Toronto Hotel to open its doors in January. (The hotel is currently accepting reservations through its website from January 10 2012 onwards).
Below are photos showing recent construction progress on the tower's top floors and spire.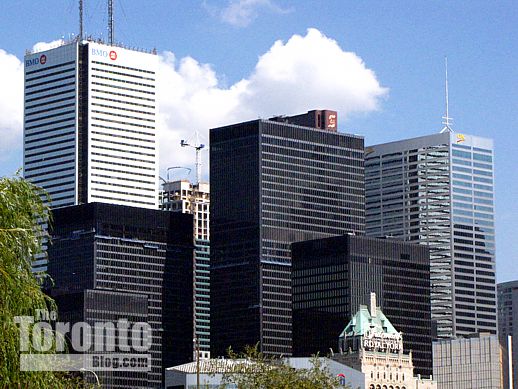 August 30 2011: An HtO Park view of Trump Tower Toronto rising behind First Canadian Place, left and the towers of the TD Centre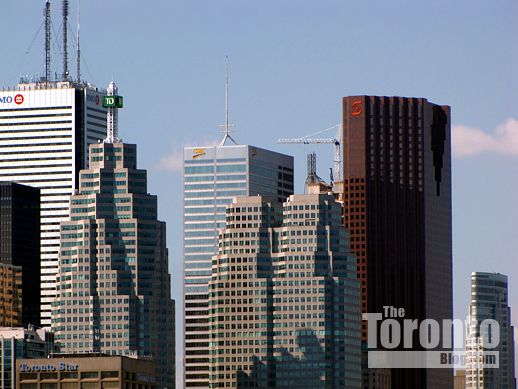 August 30 2011: Toronto Islands view of Trump Tower Toronto rising on the Financial District skyline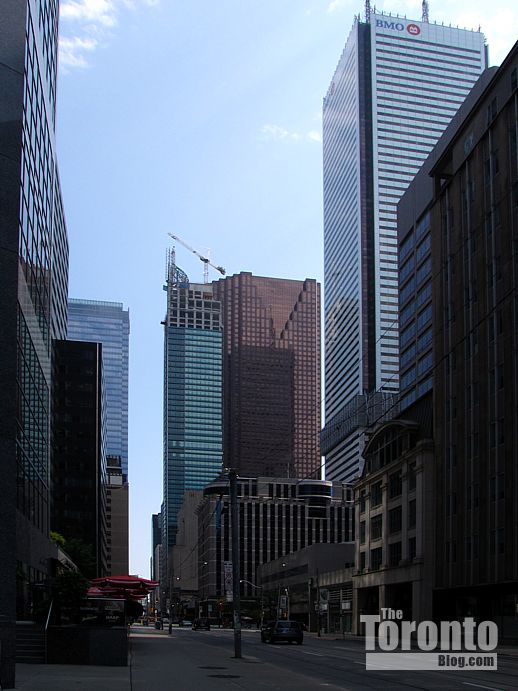 September 3 2011: Trump Tower Toronto viewed from Adelaide Street West near University Avenue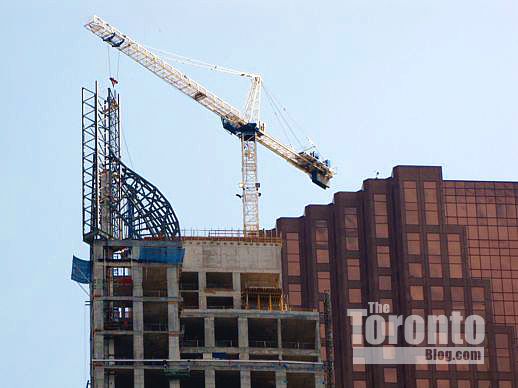 September 3 2011: Spire construction viewed from the west on Adelaide Street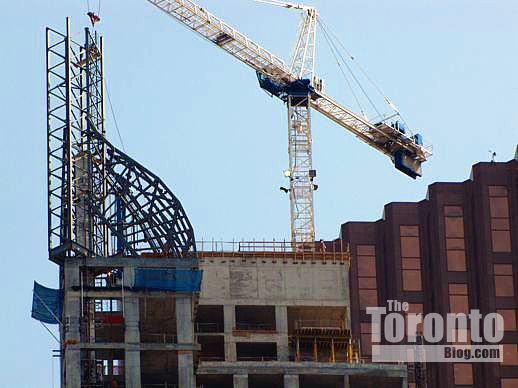 September 3 2011: Spire construction viewed from the west on Adelaide Street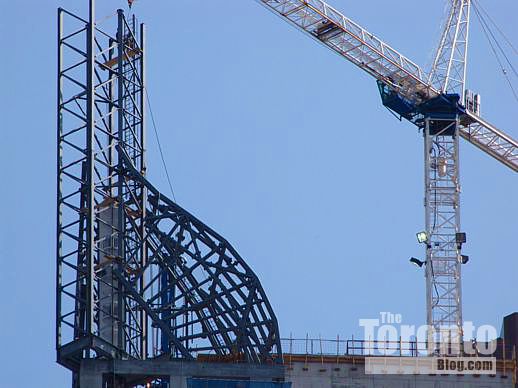 September 3 2011: The "quarter onion"-shaped base for the spire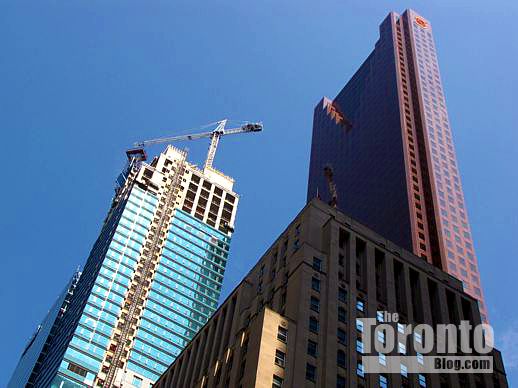 September 3 2011: Trump Tower Toronto and Scotia Plaza, right, seen from the intersection of King & Bay Streets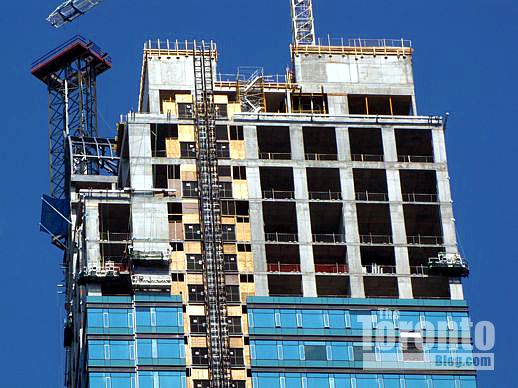 September 3 2011: Upper floor construction on the south side of the tower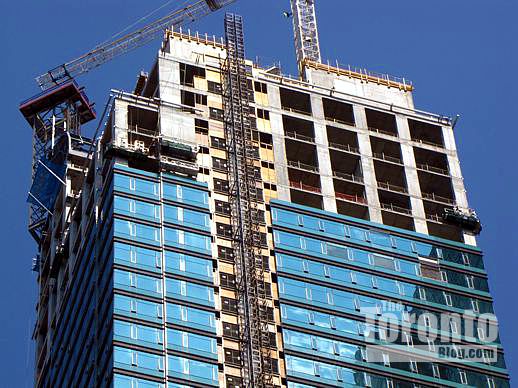 September 3 2011: Trump Tower Toronto viewed from King & Bay Streets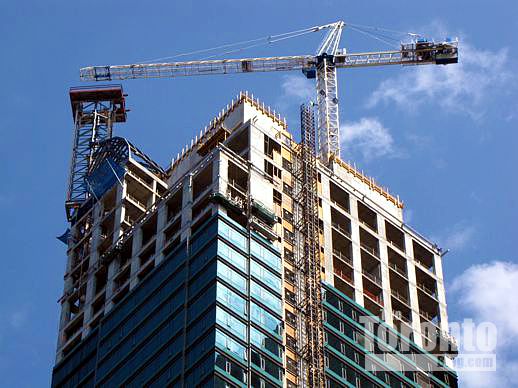 September 3 2011: The spire rises from the tower's northwest corner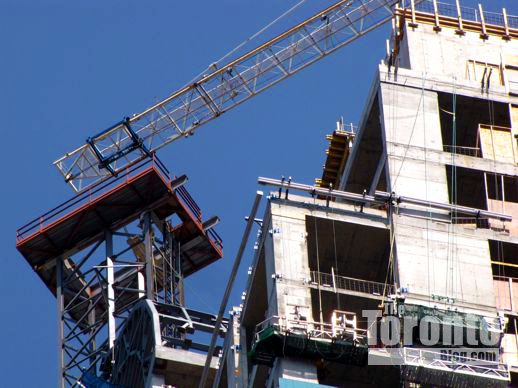 September 3 2011: Looking up at the construction form for the spire, left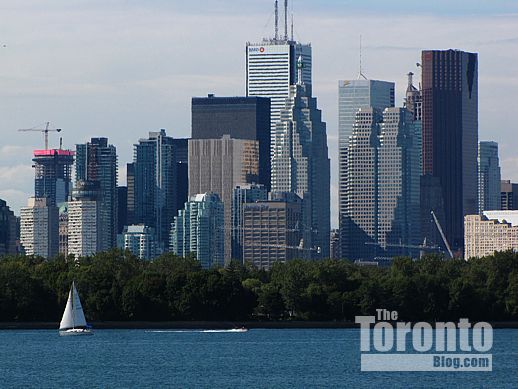 September 11 2011: Trump Toronto's ascent on the downtown skyline as seen from Tommy Thompson Park (aka Leslie Street Spit)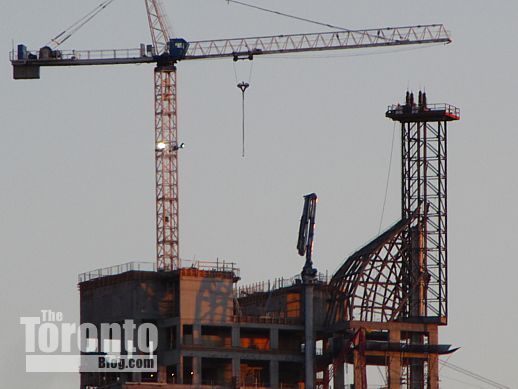 September 12 2011: Sunset view of Trump Toronto spire construction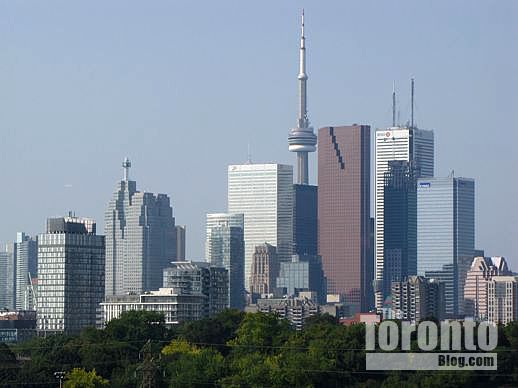 September 13 2011: Riverdale Park view of the Trump Toronto rising on the Financial District skyline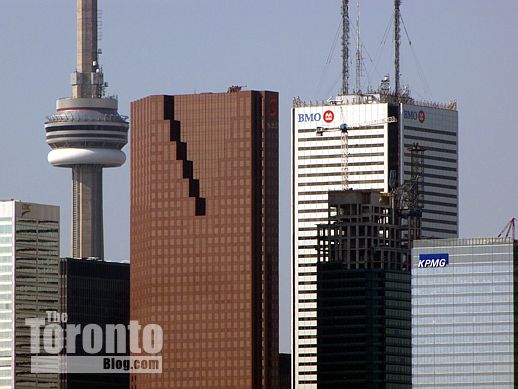 September 13 2011: Trump Tower Toronto rises among the office towers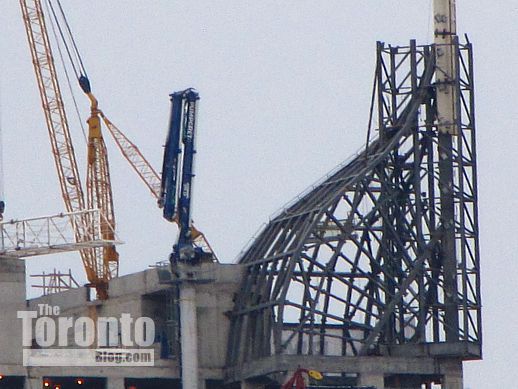 September 28 2011:  Spire base viewed from the northeast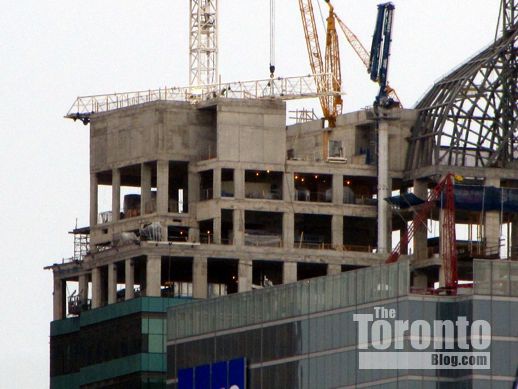 September 28 2011:  Only three more floors await cladding installation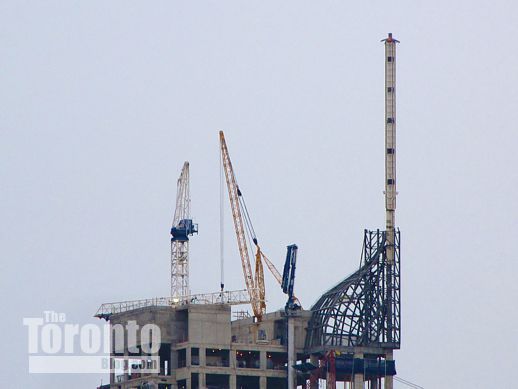 September 28 2011: The yellow crane is disassembling the main crane that soared above the Trump Toronto throughout its construction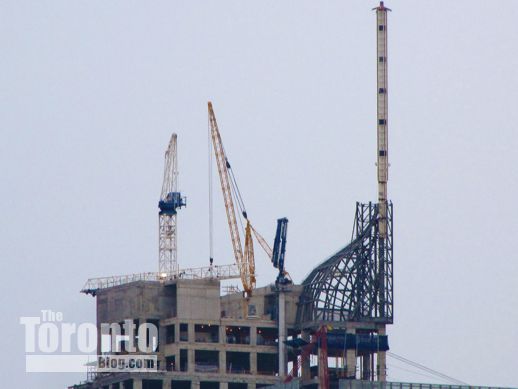 September 28 2011: Another northeast view of Trump Tower Toronto spire