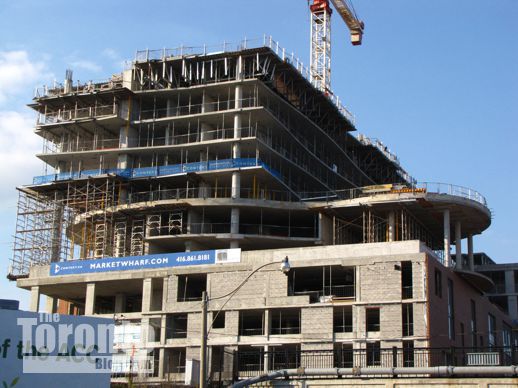 October 30 2011: Market Wharf condo tower construction viewed from the northeast corner of Jarvis Street and Lake Shore Boulevard.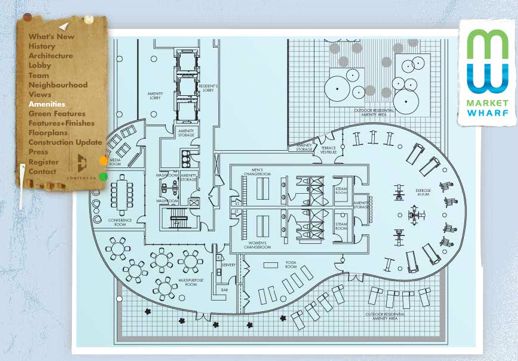 From the Market Wharf website, an illustration of the floorplan for the condo's curvaceous Market Club amenities facility
Making waves: Construction of the 25-storey Market Wharf tower is attracting more attention these days as the condo building's distinctively curved amenities floor and wavy "curvilinear" balconies continue to take shape while the newly-opened Shoppers Drug Mart draws traffic to the northeast street-level corner of the complex's 8-storey podium. Occupying an entire city block near the bottom of Jarvis Street, between the railway tracks and Toronto's historic St. Lawrence Market, Market Wharf will keep making waves as the tower climbs more prominently into view on the skyline.
Designed by Peter Clewes of Toronto's architectsAlliance, Market Wharf is a project of Context Development. The complex features a variety of suite sizes and styles, ranging from a 570-square-foot 1-bedroom 1-bath to a 1039-square-foot 2-bedroom + den + 2 baths to a 1276-square-foot 2-bedroom + 2.5 bath "duplex penthouse." The building also boasts townhomes, in six different layouts, that have private terraces with gas barbecue hookups. Townhome prices start from $718,900, and include parking and a storage locker. The project is 70% sold to date.
Below are some of my recent photos of Market Wharf's construction progress, along with two illustrations of the building that appear on the Market Wharf website.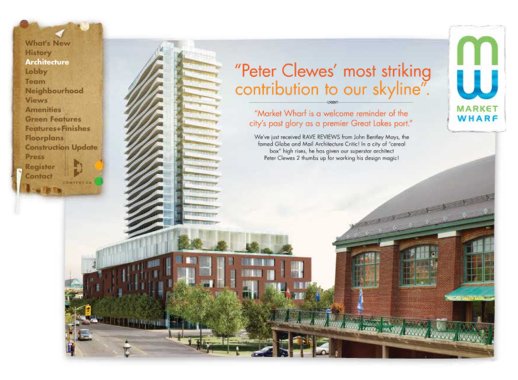 Website illustration of the Market Wharf complex, viewed from the northeast along Jarvis Street, next to the St. Lawrence Market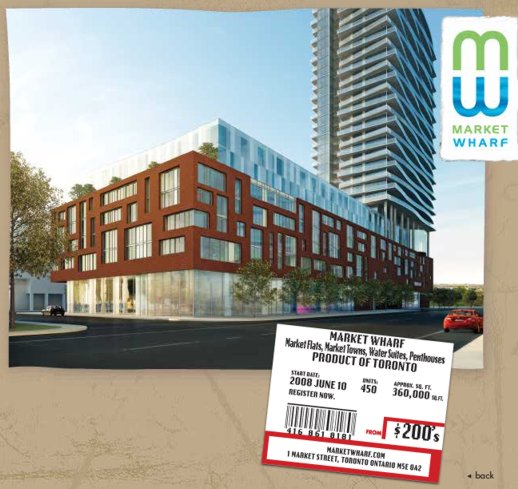 Also from the project website, this illustration suggests how the Market Wharf complex will appear when viewed looking south along Market Street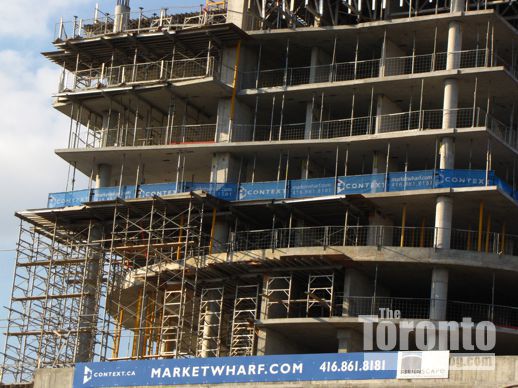 October 30 2011:  South side of the Market Wharf tower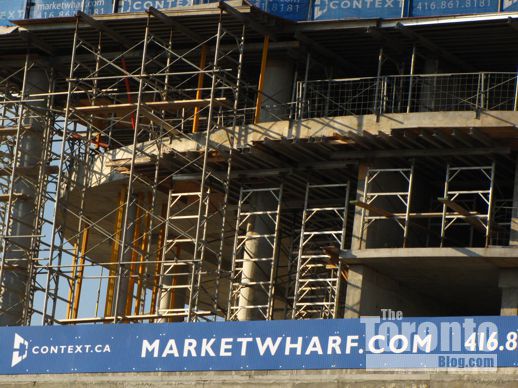 October 30 2011: The Market Club amenities facility adds a striking curve to the tower, designed by Peter Clewes of Toronto's architectsAlliance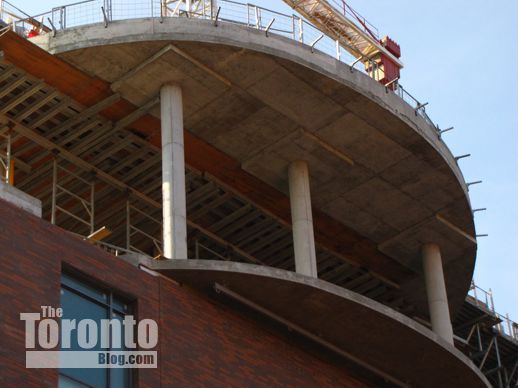 October 30 2011: The Market Club throws an eye-catching curve above Lower Jarvis Street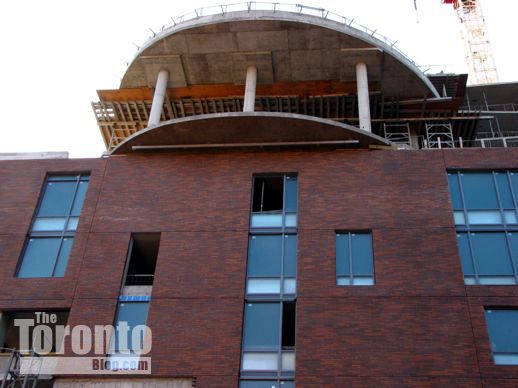 October 30 2011: Another Jarvis Street view of the curved Market Club amenities floor above the building's block-long, 8-storey podium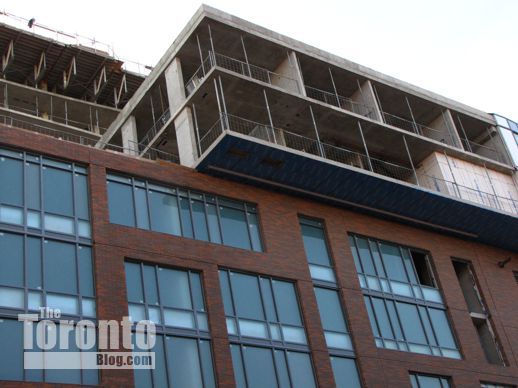 October 30 2011: Part of the "phasing" section between the tower and podium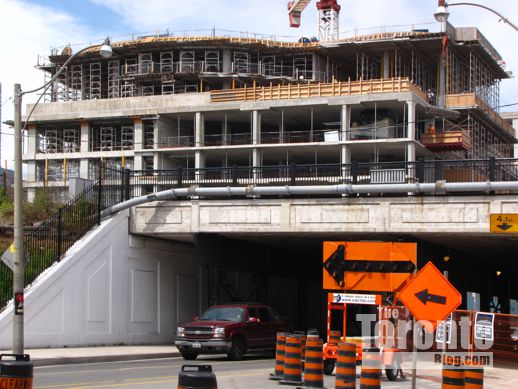 August 17 2011 The curved Market Club amenities floor takes shape above the railway tracks near the foot of Jarvis Street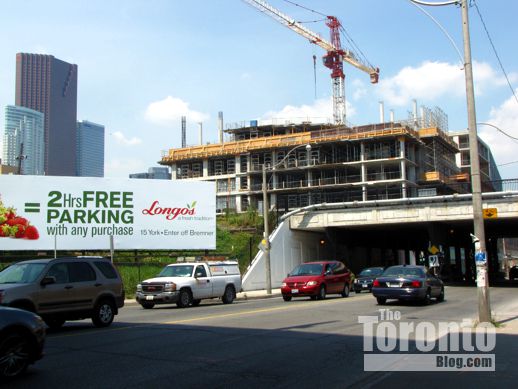 July 20 2011:  The Market Club floor begins taking shape atop the podium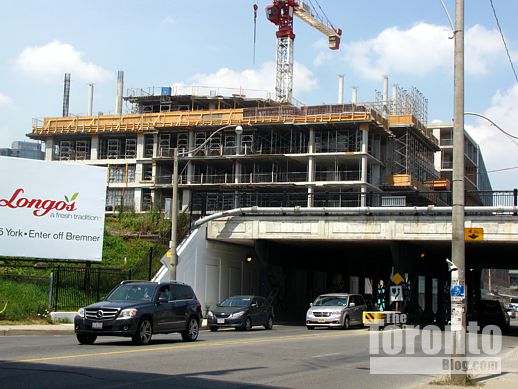 July 20 2011: The condo complex occupies an entire block on the north side of the railway tracks, just south of the St Lawrence Market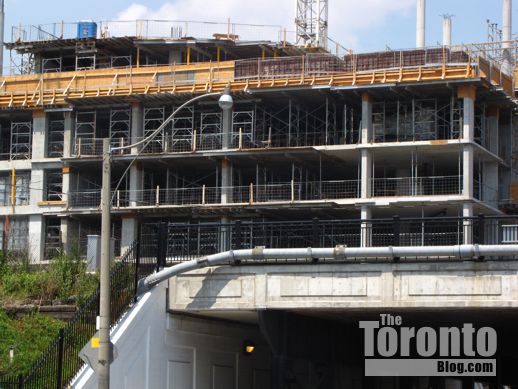 July 20 2011: The tower rises above the Jarvis Street railway underpass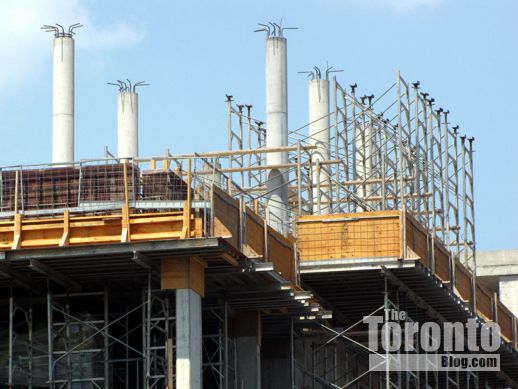 July 20 2011: Round conrete support pillars atop the podium's east side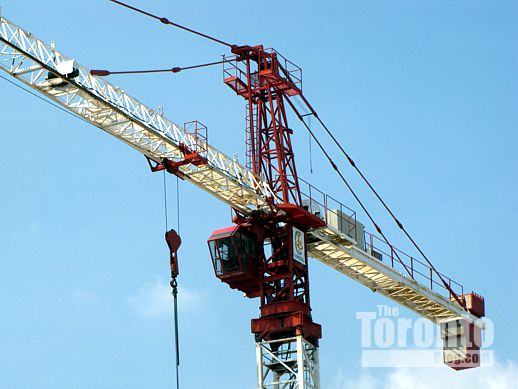 July 20 2011: Market Wharf's red and white construction crane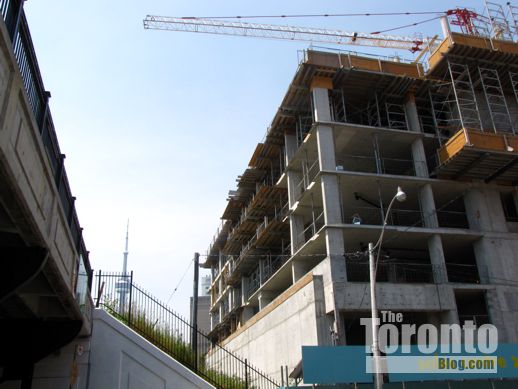 July 20 2011 To the south of Market Wharf is the Jarvis Street railway underpass (left); the CN Tower is visible to the west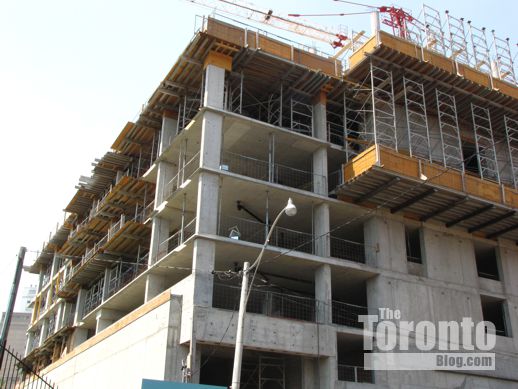 July 20 2011: Jarvis Street view of the building's southeast corner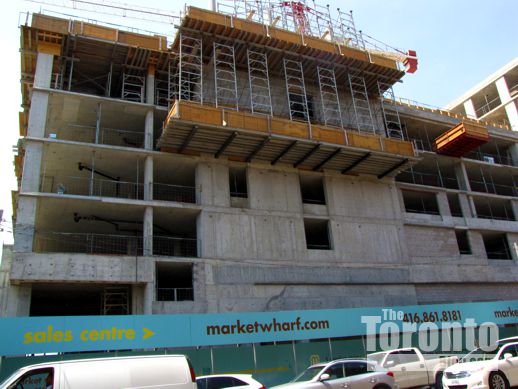 July 20 2011: Jarvis Street view of the building's southeast side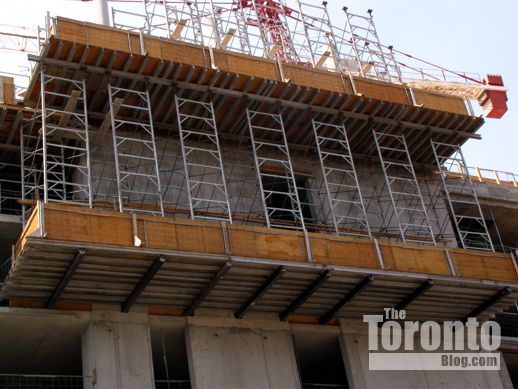 July 20 2011: Construction forms jutting above Jarvis Street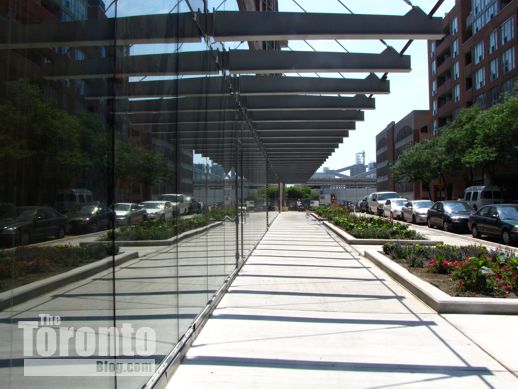 July 20 2011:  Market Street reflects in the building's street-level windows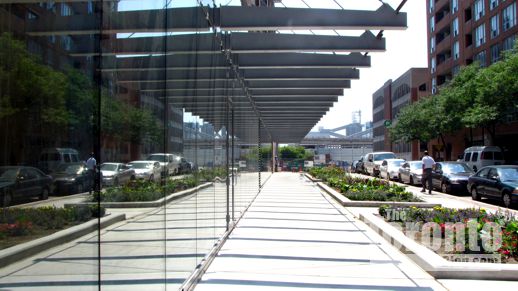 July 20 2011: Trees were planted several weeks after I took these photos, further complimenting the building's presence on Market Street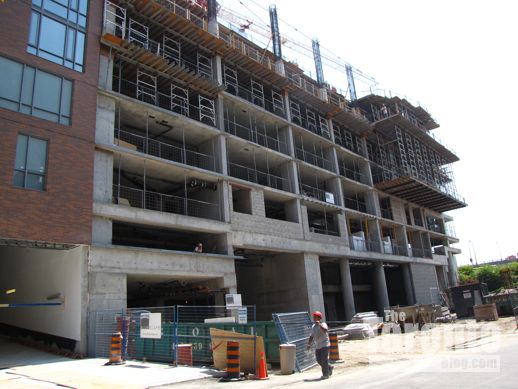 July 20 2011: Market Street view of construction progress on the tower base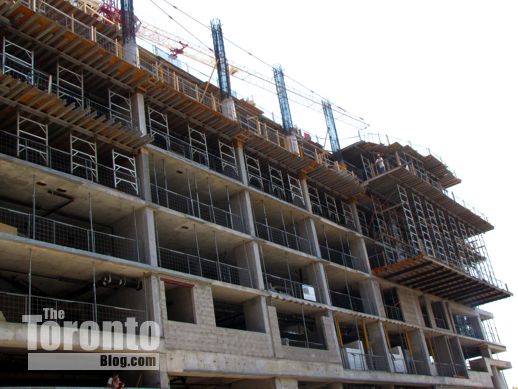 July 20 2011: The tower is rising at the south end of the complex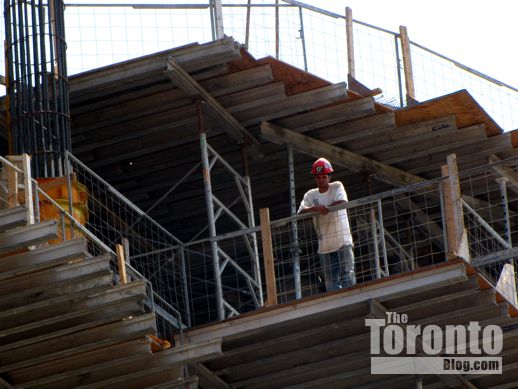 July 20 2011: A construction worker watches activity at street level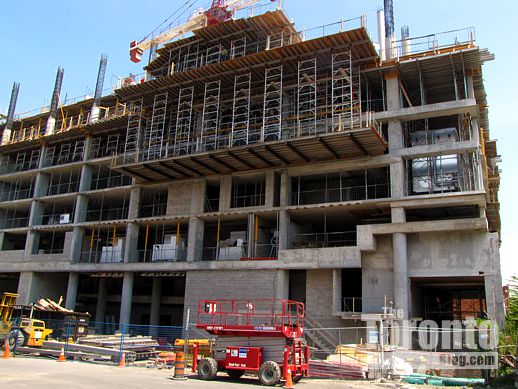 July 20 2011: The south end of the complex, viewed from the foot of Market Street next to the railway tracks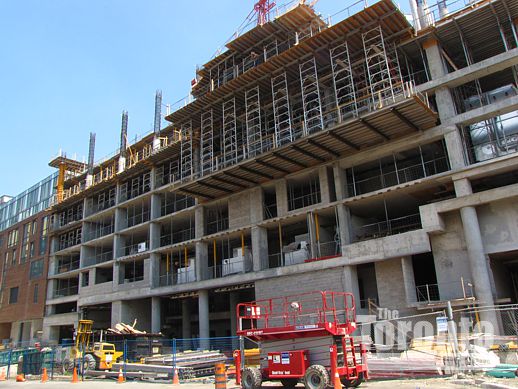 July 20 2011: Another view of the west side of the tower base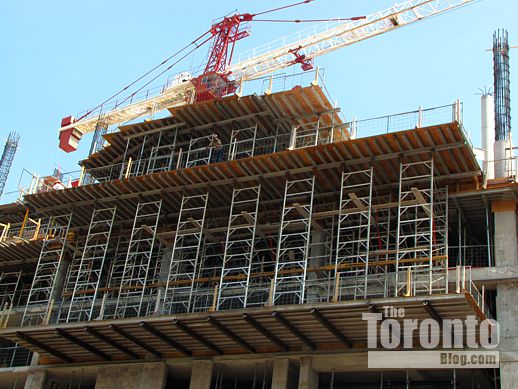 July 20 2011: The curved Market Club takes shape atop the tower base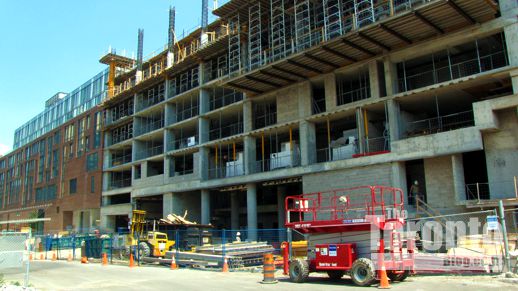 July 20 2011: Looking north along Market Street at the project's ongoing Phase 2 work (right) and the completed Phase 1 in the background