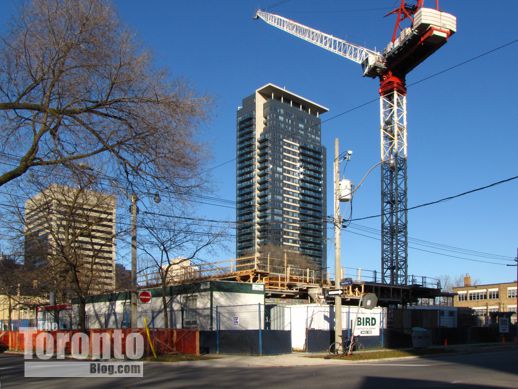 December 8 2011: The first floor of the new ETFO headquarters starts to take shape at the northeast corner of Huntley & Isabella Streets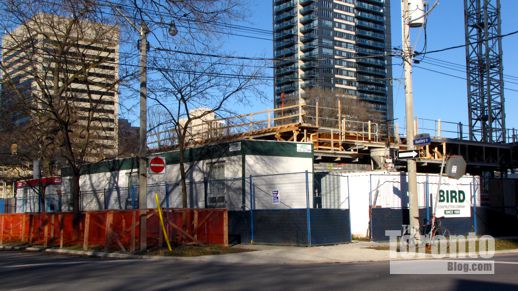 December 8 2011: As the office building begins to climb above grade, passersby no longer have to peer through the security fence to follow construction progress
Teachers' HQ on the rise: From June through November, passersby had to walk right up to a security fence to see how far construction had progressed on the new Elementary Teachers' Federation of Ontario (ETFO) headquarters being built at the corner of Huntley and Isabella Streets. Now that the office building's ground floor has started taking shape, people can watch what's happening as they walk past on the opposite side of the street — or drive by in the comfort of their cars and SUVs.
Construction has begun rising above grade at the southwest corner of what will be a 4-storey LEED-certified building, designed by Toronto's KPMB Architects and built by Bird Construction. Crews are expected to finish pouring concrete for the building early next spring; if that goes according to plan, the headquarters will be on schedule for its anticipated May 2013 staff move-in.
Below are a few more pics I took of the ETFO building this afternoon. Photos of earlier building progress as well as pre-construction site preparation and demolition activity can also be viewed in my November 6 2011, June 2 2011, and May 9 2011 posts.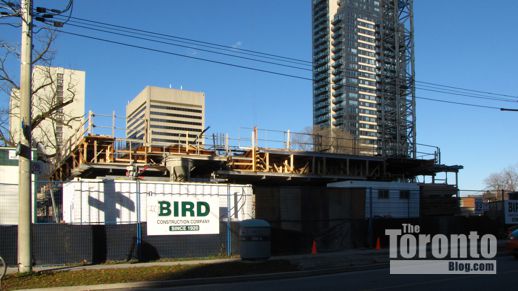 December 8 2011: Construction viewed from the SE corner of Huntley & Isabella Streets. The tall building at right rear is James Cooper Mansion condominium.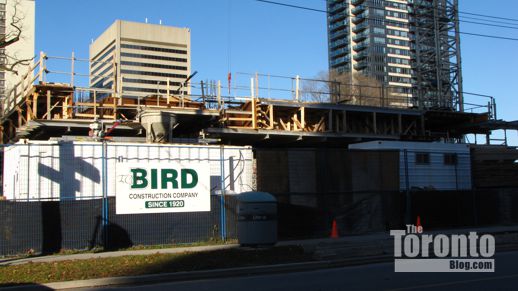 December 8 2011: Construction commenced in June and is expected to finish in early 2013, with staff move-in anticipated for May of that year.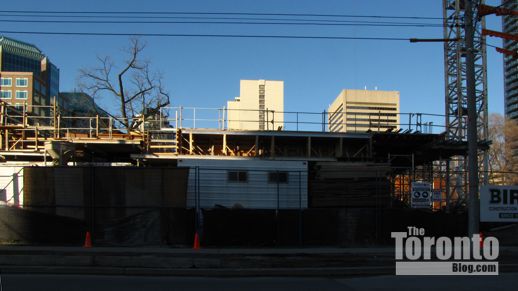 December 8 2011: North view of ground floor progress from Isabella Street
x