Gilgan's gift was the biggest donation the Hospital for Sick Children has ever received, but the SickKids tower isn't the only major downtown construction project the home builder is supporting. Last November, he donated $15 million towards the new Ryerson University sports and recreation centre under construction in Maple Leaf Gardens. The 220,000-square-foot sports facility has been renamed the Mattamy Athletic Centre at the Gardens in recognition of his philanthropy, and is expected to open as early as this spring.
Meanwhile, the SickKids tower is quickly approaching its topping-off. Crews have finished pouring concrete for the 21st floor, and today were busy working on the second concrete pour for the 22nd level, which will house the building's rooftop mechanical facilities. The tower's glass curtain wall has been installed up to the 17th floor, while spiral staircases joining the building's "neighbourhood collaboration spaces" have been put in place up to floor 6.
The 750,000-square-foot building was designed by Toronto's Diamond Schmitt Architects Inc., working in association with HDR Inc.
More photos of construction progress on the SickKids tower can be viewed in my February 13 2012 post, while information about Gilgan and his donation to the hospital is provided in a March 7 2012 article in the online edition of the Toronto Star.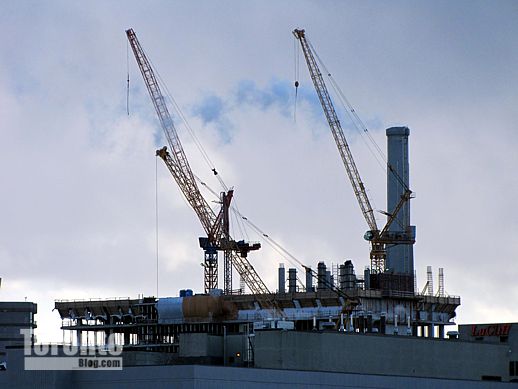 March 9 2012: From my condo I have this view of the construction cranes soaring above the 22nd level of the SickKids Research & Learning Centre tower under construction a 10-minute walk away