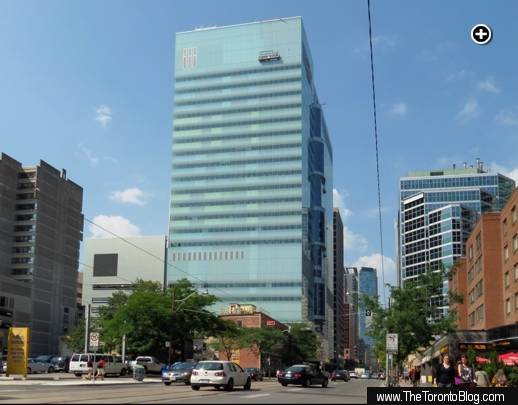 SickKids Hospital will open its new Peter Gilgan Centre for Research and Learning next week. The 21-floor tower, seen here on August 29 from the intersection of Bay and Edward Streets, was designed by Diamond Schmitt Architects in collaboration with HDR Architecture.
Shimmer and shine: When SickKids Hospital commenced construction of its Peter Gilgan Centre for Research and Learning three years ago, the project website promised that the $400 million building would become an "architectural landmark" as well as a "beacon" that would attract the "best and brightest child health professionals" from around the world.
With construction nearly wrapped up and the building set to open on September 17, it's now clear that the project's designers — Diamond Schmitt Architects in collaboration with HDR Architecture — have delivered the splendidly-designed facility that executives at the world-famous children's hospital could only dream of when they began planning the project more than a decade ago.
It's also obvious that the Peter Gilgan Centre has become the luminous beacon that was pledged for Toronto's Discovery District — in more ways than one.  Standing 22 storeys tall, the turquoise glass tower shimmers and shines at the corner of Bay and Elm Streets, drawing attention for blocks in every direction. It will bring together under one roof 2,000 scientists who have been scattered in six different locations downtown. And once they've settled into their bright, airy labs and cheerful meeting spaces, they will get their turn to shine, developing new ideas and sharing research information that will transform the way children's health care is provided.
The Centre's research and education professionals, who will begin moving in later this month, could not have asked for a more inspiring and uplifting work environment.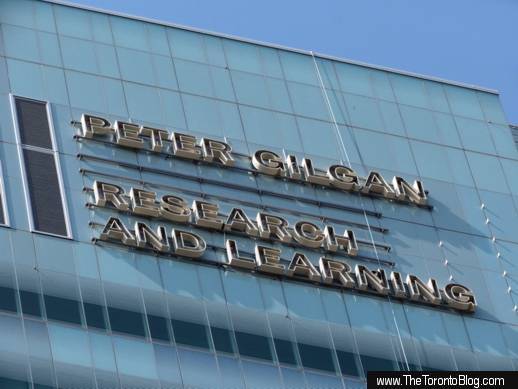 September 11 2013: Sign installation on the east side of the tower. The Centre is named for lead donor Peter Gilgan, founder and CEO of Mattamy Homes.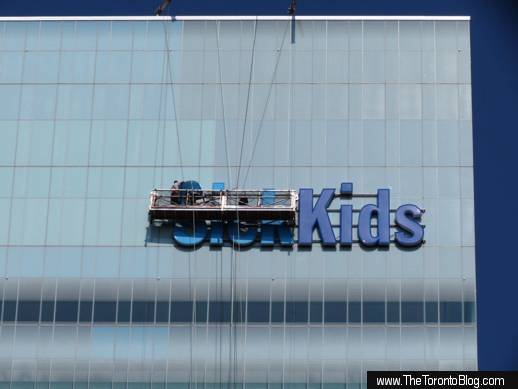 September 11 2013: A crew continues work on the SickKids logo being installed near the upper right corner of the building's south face
CONTINUED ON PAGE 2