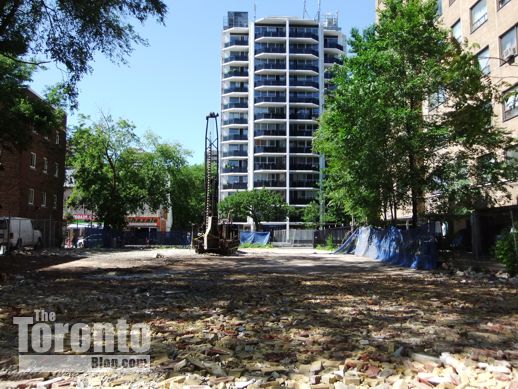 June 14 2012: A drilling machine sits in the vacant lot at 81 Wellesley Street East …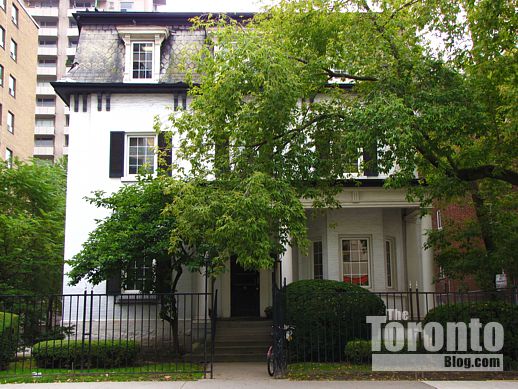 … site of the former Odette House mansion, seen here on September 27 2011. Residents in the Church-Wellesley Village neighbourhood were outraged when the building and its charming coach house were demolished without warning in January of this year.
Condo proposal coming? Almost six months after the contemptible demolition of an historic mansion on Wellesley Street East infuriated a city councillor and residents in the downtown Church & Wellesley neighbourhood, activity on the site suggests a development proposal for the property may finally be in the works.
For at least three days this past week, a crew and drilling machine could be seen working on different parts of the now-vacant lot at 81 Wellesley Street East. An area resident said he was told that the crew was taking soil core samples — a procedure which is often a precursor to property redevelopment.
Neighbourhood residents suspect that a developer will soon file an application with the city to erect either a condo or apartment building on the site — an application they have been expecting ever since the two buildings that once occupied the property were suddenly destroyed during the winter. Now, they're nervously awaiting word about just how big and tall any proposed new building might be. (A city planner told me last winter that the site is suitable only for a low-rise or mid-rise building, and is not large enough to support a highrise condo tower. However, many area residents fear that a tower is exactly what's in the pipeline.)
CONTINUED ON PAGE 2