Historic houses were demolished in January
On January 18, Church & Wellesley residents were shocked when a demolition crew began smashing apart Odette House, a stately three-storey brick mansion that had stood on the site for close to a century. Only three months earlier, Ward 27 Councillor Kristyn Wong-Tam had requested that city staff investigate the possibility of Odette House being designated as a historic property under Ontario's Heritage Act.
What residents and the councillor herself didn't know was that, on December 1 2011, the owner of 81 Wellesley applied for a permit to demolish the structures on the site. Since the buildings had been zoned for commercial usage, and did not have heritage designations, Ontario law required that city staff issue a demolition permit, an action which took place 14 days later. And because a commercial property was involved, Ontario law did not require city staff to notify either Councillor Wong-Tam or members of the community about the demolition application. (Odette House had previously been home to facilities for Wellspring, a cancer patient support organization.)
'Serious policy flaws' enabled the surprise demolition
The legal provisions requiring issuance of a demolition permit, but not requiring notice of same, were "very serious policy flaws" that required immediate attention and correction, Councillor Wong-Tam subsequently explained in a message to her constituents.
To that end, she met with staff from various city departments "to review how we can make improvements to the way the City of Toronto responds to commercial demolition applications. Specifically two steps in the right direction include mandating that Ward Councillors, planning and heritage staff are officially notified by Toronto Building of all demolition applications. Furthermore, the list of pending properties under review by Heritage Preservation Services be considered prior to issuing any demolition permits. This may prevent situations like the unsupported demolition of 81 Wellesley Street East and other such properties of interest from happening again."
Councillor Wong-Tam also initiated a 3-month pilot project "to better coordinate communication among city staff" in a bid to prevent the loss of other buildings like Odette House. And on February 6, Toronto City Council adopted a motion in which the councillor requested that city staff conduct a review "to improve demolition control policies to strengthen heritage protection."
That review was supposed to be completed during the second quarter of this year; however, a report does not appear to have been publicly released yet.
As of yesterday, no development applications for 81 Wellesley were listed on the city's website.
Below are several more photos of this week's drilling activity on the former Odette House site. Some photos of the demolition activity, along with my report of the incident, can be viewed in my January 19 2012 post.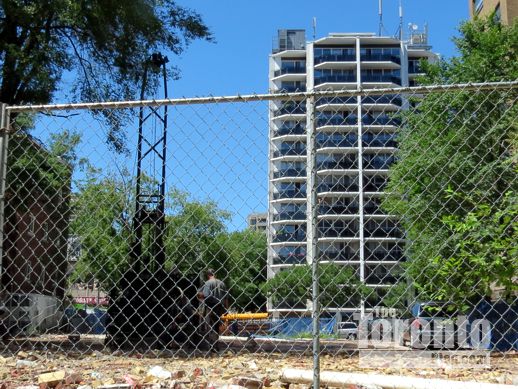 June 13 2012: A worker stands next to a drilling machine on the former coach house site at the south end of 81 Wellesley Street East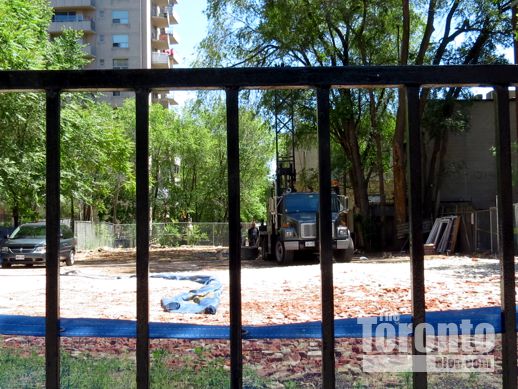 June 13 2012: Looking toward the drilling rig through a wrought iron fence along Wellesley Street — the only Odette House structure that wasn't demolished in January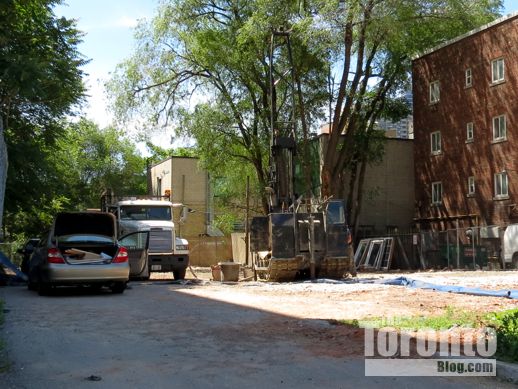 June 14 201: Wellesley Street view of contractor vehicles and the drilling machine on the former site of the Odette House mansion and coach house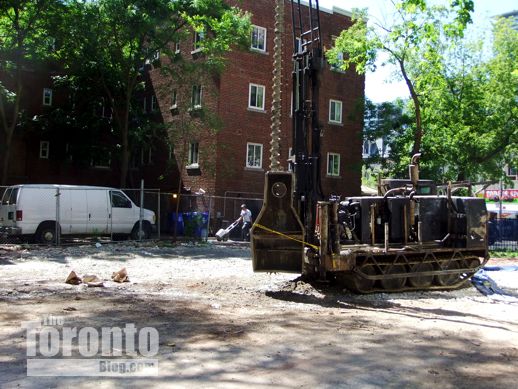 June 14 2012: The drilling rig sits idle after work finished for the afternoon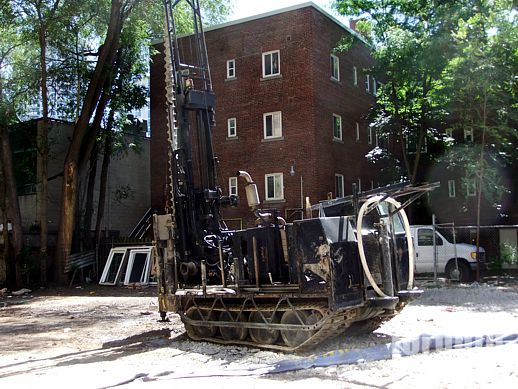 June 14 2012: This week's drilling work was the first activity on the site since last winter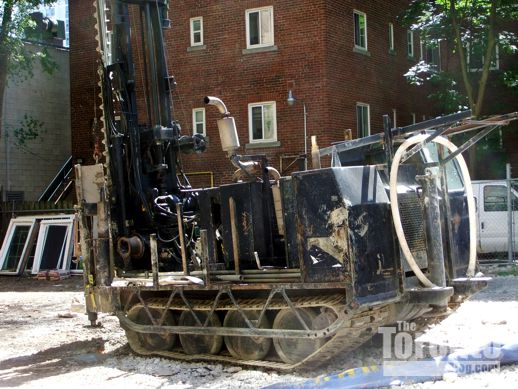 June 14 2012: The buildings destroyed at 81 Wellesley had been facilities for the cancer support organization Wellspring, which is relocating to 4 Charles Street East this fall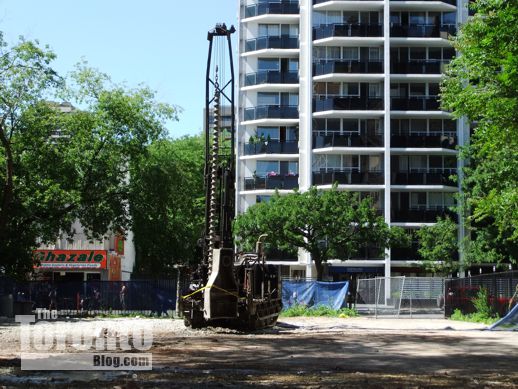 June 14 2012: A view of the drilling rig from a laneway at the rear of 81 Wellesley