Designed by Toronto's Wallman Architects, Garrison is a project of Onni Group.
Garrison is arguably best known for its tight proximity to the elevated Gardiner Expressway, which south-facing units from the 6th to 12th floors will overlook from a very close distance.
After I published construction photos and wrote about the Garrison project in a March 15 2012 post, the Toronto Star considered the question "How close is too close to the Gardiner?" in a March 18 2012 article of its own. But an Onni Group representative in Toronto wouldn't speak to the newspaper about Garrison. The Star quoted Sue Young, a manager with Onni's Toronto office, as saying: "From our perspective, we wouldn't do an interview if we're not comfortable with the storyline."
But Ms. Young needn't have been so reluctant to talk about Onni's building. As the Star article and my own report on Garrison pointed out, proximity to a busy expressway isn't dissuading people from buying condos, as evidenced by strong sales for several projects currently under construction beside the Gardiner — and by developer plans to build even more.
Below are several photos I took of the Garrison building this past week.
Full details about the building, along with illustrations of unit layouts and interior styles, are available on the Garrison website.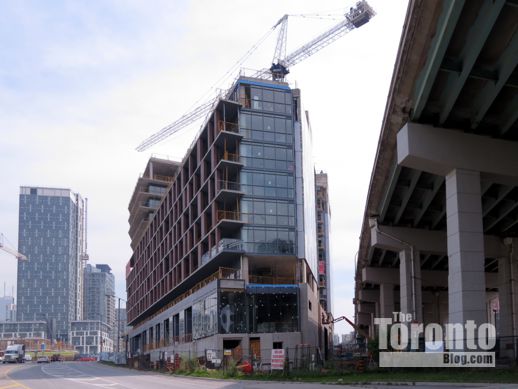 August 15 2012: Garrison viewed from the west, along Fort York Boulevard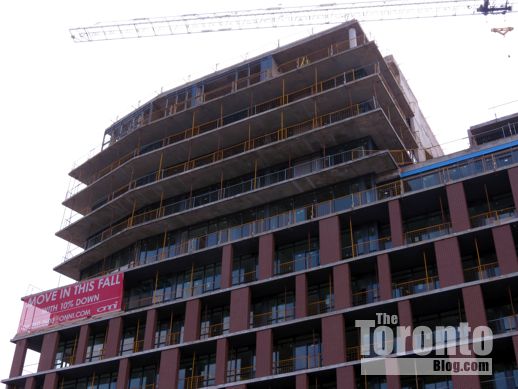 August 15 2012: North side of the building, viewed from Fort York Boulevard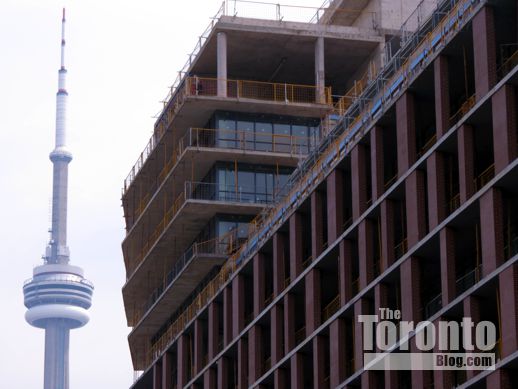 August 15 2012: East-facing units will have great views of the CN Tower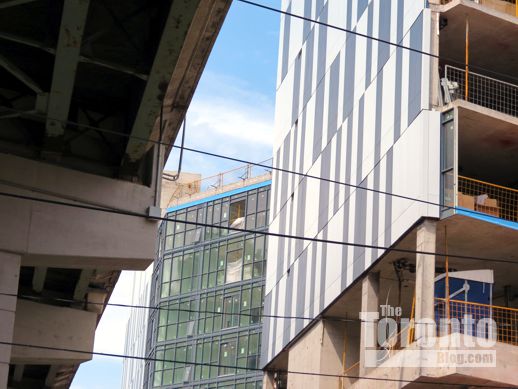 August 15 2012: A view of the patterned surface on one of Garrison's south walls facing the Gardiner Expressway. Condos on the north side of the building will overlook the vehicular traffic-free expanse of Fort York National Historic Site.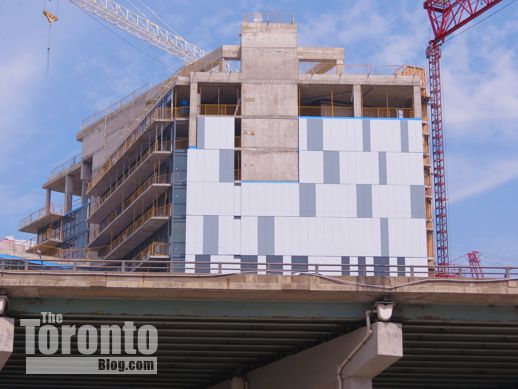 August 15 2012: A view of Garrison rising to the north of the Gardiner Expressway