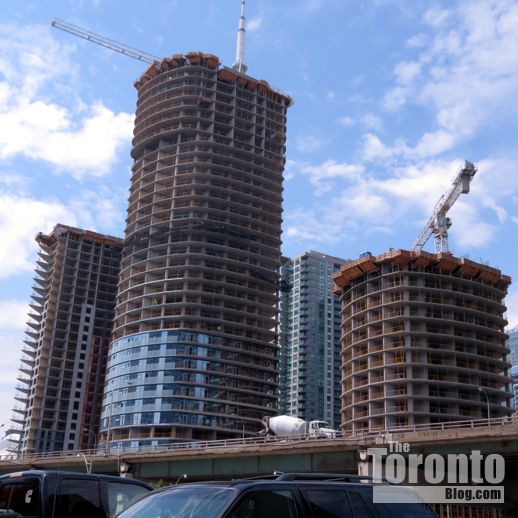 August 15 2012: A view of the two ÏCE Condos and their next-door neighbour Infinity3 Condos, left, from Harbour Street to the southeast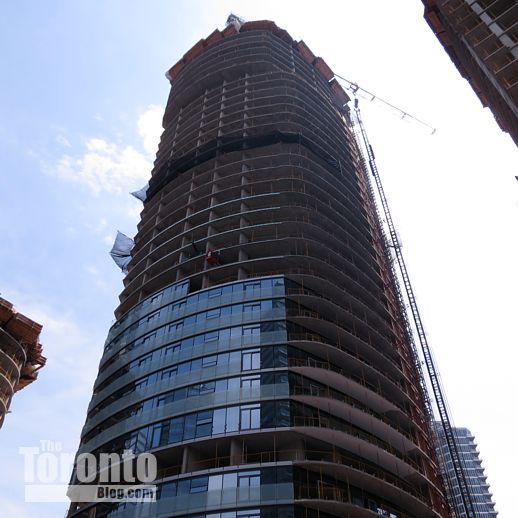 August 15 2012: I counted 37 levels of construction on the ÏCE Phase 1 condominium tower, which ultimately will rise 57 storeys …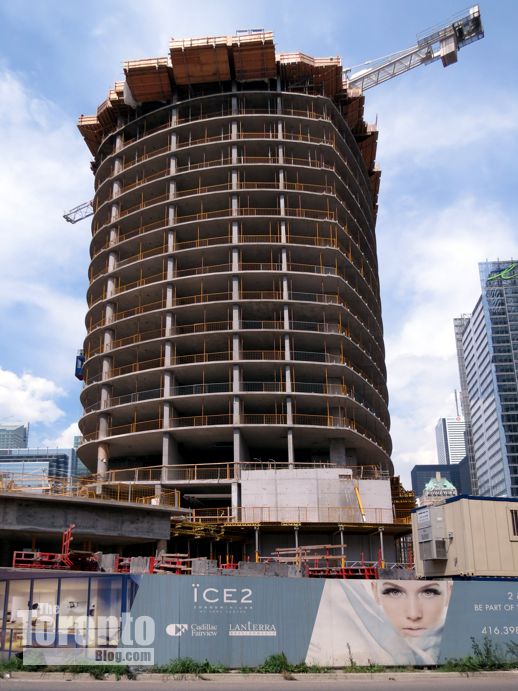 … and 16 floors on the ÏCE 2 tower, which will top off even taller with 67 storeys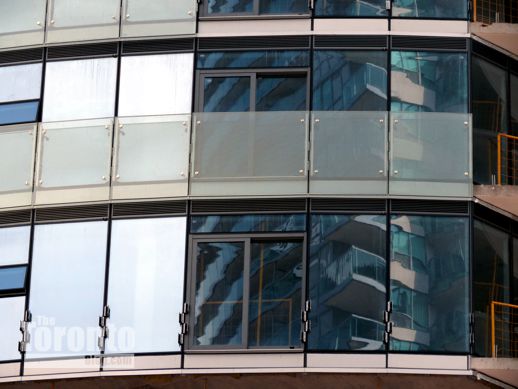 August 15 2012: The towers feature blue-tinged windows and cladding, plus Juliet-style balconies, like these on ÏCE 1 …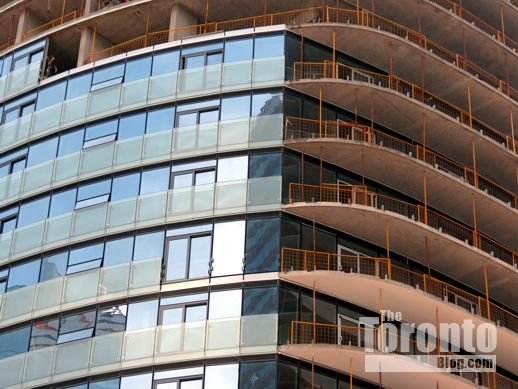 … as well as regular balconies, like these on the east side of ÏCE 1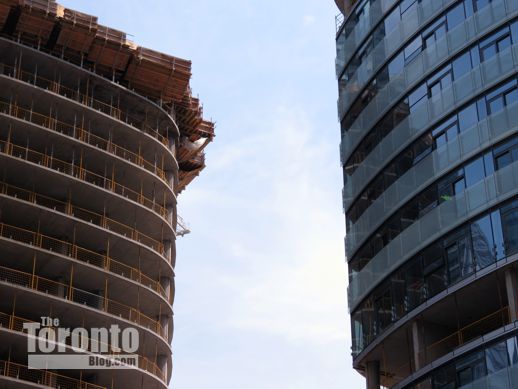 But one of the most striking features of the two towers, besides their slender and soaring cylindrical shapes …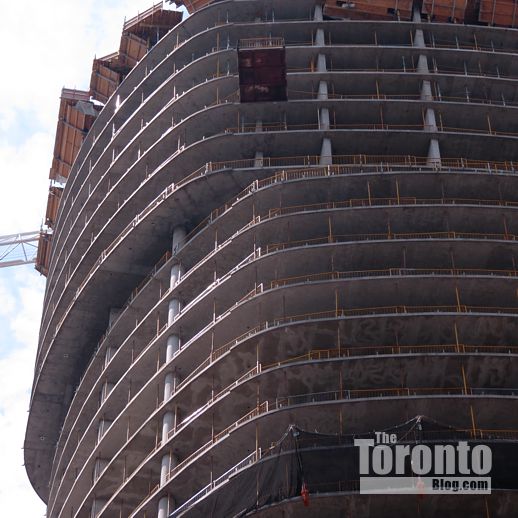 … will be the pronounced bulges in the floorplates …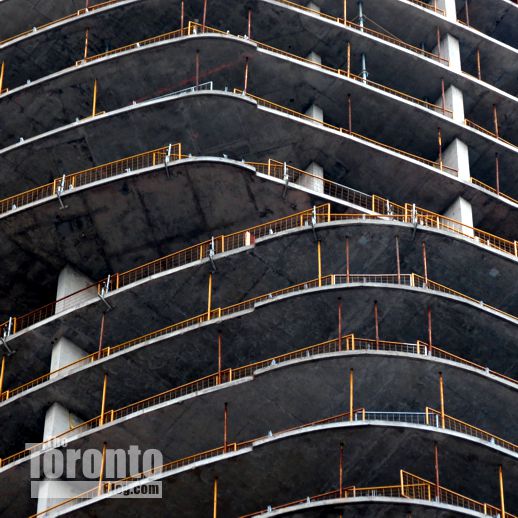 … as seen in this view of the ÏCE 1 tower
Ïcing up: The two ÏCE Condominiums towers under construction on York Street are already making a dramatic impact on Toronto's skyline — even though crews still have to build dozens more floors before the oval-shaped skycrapers top off at 57 and 67 storeys respectively.
When viewed from the southeast, along Queen's Quay Boulevard near Bay Street for instance, the ÏCE 1 tower already blocks the bottom half of the CN Tower from sight — and that's with construction up just 37 floors so far. Once it reaches its full 57 storeys, ÏCE 1 will obscure views of the CN Tower's observation levels, and possibly even its SkyPod.  Although the city's tallest architectural landmark will still be clearly visible to pedestrians looking its way from other downtown directions, ÏCE 1's impact on certain CN Tower sightlines is just one early example suggesting how significantly the two condo towers will change the city skyline once construction is complete.
A project of Lanterra Developments, the Scandinavian-inspired ÏCE Condominiums were designed by Toronto's architectsAlliance.
The towers will boast a total of 1,343 suites for which occupancy in 2014 has been tentatively scheduled. A 31-storey office tower, to be constructed sometime in the future, will be the final phase of Lanterra's York Centre complex.
Below is an an ÏCE towers artistic rendering that appears on the Lanterra website, along with illustrations of three floorplans that show how some of the condo suites will be laid out inside the cylindrical towers. (The full range of suite layouts can be viewed on the ÏCE Condos website; however, if you're interested in buying a unit, you're out of luck for the time being — the project is completely sold out.)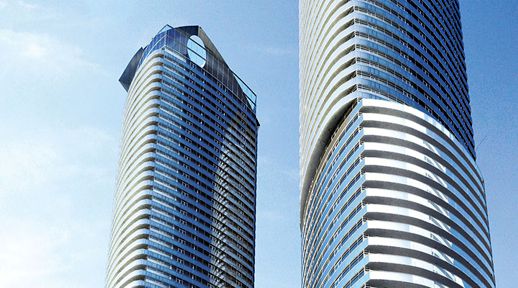 This artistic rendering of the ÏCE Condominiums appears on the Lanterra Developments website. The buildings were designed by architectsAlliance.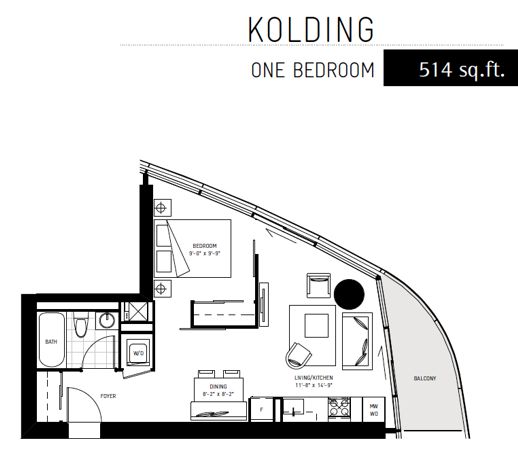 An illustration of the 1-bedroom Kolding suite in the ÏCE 2 tower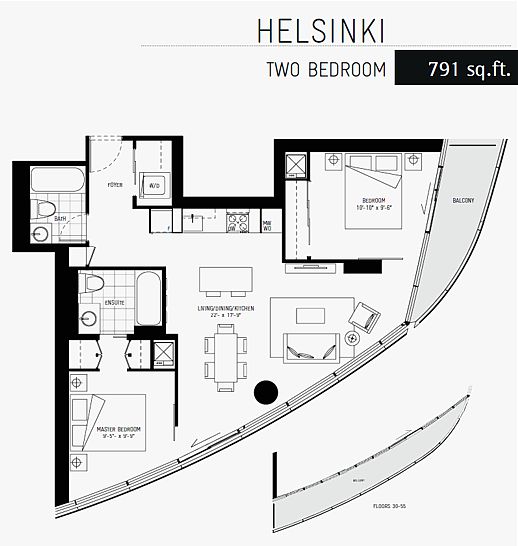 An illustration of the 2-bedroom Helsinki suite in the ÏCE 1 tower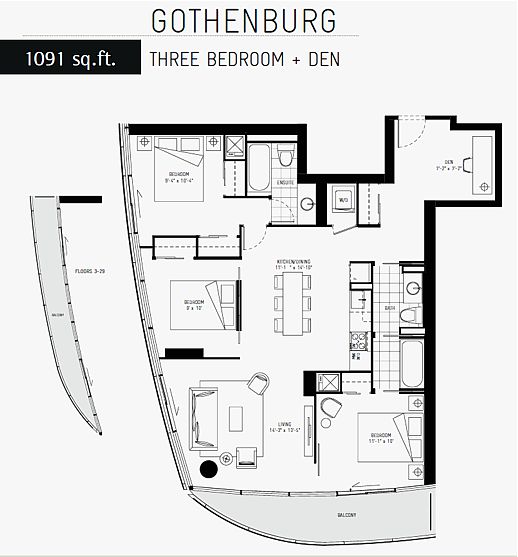 An illustration of the layout for the Gothenburg suite in ÏCE 1
 <>
<>