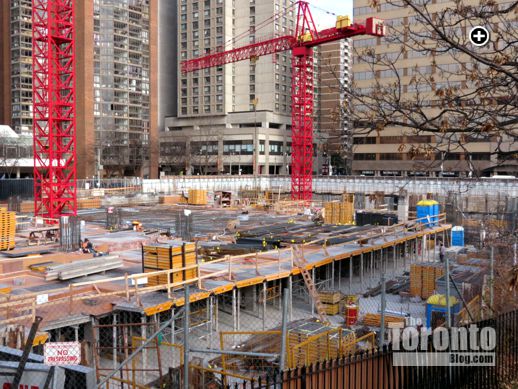 December 6 2012: A view of the U Condos building site, looking northeast toward the intersection of Bay Street and St Mary Street, as construction of the project's underground parking floors approaches ground level. A row of 3-storey "urban townhomes" will rise in the immediate foreground — the southern flank of the 2-tower condo complex.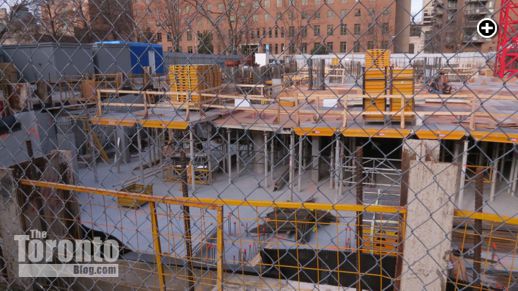 December 6 2012: Construction progress at the southwest corner of the U Condos property, where the 45-storey west tower will rise. Townhomes will extend across this side of the site.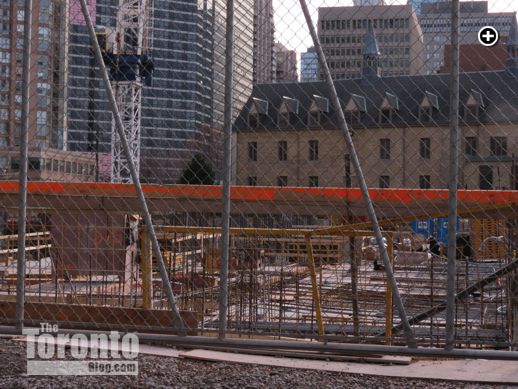 December 6 2012: Looking southeast from St Mary Street toward the site where the 50-storey east tower will rise. Concrete will soon be poured atop the building forms in the foreground, which are nearly at street level.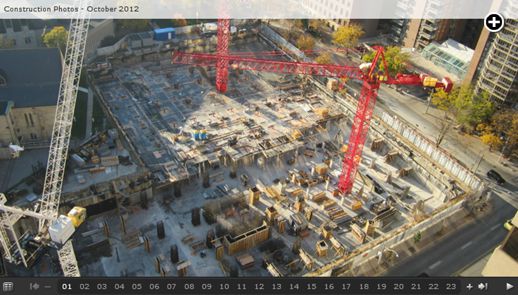 From the U Condos website, this photo offers an October 2012 aerial view of the construction
Making grade: As autumn draws to a close, construction of the U Condos tower and townhouse complex is drawing closer to ground level.
Forms have been put in place along much of the west half of the property to prepare for concrete pours that will create the ceiling of the P1 level. That area is where the 45-storey West Tower will rise, as well as a row of "urban townhomes" along on the north and south perimeters of the property. Although similar building forms haven't yet been installed on the east half of the site, where the 50-storey East Tower will soar skyward above more townhouses along Bay Street and St Mary Street, construction progress on that part of the project isn't far behind.
Although the two tall towers will become skyline landmarks at the east (Bay Street) end of the University of Toronto campus, the 19 townhouses that will enclose the complex will ensure that U Condos stands out at street level, too. Indeed, they will give the U Condos project a unique look on Bay Street, sharply distinguishing the complex from all nearby condo, apartment and office highrises.
CONTINUED ON PAGE 2