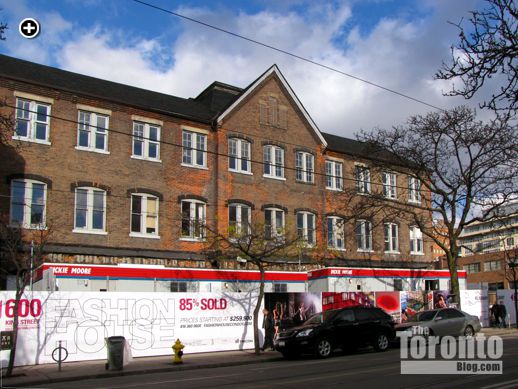 November 23 2010: Hoarding surrounds the historic Toronto Silver Plate Building at 570 King Street West before excavation commenced behind it for the new Fashion House Condos development. The city-designated heritage building will be restored and incorporated into the new condo complex for commercial uses.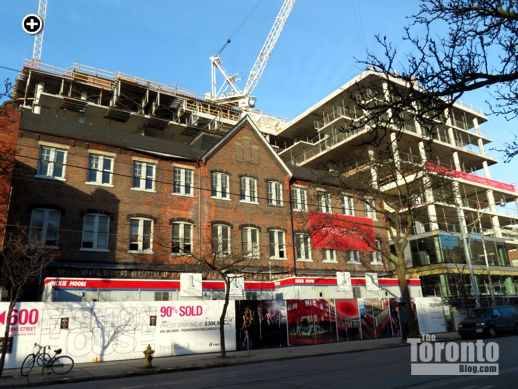 January 10 2013: The L-shaped King Building of the Fashion House condo complex climbs above the north and east sides of the Toronto Silver Plate Building as construction reaches the 10th floor, with 2 floors still to be built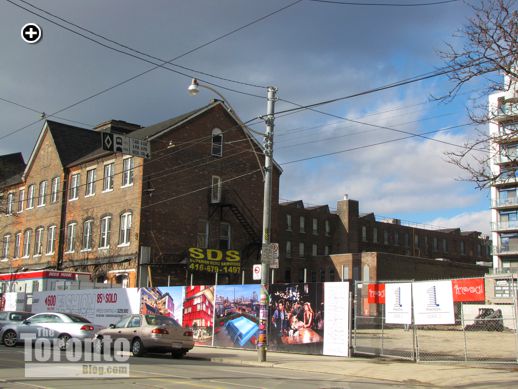 November 23 2010: A view of the Fashion House condo site from King Street shortly before foundation drilling and shoring work began.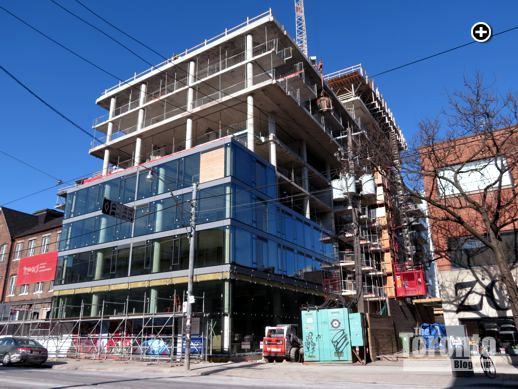 February 6 2013: The concrete frame for the new building has reached 10 storeys, while window and cladding installation has begun on three floors
Designer digs: With construction of Fashion House Condos now up to 10 floors and just a few weeks away from topping off at 12, the building's stacked platform design is becoming more apparent to passersby on King Street West. Installation of floor-to-ceiling windows on three floors, so far, also indicates that the condo interiors will be cheery, bright spaces regardless of whether the sky is cloudy or clear — unless residents choose  to keep the building's signature lipstick-red curtains closed.
The 334-unit complex is a project of Freed Developments, which had asked Toronto's Core Architects Inc. to design a contemporary building that would celebrate King Street's long history as a fashion district. (The area formerly was known as Toronto's Garment District.)
CONTINUED ON PAGE 2