Two new buildings between King and Adelaide
Fashion House Condos actually consists of two new buildings — the 12-storey, L-shaped King Building at 560 King Street West, and the 10-storey rectangular Adelaide Building behind it at 457 Adelaide Street West — along with a restored historic property, the 131-year-old Toronto Silver Plate building at 570 King West. The King Building is basically a set of stacked glass boxes that rise on the east and north sides of the heritage building. "Dashing lipstick-red window coverings on the building's exteriors (all of which shine a crisp, clean white inside) complete the fashion-forward design statement,"a project description on the Freed website notes.
The development is giving a stylish modern makeover to a site that boasts 150 feet of prime frontage along King Street and extends as far as Adelaide Street at the property's northwest tip. Although the restored and renovated Toronto Silver Plate building will breathe new life as part of the mixed-use residential and commercial project, a gas station that had occupied part of the site for 50 years had to be demolished, along with several other historically insignificant structures, to make room for the condos.
(A controversy erupted in the summer of 2011 when truckloads of soil from the site excavation were dumped near a watercourse at a Brantford, Ontario area landfill site, allegedly in violation of provincial environmental regulations. According to a July 19 2011 report in the Brantford Expositor, an environmental enforcement officer ordered the removal of construction dirt from a 35-meter setback zone after residents of nearby farms complained about the landfill and disputed assertions that the soil was "suitable for residential property use.")
Building boasts large terraces and balconies
Taking the gas station's place will be what the Fashion House website describes as "a stunning 12-storey glass and steel staircase tower" whose "intricate design sets the stage for large terraces and balconies." One of those extensive terraces will provide an enviable amenity area for condo residents — "a lush green skypark oasis  complete with an infinity pool and breathtaking views of the Toronto skyline."
The building's cutting fashion edge continues inside, where common areas on 11 floors will get unique, individual looks by 11 Canadian fashion designers — Andy Thé-Ahn, Bustle, Jay Godfrey, Smythe, Mikhael Kale, Jeremy Laing, Jenny Bird, Dean Davidson, Beckerman, Greta Constantine and Jeffer Caoc.
Although Fashion House is more than 90% sold, some units remain available in a variety of sizes and floorplans. The project website provides floorplan illustrations for 1-bedroom, 1-bedroom + den, 2-bedroom and 3-bedroom suites, some of which include spacious private  terraces.
Below are several building renderings and floorplan illustrations that appear on the Fashion House website, along with several construction photos I shot during January and this past week. Those are followed by a link to an online album containing dozens more photos showing construction progress from all sides of the complex.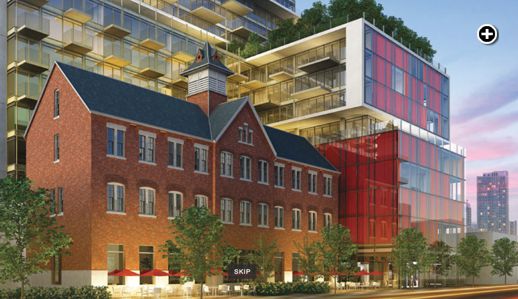 This illustration from the Fashion House website shows how the the stacked-platform King Building wraps around the Toronto Silver Plate heritage building. Fashion House was designed by Core Architects Inc.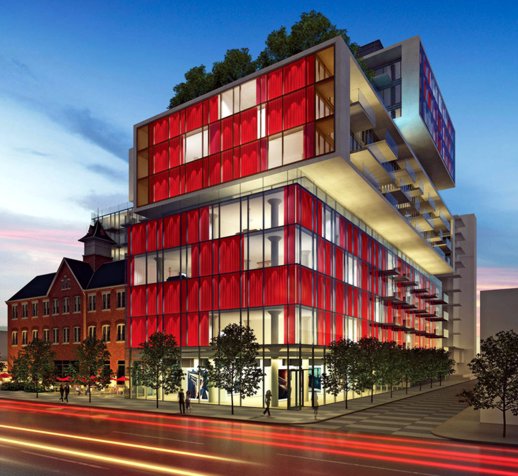 The King Building's stacked box design is evident in this illustration from the project website, which also shows how the bold red window coverings will give Fashion House a standout appearance on King Street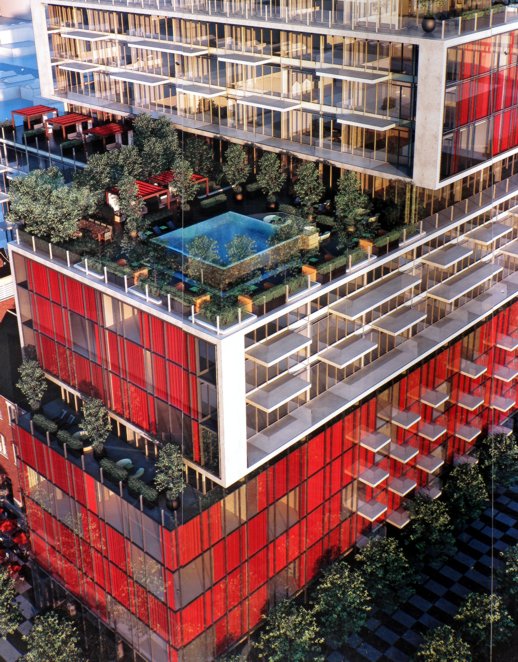 This building illustration appeared on hoarding next to the King Street sidewalk. It shows the King Building's 9th-floor landscaped terrace and infinity pool.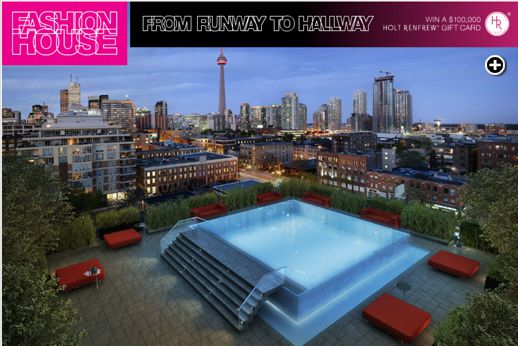 This illustration from the project website offers another perspective of the 9th floor terrace and infinity pool, along with its views toward downtown Toronto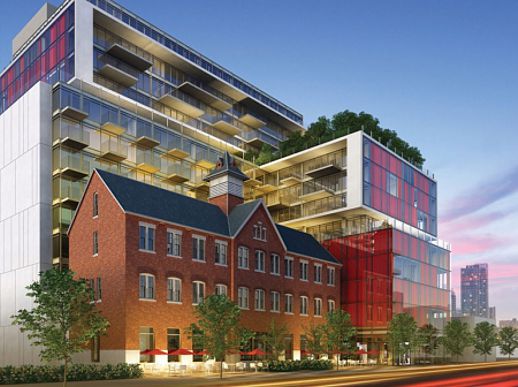 Another website illustration of the King Building and the heritage building. The Fashion House property extends for 150 feet along King Street. The complex will feature street-level retail and restaurant space, possibly including a patio next to the sidewalk in front of the Silver Plate building.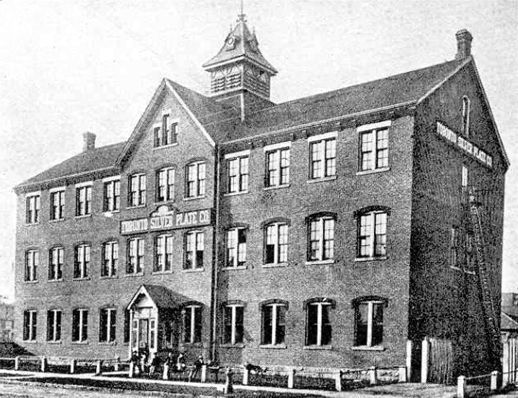 This undated photograph of the Toronto Silver Plate Company building appears in a City of Toronto background report explaining the historic significance of the property. City Council gave the building designated heritage status on December 16 2010. The distinctive hipped roof ventilator, which was removed from the top of the building years ago, will be rebuilt during restoration.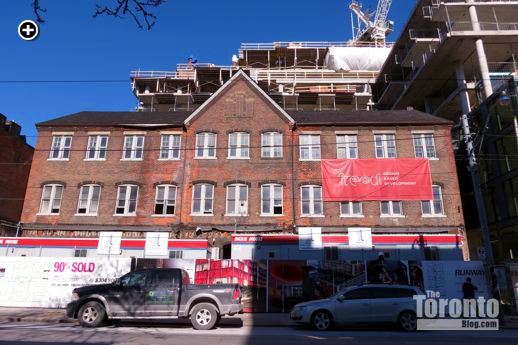 February 6 201: The new & old buildings viewed from the south side of King Street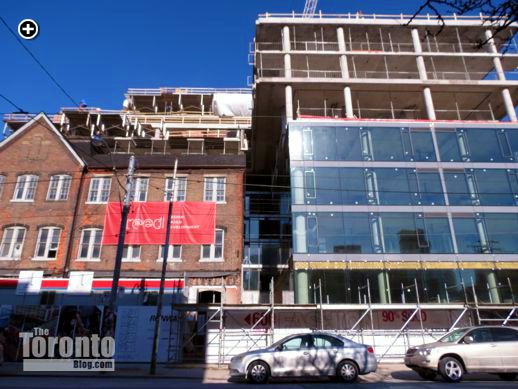 February 6 2013: A glass link connects the heritage building with the condos.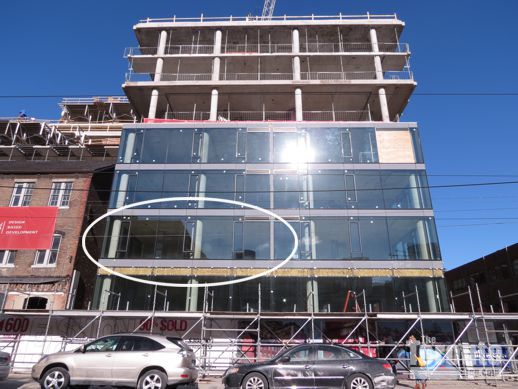 February 6 2013: Suite 214 (circled) is a 644-square-foot 1-bedroom unit. An illustration of its floorplan appears below.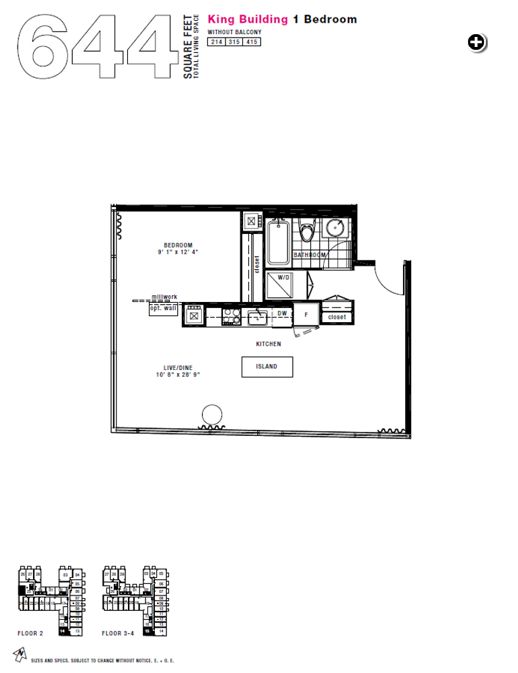 The floorplan for Suite 214, a second-floor corner unit overlooking King Street. Click on the illustration to view the image in larger format.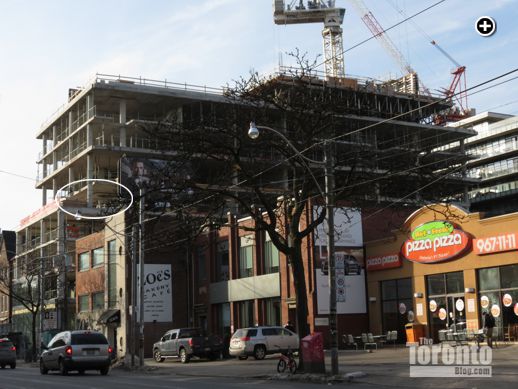 January 10 2013: Fashion House viewed from the east on King Street. Thanks to a building stepback, the residents of suite 513 (circled) will enjoy a private terrace more than 32 feet long and 13 feet deep. The suite's floorplan is below.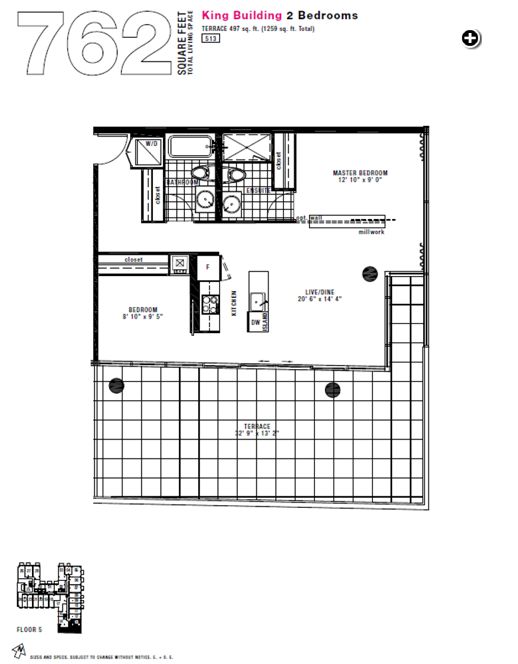 The floorplan for the 2-bedroom Suite 513, which boasts a private south-facing corner terrace nearly 500 square feet in size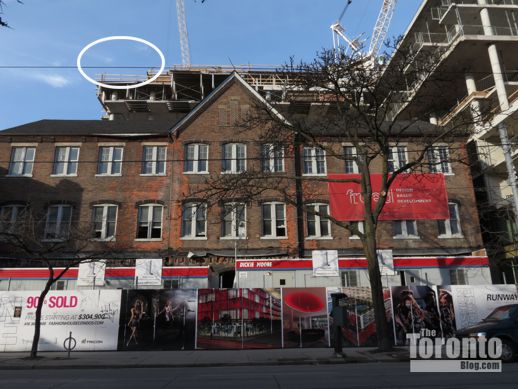 January 10 2013: It hasn't been built yet, but Suite 901 will occupy the area circled in this photo. Its residents will enjoy bragging rights to a fabulously enormous 1515-square-foot terrace that's bigger than their generously-sized 2-bedroom interior space. See the floor plan, below.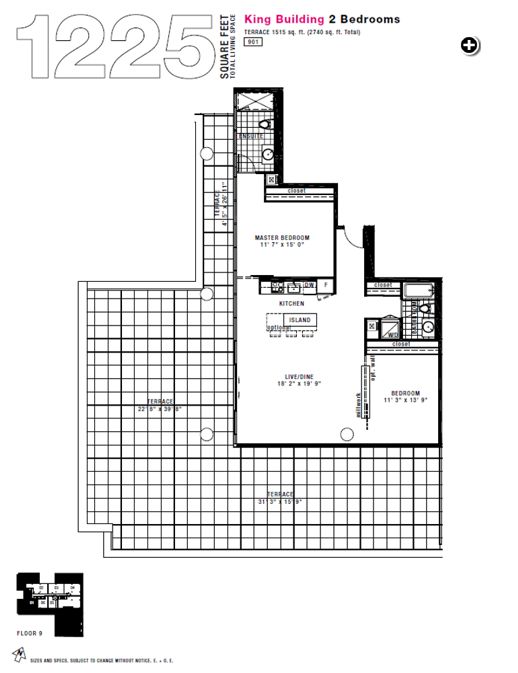 Suite 901 offers 1225 square feet of indoor living space, plus a whopping 1515 square feet of private outdoor terrace.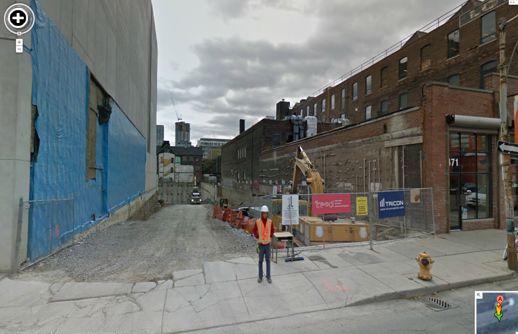 A Google Street View image of early construction progress on the Fashion House Condos Adelaide Building at 457 Adelaide Street West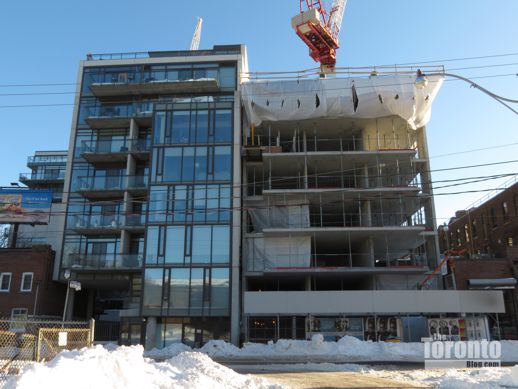 February 9 2013: Construction of the Adelaide Building has reached 7 storeys, on its way to a final floor count of 10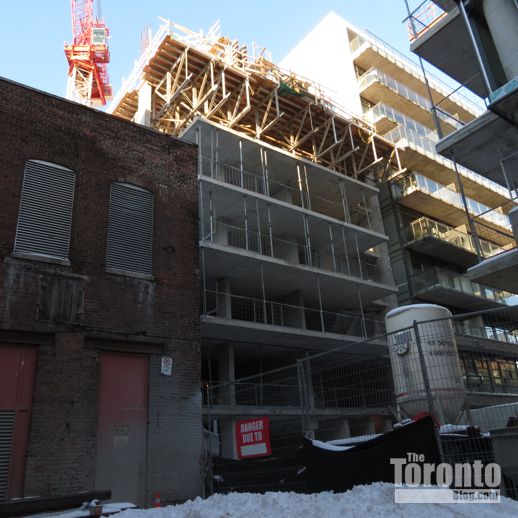 February 9 2013: Construction on the south side of the narrow Adelaide Building, viewed from a driveway area behind the Lee Valley Tools building at 590 King West, next door to Fashion House Condos. A long east-west courtyard separates the King Building from its Adelaide counterpart and the adjacent condo complex at 10 Morrison Street (catching some late afternoon sunshine at rear right)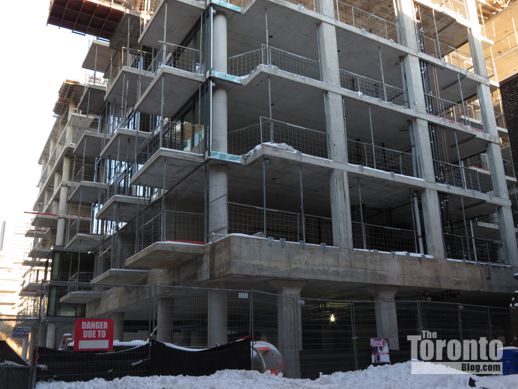 February 9 2013: The northwest corner of the King Building, viewed from a driveway behind the Lee Valley Tools building next door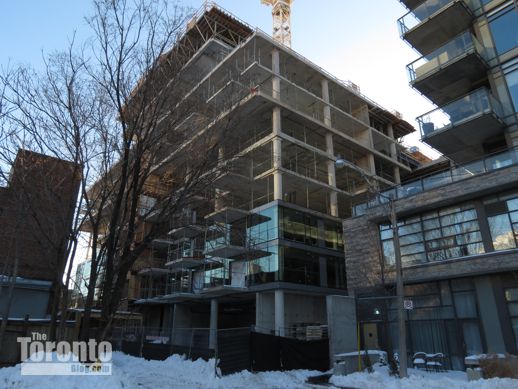 February 9 2013: The northeast corner of the King Building, viewed from a nearby parking lot on Morrison Street.  At right is a midrise condo building at 10 Morrison Street, which gained some notoriety when Toronto Life magazine profiled one of the building's sub-penthouse suites being offered for sale for nearly $2 million. Besides boasting a 1265-square-foot terrace that would rival roomy terraces at Fashion House next door, the suite featured a "kinky bathroom" separated from the master bedroom by only a clear glass wall.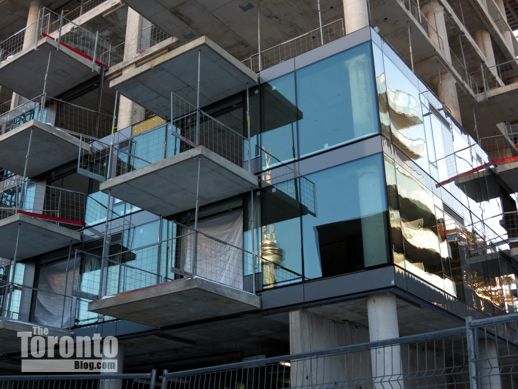 February 9 2013: The CN Tower reflects in windows recently installed on two units at the northeast corner of the King Building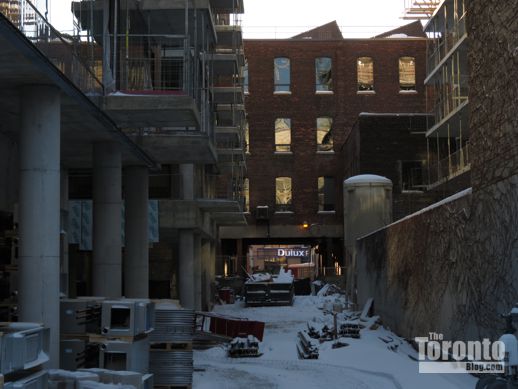 February 9 2013: A narrow courtyard extends along the north side of the King Building, next to the 10 Morrison condos (right). The brown brick building at rear, with the driveway passage beneath it, is a long narrow edifice that extends from the Lee Valley Tools outlet at 590 King Street West all the way north to 473 Adelaide Street West. Privacy gates will be installed at the east and west ends of this open space, Ward 20 Councillor Adam Vaughan said in comments about the Fashion House project on page 15 of his March 2010 newsletter. He added that setbacks on the King Building were designed to provide more space between the two condominium properties.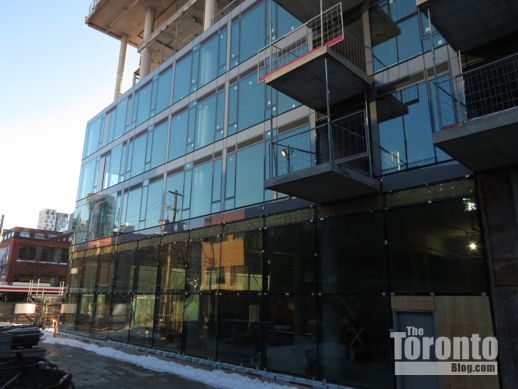 February 9 2013: Looking toward the southeast corner of the King Building. According to the March 2010 newsletter published by Councillor Vaughan,  the developer will create a new pedestrian walkway along this side of the building to connect King Street to Morrison Street. The developer is also paying $175,000 in "community benefits" to fund improvements to area parks and streetscapes, to help fund a King Street West heritage study, and to assist with capital improvements to affordable housing in the ward.
Above is a link to my online Fashion House Flickr album containing more than 100 photos including excavation activity, construction of underground parking levels, and recent above-ground building progress. Click once on the image to view a small-format slideshow of the images, or click twice to access the Flickr album and view full-size photos with captions.