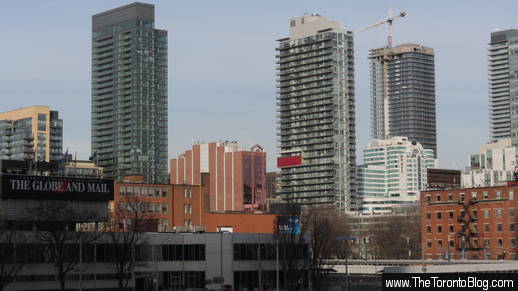 January 10 2013: Charlie Condos (second tower from left) stands proudly on the Entertainment District skyline. Its nearby highrise condo neighbours include M5V Condos (with the bold red mechanical room box on its west side), Cinema Tower (with the construction crane) and Festival Tower (right).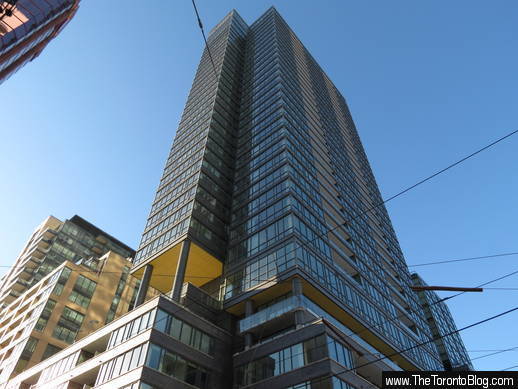 February 9 201: Looking up at the 36-storey Charlie tower from King Street
Final few with a superb view: Looking for a brand-new condo with plenty of space and spectacular views — plus an immediate closing? If you've got $1 million or more to spend, a spacious upper-level suite at Charlie Condos could be yours today.
Four years ago, a parking lot occupied the northwest corner of King & Charlotte Streets in the Entertainment District. Today, Charlie towers 36 storeys on the site, with owners of its 314 suites gradually taking occupancy of their units as construction draws to a close.
But anyone who missed out on purchasing a suite either before or during construction still has an "exceptional opportunity" to buy a signature suite on one of Charlie's top floors.
CONTINUED ON PAGE 2