Six 'extraordinary' suites available
According to an advertisement in the real estate section of last Friday's Globe & Mail, six "extraordinary upper-level suites [are] still available at Charlie, all offering spectacular views and sumptuous features, finishes and amenities."
"Now that you've reached the top, enjoy the view!" the ad's headline exclaims. The two-thirds of a page advertisement features a photo showing an impressive southeasterly view that includes the full CN Tower, the big white dome of the Rogers Centre, most of the Toronto Islands, and Lake Ontario stretching into the distance beyond.
The 6 suites include Unit 3506, a 2-bedroom + den with 1434 square feet and views to the south, east and west. It's going for just under a million bucks — $958,990 to be precise. Four more 2-bedrooms + den were available between floors 30 and 35, each offering 1775 square feet and south & east views, for prices just over $1.1 million. And one of the tower's two penthouse residences, a 2 bedroom + den with 2015 square feet of interior space, is on the market too, for $1,949,990. Those prices include one parking space, by the way.
Four units will be provided for affordable housing
Although the building boasts the posh upper-floor pieds-à-terre and hundreds more luxury suites below, it won't be a place where only the wealthy call home. Four condos — a bachelor unit, two 1-bedroom units and one 2-bedroom suite — are being made available for affordable housing. 
Charlie originally was proposed as a 32-storey tower; however, developer Great Gulf Homes applied to the City's Committee of Adjustment for a minor variance permitting construction of an additional four floors and a larger gross floor area. In a June 25 2008 decision, the Committee granted the minor variance application on conditions that required the developer to provide four units for affordable housing. The four condos would have to be conveyed to "a nonprofit housing provider acceptable to the City" to be used "as affordable housing and rented to tenants at affordable rents, as defined in the City of Toronto Official Plan." All of the condominium common expenses for the suites would be paid by the housing provider.
A May 24 2012 report by the director of community planning for Toronto and East York District recommended that the City approve an Official Plan Amendment allowing the creation of the four affordable housing units, which will be provided by the Kehilla Residential Housing Programme. Toronto City Council approved the proposal on July 11 2012.
Below are photos showing the Charlie site prior to construction, recent pictures showing the building as it looks today, and a link to my Charlie Condos Flickr album of photos chronicling construction of the tower over the past several years. There's also links to floorplans for two of the top-level suites still available.
A project of Great Gulf Homes, Charlie was designed by Diamond Schmitt Architects of Toronto.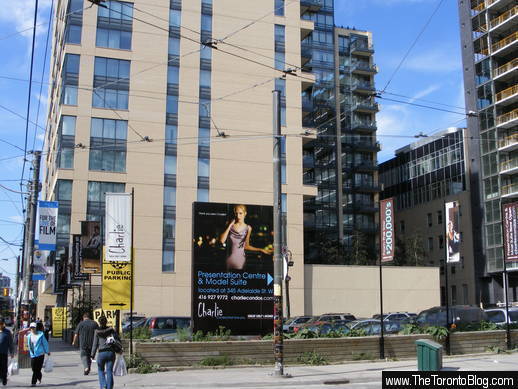 This is a September 26 2008 view of the surface parking lot that formerly occupied the northwest corner of King & Charlotte Streets …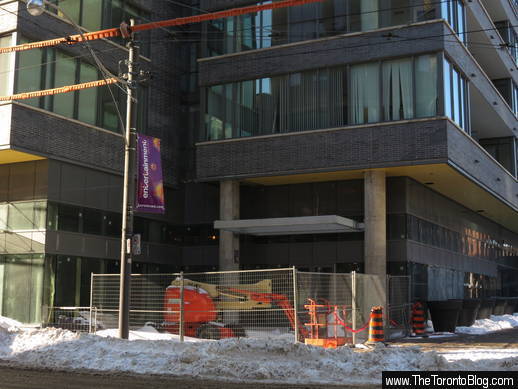 … and this was how the corner looked on February 9 2013 as construction work was winding down on the building's street-level exterior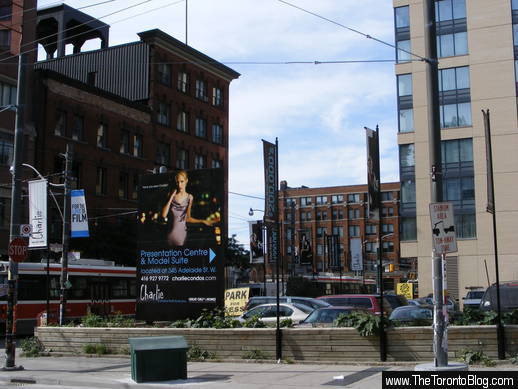 Another September 26 2008 view of the Charlie site, this time looking in a southwest direction toward King Street from Charlotte Street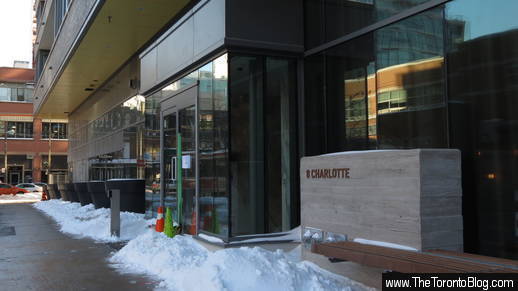 A February 9 2013 view of Charlie's main floor frontage on Charlotte Street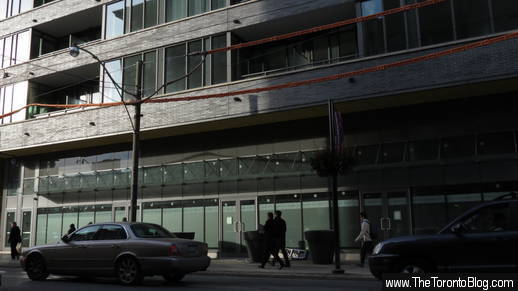 A  January 10 2013 view of Charlie's street-level frontage along King Street West. Retail space will occupy this part of the ground floor.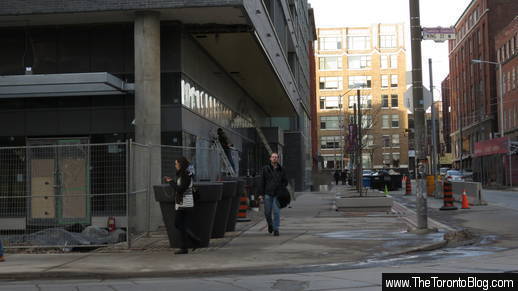 January 10 2013: A row of large black planters has been placed along the Charlotte Street side of the property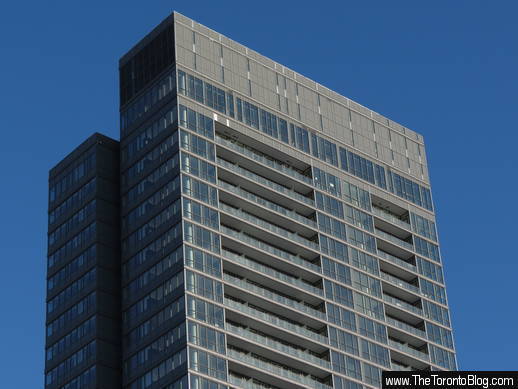 February 9 2013: A view of the tower's top floors in a photo shot from the corner of Spadina Avenue and Adelaide Street two blocks to the northwest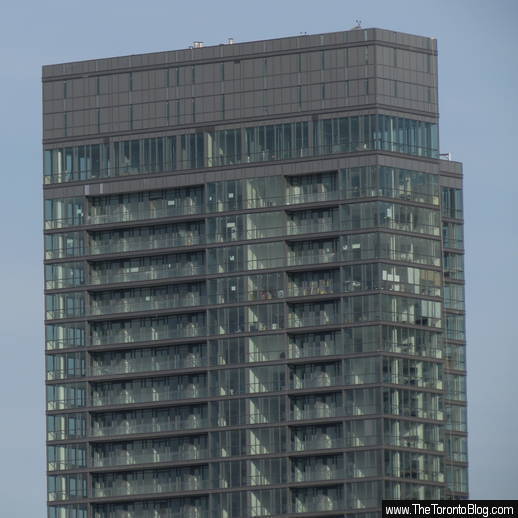 January 10 2013: Another view of Charlie's upper levels and its two penthouse suites, this time seen from the southwest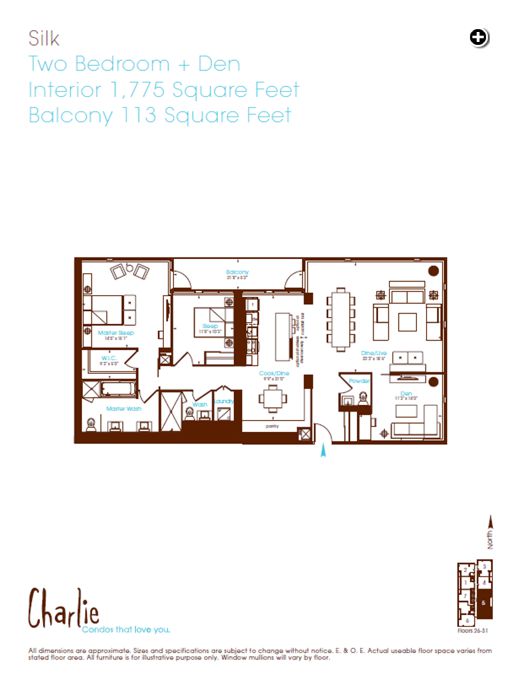 From the Charlie website, a floorplan illustration for one of the 1775-square-foot Silk suites. As of last Friday, four condos of this size were still available on floors 30, 32, 33 and 35, for just over $1.1 million each.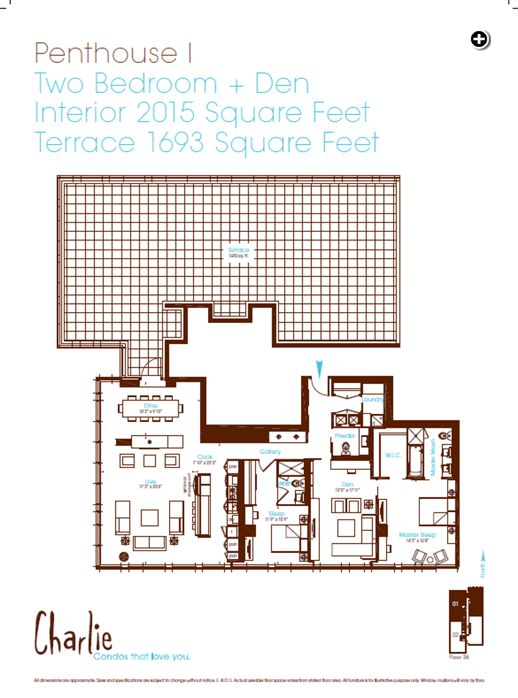 A floorplan illustration for Penthouse 1, which boasts 2015 square feet of interior space, an enormous 1693 square foot terrace, and views to the north, east and west. Asking price is $1,949,990.
Click once on the image above to view a small-format slideshow of more than 120 photos of Charlie's construction progress. Click twice to access my Charlie Condos Flickr album where you can view full-size photos with captions.