Tower plan was company's first foray into condo development
At the October 16 2012 information meeting to which area residents were invited, a company representative named Kevin Chan said the condo tower would be the first development project undertaken by the two men who were principals of Icarus Developments.  Mr. Chan added that, while no formal development application had yet been filed with the City, the company expected to submit the required paperwork within another month or so.
As months passed and no development application for 81 Wellesley appeared in listings on the City's website, I wondered whether the project would proceed. It now appears that, like the mythical Icarus, the condo tower plans have crashed and burned. When I passed the property this morning, I noticed a large "for sale" sign has been erected on the north side of the site, facing Wellesley Street. The sign includes a contact telephone number for four named representatives of CBRE Limited, a real estate brokerage. (However, I haven't been able to find a listing or any further information about the property on the CBRE website.)
Neighbourhood residents who have seen the CBRE sign are now wondering whether the property will be snapped up by another, more experienced, development firm, which might pursue a condo plan of its own. But the mere fact that 81 Wellesley is back up for sale, only a year and a half after it was sold for a reported $4.5 million, will undoubtedly rekindle lingering community resentment over the rushed demolition of the Odette mansion.  
As one neighbourhood resident who saw me taking a photo of the "for sale" sign remarked, "This just goes to prove there was absolutely no need whatsoever for them to tear down those beautiful old buildings."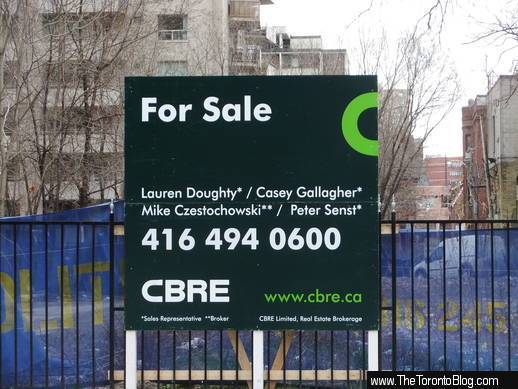 April 19 2013: The CBRE Limited sign in front of 81 Wellesley East