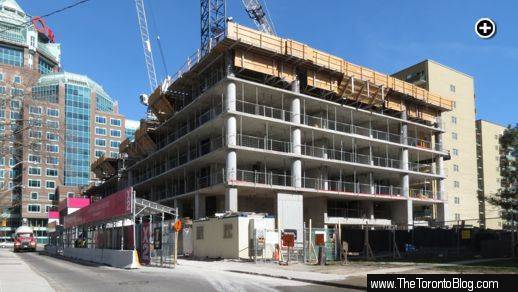 April 17 2013: Construction of the X2 Condominium tower has climbed 5 floors on the way to 49, as seen in this view from the northwest on Charles Street. Click on the picture to view a larger-size image.
Eye catcher: When 2012 drew to a close, construction of the X2 Condos at the southwest corner of Jarvis & Charles Streets was just beginning to rise above the hoarding that blocked most of the site from the view of passing motorists and pedestrians. As New Year's approached, a couple of support columns for the 49-storey tower's ground floor were taking shape near the west end of the building site — the first signs of construction progress visible from street level.
With construction now up to five floors, passersby can't help but notice the building — and get an early sense of the tremendous visual impact it will have in the Bloor-Jarvis neighbourhood once construction is complete.
I have walked past the X2 Condos site three times in the past two weeks, and on each occasion have noticed that the building is commanding considerable attention from people passing by both on foot and in vehicles. I saw pedestrians pause to watch the construction work, and noticed dozens of vehicle drivers and passengers checking out the site while waiting for traffic lights to change at the busy Jarvis-Charles-Mt Pleasant intersection.
CONTINUED ON PAGE 2