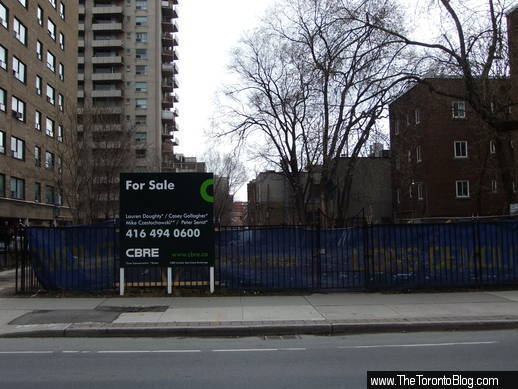 April 29 2013: A "for sale" sign has been posted in front of the vacant property at 81 Wellesley Street East …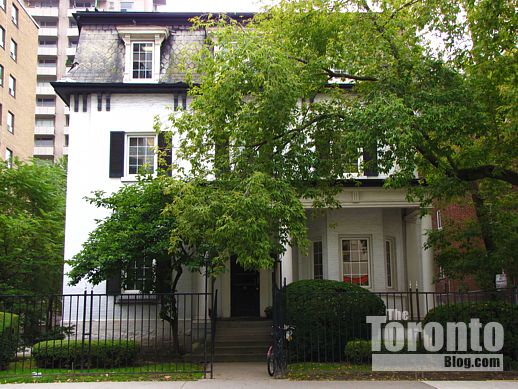 … where a century-old mansion and coach house stood until January 2012 when the buildings were hastily demolished after new owners took possession …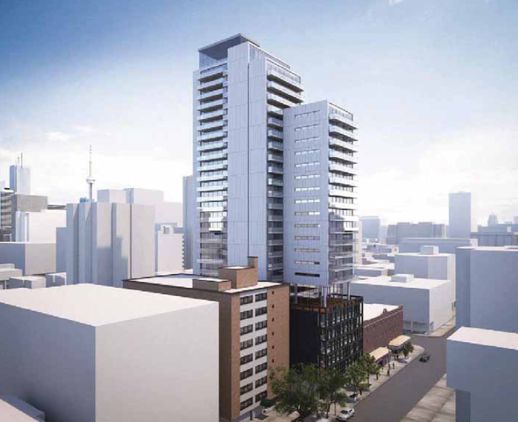 … with plans to construct a 29-storey condo tower in their place. The proposed highrise is depicted in this artistic illustration by Toronto's Core Architects
Back on the market: A controversial condo tower development planned for the heart of the Church-Wellesley Village appears to be dead now that the property has been listed for sale.
As I reported in an October 17 2012 post, a small Toronto firm called Icarus Developments held an informational meeting last fall to publicly reveal its plans to build a 29-storey, 200-unit condo tower at 81 Wellesley Street East. Designed by Toronto's Core Architects, the highrise would occupy a vacant piece of land that had been occupied for many decades by two by heritage-character buildings — the Odette House mansion and a coach house behind it — that were hurriedly demolished in January 2012.
The surprise demolition — and the brazen manner in which the buildings were razed — outraged local residents as well as Ward 27 Councillor Kristyn Wong-Tam, who only a few weeks earlier had initiated procedures under which city staff would consider whether Odette House could be designated as a heritage property (see my January 19 2012 post for photos and a report about the demolition incident).
CONTINUED ON PAGE 2